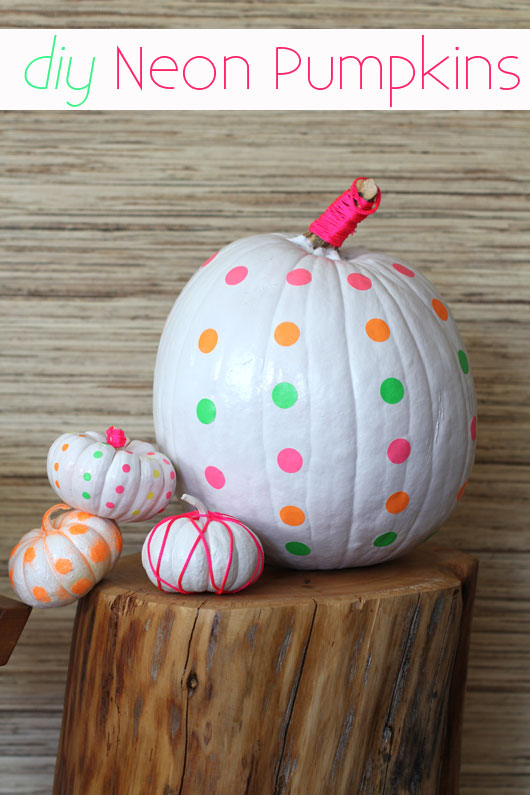 If you've been following me for any length of time, it probably comes as no surprise to you all that I would take Halloween and add a splash of neon to the holiday (to see all of my neon inspired projects click here).  It's been my favorite way to add color to just about anything this year, even Hayden's nursery, and so what holiday is more befitting of vibrancy than Halloween?  These pumpkins were super easy to make and just required some spray paint, and a few standard craft supplies, along with a bit of a wing-it and see type of creativity.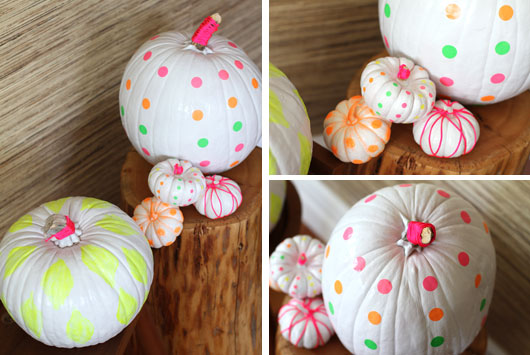 I first began by spray painting my pumpkins with a coat of primer to cover up the orange real well, then a coat of satin white paint.  I tried painting a few black but was not happy with the results of the black + neon so ditched those.  Once the pumpkins were dry I started playing around.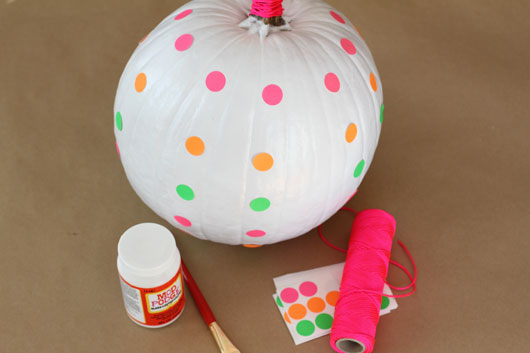 For the polka dot pumpkins I used my left over office supply stickers from this project and just added them in a vertical pattern, wrapping the stems in neon construction twine.  To make sure the stickers adhered, I added a coat of Mod Podge just to the stickers, saving me time and cost of supplies.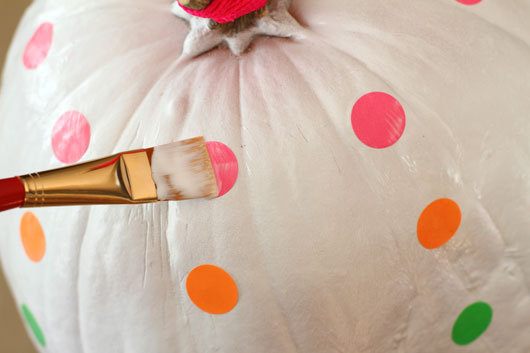 For the glitter pumpkin, I completely just did it free hand and put dots in an intermittent pattern all over the pumpkin, and let the glitter fall over.  I didn't bother dusting off the excess, as I kind of like how it looks just sprinkled about.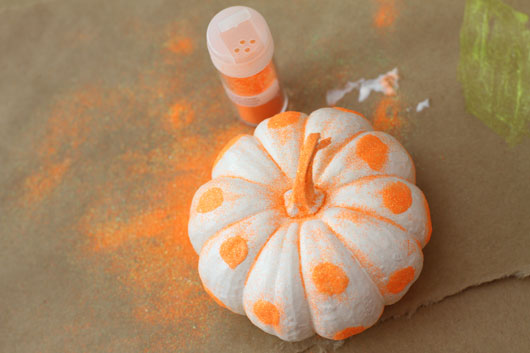 For the twine wrapped pumpkin I simply just wrapped the pumpkin all over in twine, and this was one of those ideas that just sort of came out of thin air.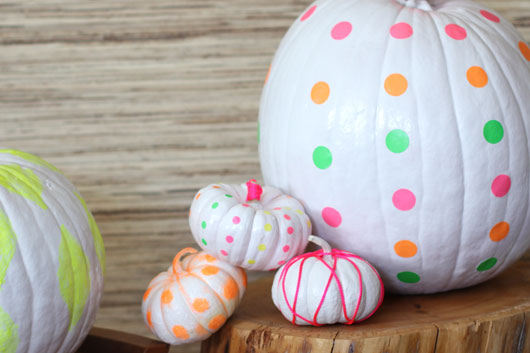 Lastly, the ikat inspired pumpkin, came out a bit more like a harlequin, diamond pattern, than I would have liked, but I'm still pleased with it for a first time try.  I think to replicate more of the look you see on these inspiration ikat pumpkins, I'd have to go back and add some white paint over the neon yellow, something I may try doing this weekend if I have time.
Overall I love my cluster of neon pumpkins and think they are a fun take on the trend.  I completed all of these, including drying time, during just one of Hayden's naps, so it's a quick and easy project no doubt.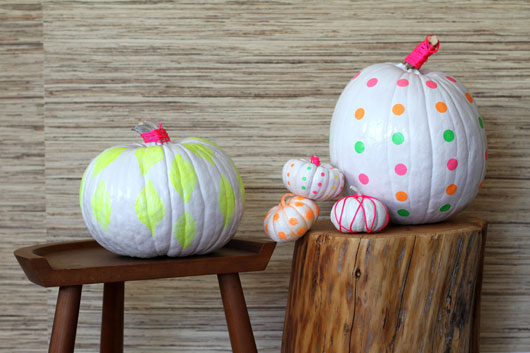 So are you experimenting with any unique and fun designs this Halloween, or are you keeping things simple and old-school and just carving traditional jack-o-lanterns?  We'll still carve our pumpkins later in the month, but for now these are fun to look at!