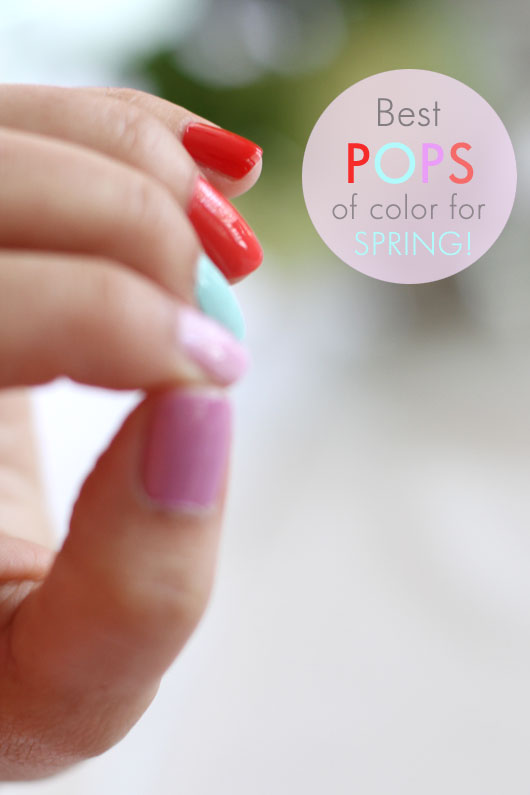 Giving myself a quick mani complete with a nail polish change is for me, one of the easiest and cheapest ways to lift my spirits and make me feel good.  As the old adage goes, look good, feel good, and when my nails are pretty, I just feel a tinge bit happier.  Now that Spring is in full swing I thought I'd share my personal favorite colors to give my nails a fresh pop of color.  And currently, my local beauty supply store is having a buy 2 get 1 free sale on polishes, so if you have any personal favorites not listed here, please share!  So here's my list…
Starting at the top left with OPI Lucky Lucky Lavender.  Now I know OPI versus Essie is sometimes a heated debate (ok not really, but some ladies definitely have their preferences).  Personally I don't really give a damn and love each just the same.  The brushes on OPI are thicker and wider so for some with small nails this is a problem, but I have long nail beds so it really doesn't matter to me.  Overall, I tend to like the pastel and light colored shades that Essie has to offer over OPI, which is why I've listed so many here.  I think OPI does a better job overall in their dark, moody color department.  This shade of lavender is perfection though, offering a nice mix of shades of pink and purple so it isn't too dark or chalky.
Essie French Affair is the perfect shade of girlie pink.  Two coats and you definitely get saturated pink color, so if you like something more sheer, this isn't the color for you.  But if you like the punch a girly pink has to offer, this one is perfection.
Essie Mint Candy Apple is the it color for a bit of mint this season.  If you follow me on Instagram (@fourflights) or Facebook, I posted a picture of this polish as the perfect way to test drive mint for spring, if you're not feeling ready to delve into the color for attire.  Also, this color garnered lots of attention when I wore it for my contributors post at Making It Lovely.
Essie Boat House is coral done right.  Not too orangey, not too red, like the story of Goldilocks, it's just right.  It stands out, yet seems to go with everything effortlessly.  I can't get enough of this color this time of year.
Finally we have Essie Fifth Avenue, which is my new favorite shade of red and has been for a few months now. It's absolutely perfect for spring, but I also wore it all throughout fall and winter because it is reminiscent of the colors of the holidays.  It's the perfect balance of blue-red and orange-red and walks the line right down the middle.  It also looks killer when mixed with French Affair.
My quick and easy tips for an at home manicure are to first give your hands and cuticles a good scrub in the shower or sink, file and cut any loose cuticles with a cuticle nipper, then apply a coat of Rejuvacote Nail Growth System, 2 coats of polish, and a coat of Out the Door polish drier.  Make sure to moisturize completely after polish dries and add a touch of oil to your cuticles to keep them from drying out.
Have any other tips or nail products that you love?  Please share!
Like For the Love Of on Facebook! When we hit 100 likes I'll be giving away a set of the neon rhinestone bangle bracelets!