I wrote about the happy news a couple of months back when I first heard that Neiman Marcus and Target would be collaborating on a series of 50 Holiday gift giving products.  The list of designers was impressive, and the price range seemed reasonable, but would hte products actually be something to really get excited about?  Well the lookbook is finally here and for the most part, each product is beautiful and you can tell they were thoughtfully designed.  While I am not in love with every single item (I don't really need a $50 DVF yoga mat), most items are pretty spectacular, without being over the top.  Here's a peek at some of my favorites.
1. Prabul Garang Cape 2. Robert Rodriguez Top 3. Skaist Taylor Vest 4. Marchesa Girls Dress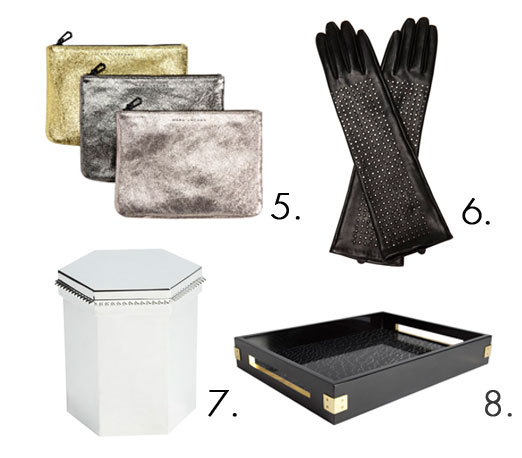 5. Marc Jacobs Pouches (sold separately) 6. Brian Atwood Leather Gloves 7. Eddie Borgo Box (see my interview with Eddie Borgo here) 8. Joseph Altazurra Tray
My biggest hope is that the quality is better than the usual Target and designer collaboration infusion lines.  The last one with Missoni left such a bad taste in my mouth.  But having worked with Neiman Marcus for years in the past, I know their quality expectations would not let something sub par slide through, especially when their name is stamped on it.  So if that holds true here, then this collab will be top notch.  To see the full lookbook, please visit the Neiman Marcus blog.
In other places, you can see a few of the pieces I wrote for Disney Baby this week:
DIY Friendly Ghost Onesie for Baby
Battling the 45 Minute Nap Monster
Pumpkin Fun for Babies and Toddlers
Have a great weekend everyone!  See you back on Monday.