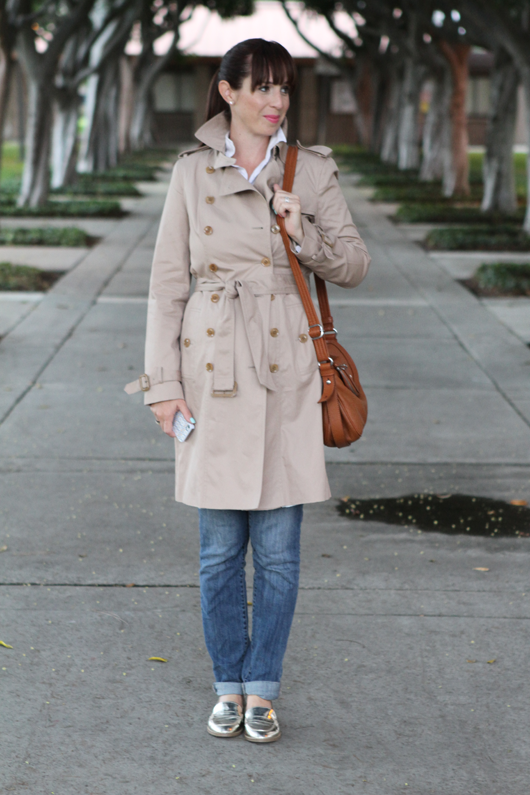 Welcome back everyone!  I hope you all had a wonderful long Thanksgiving weekend and are looking forward to the holidays as much as I am.  We decorated over the weekend and I shared peeks of our home on Instagram.  Follow along if you like @fourflights!  I'm going to keep it short on today's post because I'm far behind in my work and am stretched for time.  But I do want to revisit this trench coat and how I still think it's one of those Pieces Worth Investing In.  I'll definitely be revisiting this trench and giving you all some low, mid and high price point options.
But for now I'm just excited to be posting an outfit that truly spells Fall, with the layered sweater and trench thrown over for extra warmth.  It only took us 3 weeks into November to finally reach cool temps here in Southern California.
One other point of business before I leave though!  See that really cute iPhone case I'm using here?  Well it's by Scribbles and Stripes, a new Etsy shop opened by a fellow mom here in California.  Looking for a means to help support her family, Lauren opened the shop to provide some extra income.  I've been using her case for about 4 weeks now and it is holding up great!  I've dropped my phone multiple times and not a crack or ding yet (I'm a clutz!).  Today Lauren is giving away 1 case, either for the 4S or 5, to one lucky reader.  Just see below on how to enter!  I'm making it super easy for you today and only requiring you to like the Scribble and Stripes Facebook page.  So please give Lauren some love and enter away, and tell your friends about it! Linking up with Real Girl Style.