My friend Amber is obsessed with all things beauty, and good thing for me, she keeps me in check when I want to keep using 10 year old eyeshadow quads and attempt to get away with using some random color of eyeshadow to fill in my brows.  You might recall that when we last heard from Amber, she was sharing some easy makeup tips with me in the comfort of my own home.  Well today she's sharing her top 5 beauty must-haves that every woman should own in her beauty arsenal.  I have to say, Amber hasn't steered me wrong yet, so I'd listen up and take note if I were you ladies!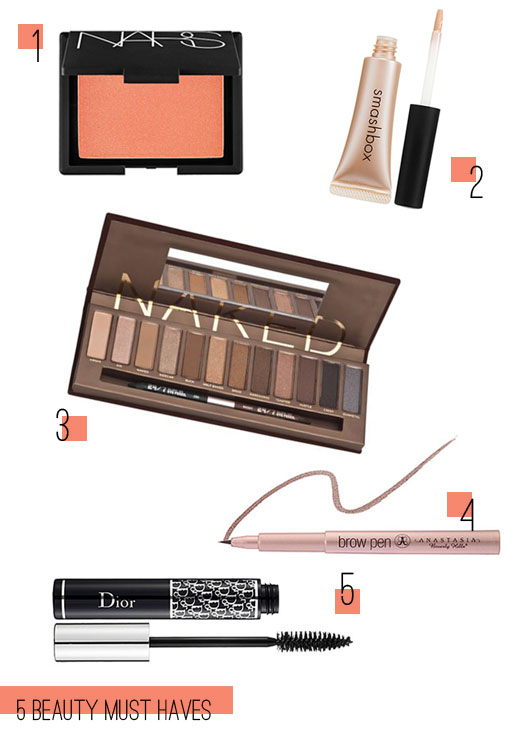 1) A good eye shadow palette with both neutral and dark colors. Something you can take with while traveling or throw into a large purse. It's easy to use and allows you to change your look at a moments notice. ( I like Urban Decay's Naked Palette but M.A.C let's you create your own as well). You will also need a few brushes with this palette! (Angled soft brush, crease brush & flat brush
2) NARS blush in Orgasm. It is a game changer. The champagne pink matches every skin tone and instantly creates a subtle and provocative flush.
3) Smashbox Photo Op Under Eye Brightener – perfect for wearing under concealer or without, it instantly brightens the under eye area and is seriously one of the best products I've invested in. An essential tool for all moms.
4) Black Mascara. It truly opens up the eyes and gives them an extra oomph. I've tried them all and my favorites are DiorShow Blackout, Maybelline Stiletto Lash and Benefit's Yes, They're Real
5) Eyebrow pencil. Most people don't think about it but the eyebrows are so important to the overall look of your face! Once you start filling in your eyebrows you will never go back. My favorites are Anastasia Brow Pen – Long Wearing Brow Tint or Perfect Brow Pencil and M.A.C Eyebrow (it's like a crayon that stays sharp!)
Thanks so much Amber for sharing your secrets with us, oh wise one.  I have to say that every single product you've told me to buy, I've loved, so I know the ladies can't go wrong with these recommendations.
Friends, please go check out Amber and give her some love at her Facebook page for Sweet Emotions Makeup Artistry!  She's a great gal with a big heart and is a talent with the makeup brush who gladly shares her knowledge with anyone that's interested.  Tell her I sent you!  And please share any of YOUR personal makeup must-haves.  Do any of them correspond with Amber's, or do you have your own makeup arsenal weapon of choice?