On Saturday night, I hosted an event, along with Cricut, for 20 lovely ladies. Most were friends and family, but a few were guests of friends, and it was nice to meet new faces and spend time being creative, and watch everyone enjoy themselves. The purpose of the event was to introduce craft enthusiasts to Cricut's new machine, the Explore, and give them a chance to play with it. But the real goal of the night was to just have fun. Thanks so much to Cricut in helping sponsor the event so we could do just that.
We wanted to show some of the cool and fun things the new Cricut could do, including cut through almost any type of material, while using any sort of design and/or font your heart could desire. With that in mind, I let Alix's DIY hexagon artwork project serve as inspiration, and asked the team at Cricut to cut out hexagon stencils for us to use that night. The hexagon decor then seemed like a given. They cut out the wall vinyls that hung above the food tables, and hundreds of little hexagon confettis. They also cut out bigger hexagons, which I sewed together to create the big balloon tassels.
While Alix had used press board for her project, I decided to use standard 5/8″ plywood, and had the lumber yard cut out 1 sheet, which cost $40, into 20 individual pieces measuring 12″x18″. I set out the wood, along with some paint and lots of brushes and water cups at each place setting, and they looked so pretty all lined up. I love when something so ordinarily simple and drab comes together to make such a statement.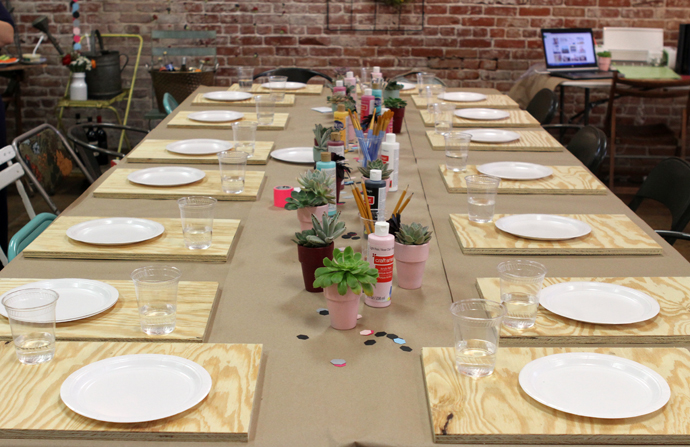 For thank you gifts, I bought small terra cotta pots from Michael's and spray painted them the colors of the night, including minty green, burgundy and blush pink. I then filled them with succulent clippings from our yard. They served as the centerpieces all along the table and nestled next to the Cricut workstations.
We worked in shifts, with a few friends trying out projects from the Cricut project gallery, while most others painted. Some used the stencil itself to map out their design, while others cleverly used the actual hexagon cut outs from the stencils, to create an entirely different pattern. It was amazing to see all the pattern and color variations everyone came up with.
Some placed the boards horizontal, and some turned the boards to create vertical artwork, something I hadn't even considered. It's amazing how our creative synapses fire when our brains are not busy tending to the needs and demands of tiny humans.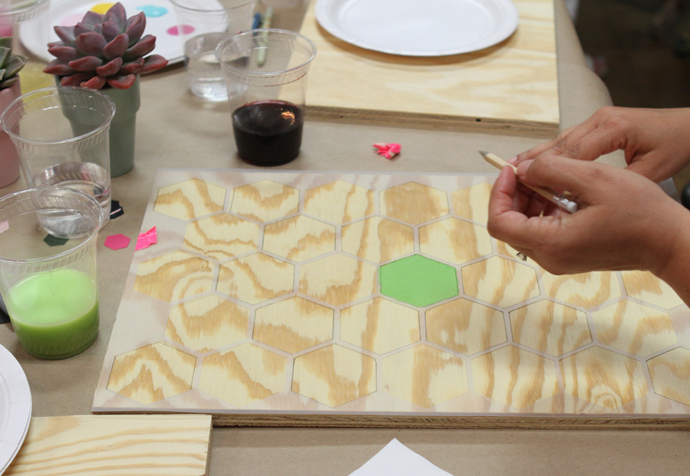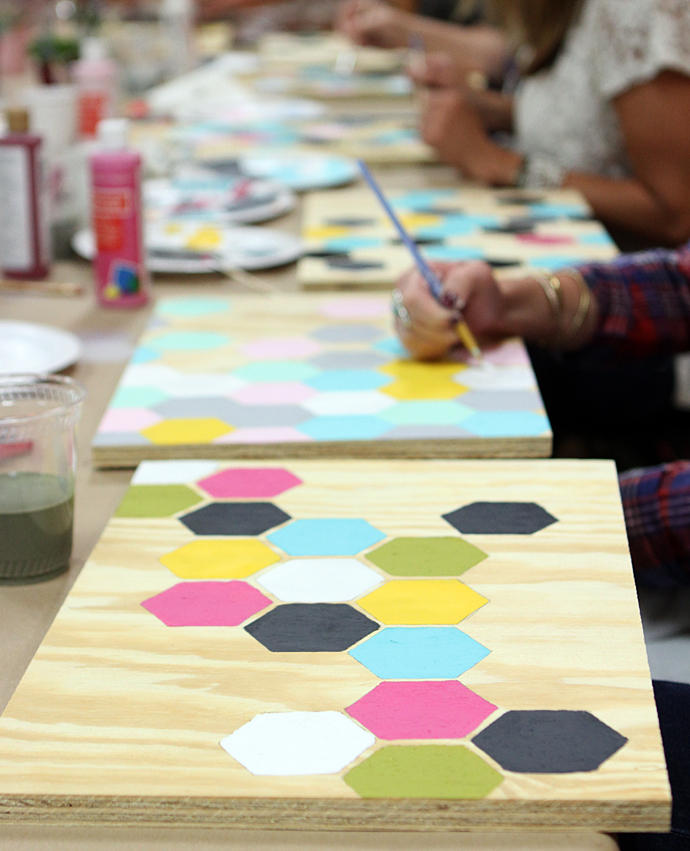 With the exception of a container of hummus, I made all the food myself. I tried to keep everything healthy and light, yet filling. We had just the right amount of food, but could have used more drinks. Of course.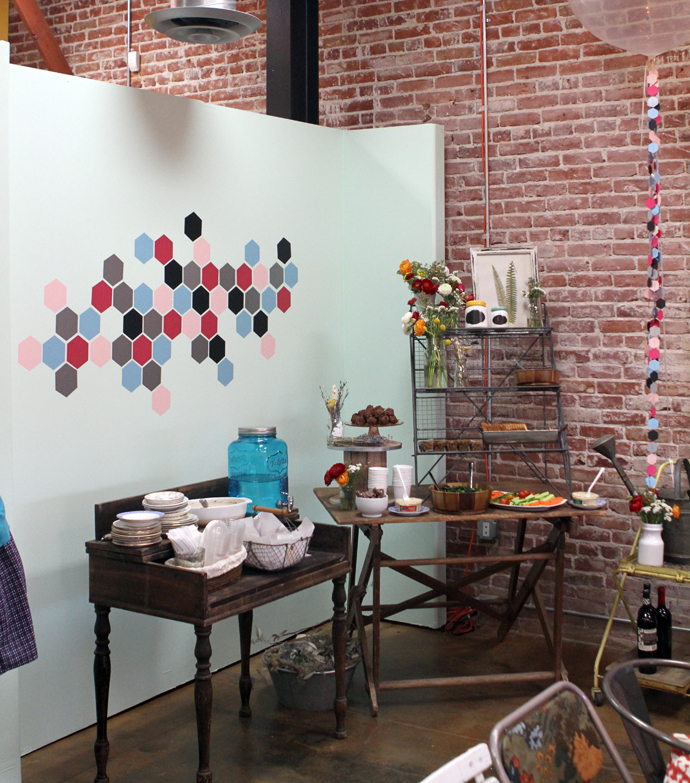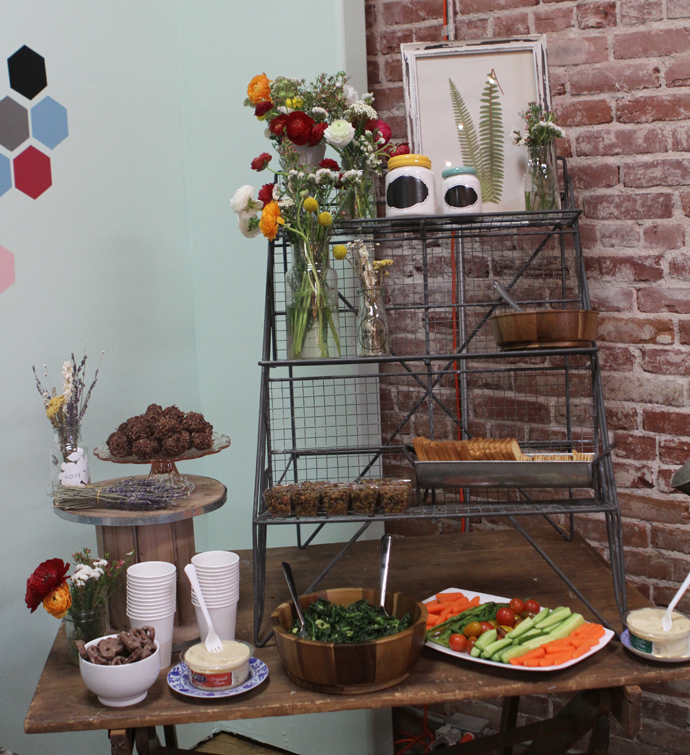 For the appetizers, I made the goat cheese & ricotta dip from the Bountiful cookbook, a lentil & bruschetta salad, an avocado & kale salad, and a veggie tray with CSA vegetables.  The lentil & bruschetta salad is super easy and all you do to assemble is buy a container of premade bruschetta and a package of cooked lentils, toss them together and serve with some little crackers or toasts.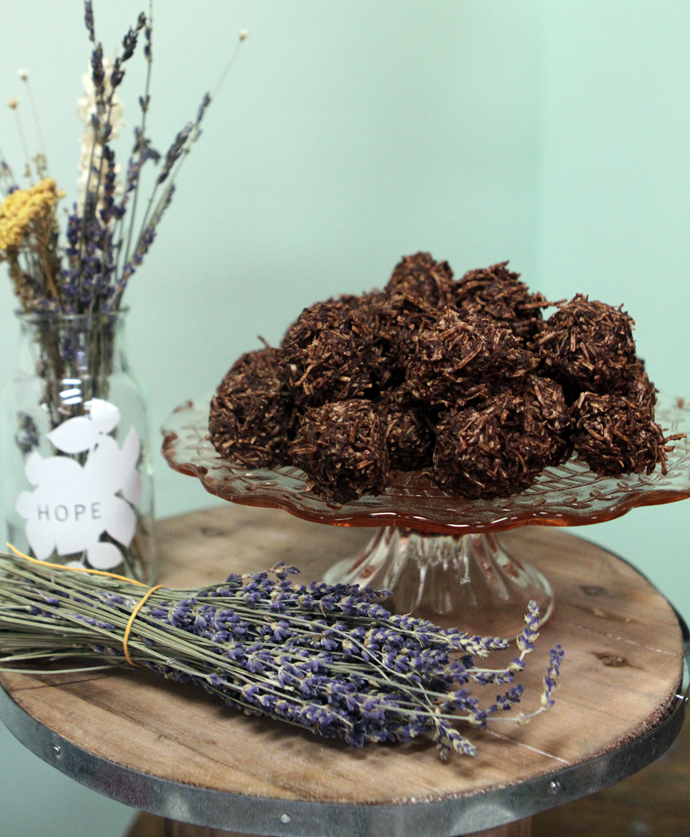 For dessert, I put out some dark chocolate covered pretzels, and made the no-bake chocolate macaroons from Oh She Glows, but added a dollop of plum jam in the center to give them a little burst of flavor. Some noticed the tartness, some didn't. Either way, without or without the jam addition, they are a quick and easy dessert to pull together, and make for a cute and impressive presentation. I also made the sweet potato chocolate bars from Bountiful as well.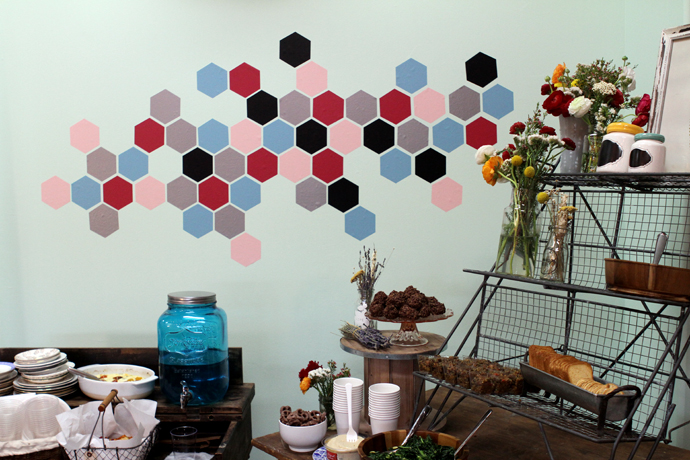 You may be wondering about the cute studio space we held the event in. It's Oh Hello Friend's new studio space, which they rent out for workshops and parties. Truth be told, I hadn't seen the space in person, just heard about it from Danni. I figured it would be a very basic white studio space, but silly me, I was clearly wrong. The details, from the original brick wall, to the strung cafe lights, to the vintage and thrifted decor throughout, made it a truly enchanting place to spend the evening in.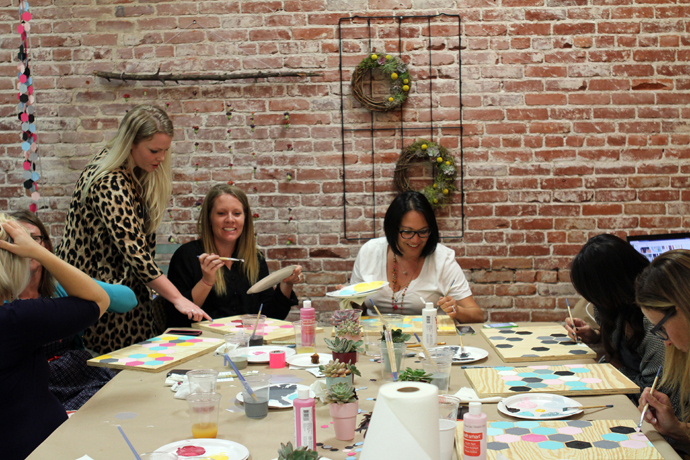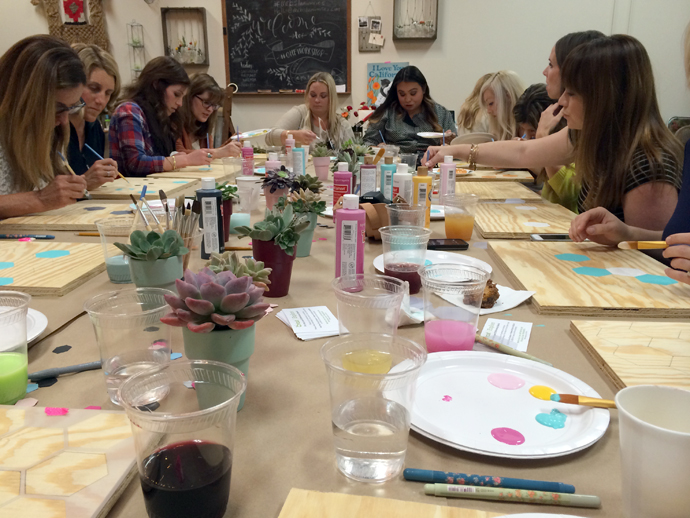 We had held our last Craft Cabinet event in Danni's shop, and if attendees needed a break from crafting, they got up and browsed the store and shopped a little. I was a little nervous that if all the Cricut stations were taken, they would just be wandering around without anything to do. But of course it was perfect because they wandered around and just took in the visual eye candy. Even though nothing was for sale, I think everyone felt inspired and happy to just be surrounded by such charming and pretty things.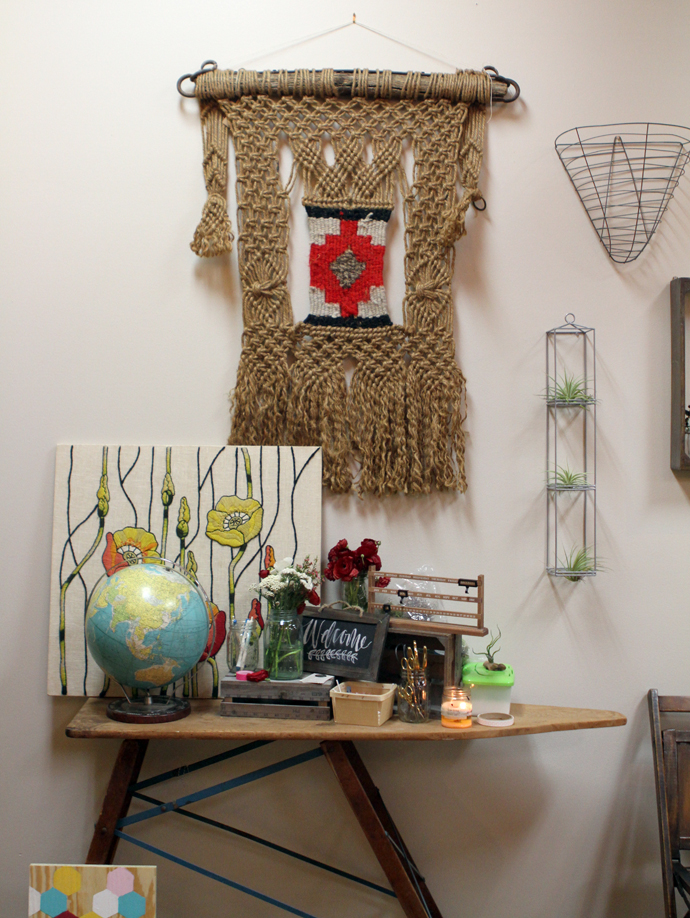 It was a great night, and I think (hope) everyone had a good time. We gave away a Cricut to one lucky attendee, and everyone else got to go home with a piece of art and a little piece of our home, in a succulent clipping. Some days I really wish Jules and I would start up The Craft Cabinet again, because it really is amazing seeing women get together in a friendly, relaxed way, and just create. It's inspiring and uplifting. Perhaps in the future we can figure out a way for us to continue hosting such events in a way that doesn't completely stress us out, but in the mean time, little opportunities like this will just have to do.
For two days this past January, I got to work with the Cricut Explore and witness first hand all the cool things it can do, and the opportunities to create easy projects through the design space. If you're interested in learning more, peek around the site and watch the video of what it can do. I can't wait to find some time to actually play with my machine at home, and I hope I can create some projects to share with you all here. Also, if you're wondering, the new machine does have a space for cartridges from the old machines, but going forward all the files are digital, which is so very cool.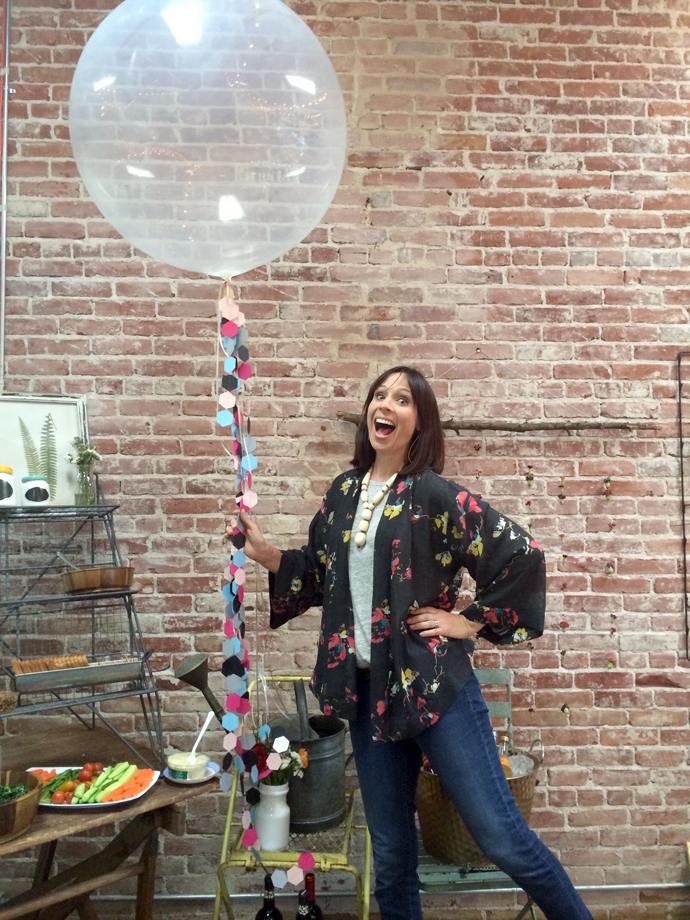 Thanks Cricut for helping me throw such a fun party and give me a reason to spend time with some of my favorite people! And special thanks to Cara, our representative from Cricut who flew out for the event, and was our Cricut cruise director for the night.
*This is not a sponsored post. Cricut gifted me a new Explore, and helped with the costs of the party, but all opinions are my own.