Hi everyone and happy Monday! I'm really excited to announce a huge giveaway today, valued at over $900, with 3 winners getting a prize package valued at a minimum of $300. This is the first time I've ever participated in one of these group giveaways, and while I've been hesitant, I love what us ladies have all pulled together to share with you, because they each represent our personal tastes and reflect the relationships we've built! So first let me share with you all what's up for grabs.
The idea was to create a themed giveaway so we focused on the idea of capturing your Summer memories, since we all love to take pictures (even though some of us aren't the best at doing anything with said pictures, ahem). Then some other rad sponsors decided to join in and the giveaway just evolved. The ladies that I got together with to offer this awesome giveaway are ladies I've never actually met, but who I rely on to bounce ideas off of, ask questions and lean on when I get discouraged. We have a Facebook group that is pretty active and supportive and I appreciate each and every one of them. Please visit them if you have a chance.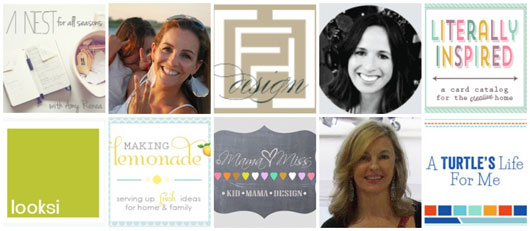 A Nest for All Seasons/Cuckoo 4 Design/Fieldstone Hill Design/For the Love Of /Literally Inspired/Looksi Square/Making Lemonade/Mama Miss/Setting for Four/Turtle's Life for Me/
So what's up for grabs? Like I said, just over $900 in prizes, divided up into three packages. We'll choose one winner, who will get first choice of the prize package they want, then the second winner will choose from the 2 packages left, then the 3rd winner will get the remaining, but still amazing, prize bundle. Here's a list of all of our incredible sponsors.
Jo Totes Abby Mint Camera Bag
Custom Flower Headband from Mama Miss Designs
$50 Gift Card to Rach B Jewelry
Leather Cuff Bracelet from Lucy's Inspired
Personalized Monogram Necklace from PersonalizeMe Jewelry
$50 in Photo Credits to Shutterfly
Gift Basket with $100 in Scrapbooking Items from Consumer Crafts
Silver Locket and Chain from Origami Owl
Framed Print from Printstagram (value is $60)
Gift Basket with $100 in Products from Duck Tape
Photo Album and Frame from Lifeguard Press ($37 value)
Two custom silhouette files– either for a couple or two children– from Cuckoo4Design
Set of Gallery Frames from Change of Art ($179 Value)
The prize packages are divvied up into the following cute bundles: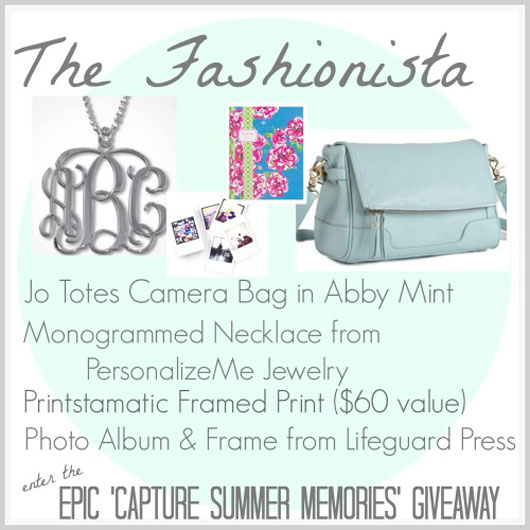 Amazing right? I love them all for their uniqueness and that they each have something cute and functional to offer. My personal contribution to the mix is the Change Of Art frames that I discovered a few months back and fell in love with. They are beautiful, eco-friendly, and make changing out pictures ridiculously easy. Side bonus, the owner MaryAnn is wonderful so it's always nice to spread the word about small businesses with a cool product, who also happen to be very nice.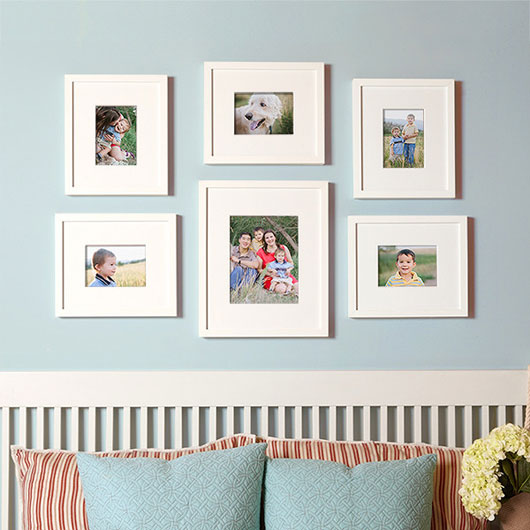 Enter using the Rafflecopter box below. If you're unfamiliar with Rafflecopter you 'unlock' entries by completing the first task, and from there you can complete as many (or as few) of the tasks as you'd like! Note that there are clickable links in each box, so you don't need to do anything but click and answer. It's super easy to finish the whole thing in just a minute or two.a Rafflecopter giveaway

I hope you love this giveaway as much as we do, and good luck to you all!