I have an entire Pinterest board dedicated to Girlie Gifts.  Gifts that us women wouldn't usually buy ourselves, but items we definitely wouldn't mind having in our lives.  I pin various items that I would personally love, or things I know my girlfriends would appreciate and enjoy.  Most items are not "necessities" and some may even be considered indulgences, but that's the fun of girlie gift-giving, you throw practicality to the wind and buy the gift just because it's fabulous.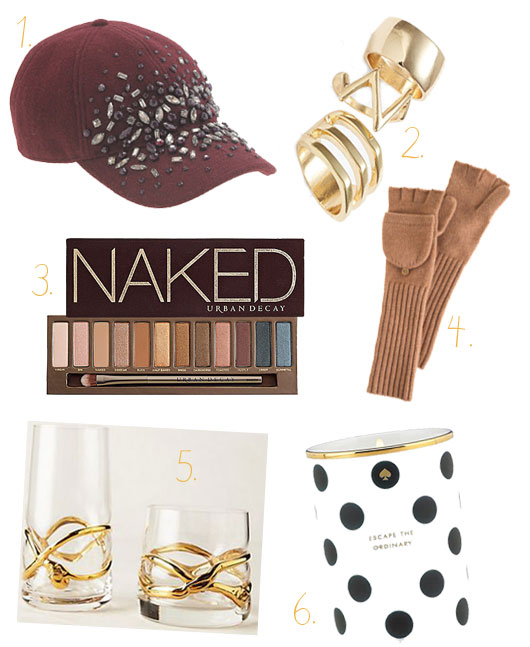 1. Jeweled Baseball Cap 2. Midi Rings 3. Naked Eyeshadow Palette 4. Cashmere Glittens 5. Glimmer-Wrapped Glassware 6. Escape The Ordinary Candle
Today I have a couple of things to share with you, which may make your holiday shopping a little easier and more fun.  Coupons.com has put together various gift guides for women, kids, men and even pesky teenagers.  In addition, they're having a Coupons.com Holiday Sweepstakes and giving away prize bundles worth $500.  Besides that giveaway, I've partnered with them, along with some other great bloggers, to giveaway a $200 gift card to Amazon, to help with your own Christmas shopping.    You have now, until Christmas Eve to enter to win using the Rafflecopter link below.  Good luck!