I was so excited the past few days, seeing all the enthusiasm and genuine interest in winning the juicer. Some of you were excited to further your health journey in the new year, and some of you were just eager to start the year off right. While there could sadly only be one winner, I hope some of you take the plunge and buy whichever brand of juicer you can afford, and get started in this amazing daily ritual.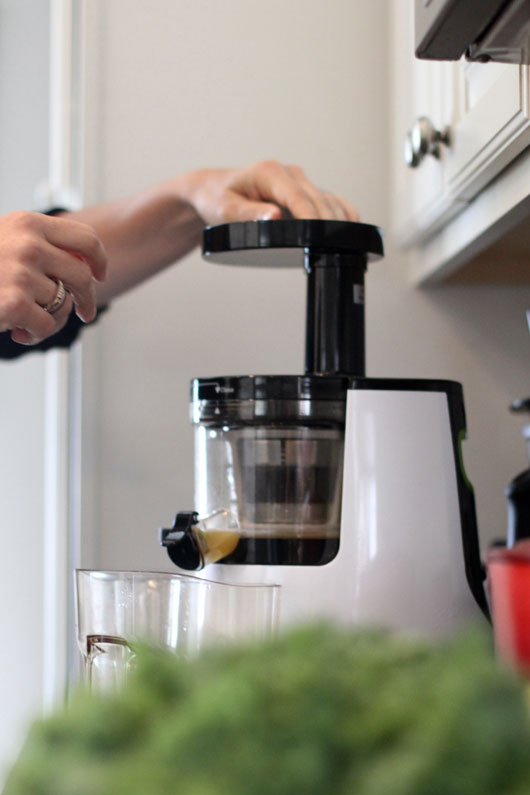 I'm thrilled for Christina of Simply Modern Weddings, who has been following me along on this GMMDI journey for a few months now, and is very eager to further her juicing journeys. I know the juicer will go to good use and get lots of loving. Congratulations Christina!
On to further exciting announcements. I'll be hosting another Land Of Nod event on Saturday January 11th from 11am-1pm, but this time the focus will be on healthy eating, and getting our kids excited to eat healthy from the start. I'll be sharing some of my favorite recipes which are kid-tested and approved, as well as dishing out taste-test samples of my favorite granola from It's All Good. Kids can decorate and color their own placemat to take home, and those who attend get a 10% in-store discount that day, just for coming! I would love to see some local friends there, and I sincerely hope you can make it. Bring the kids, bring your picky husband who eats like a kid, bring your mother who wants to feed her grand kids chicken nuggets all day long. It should be a tasty good time! RSVP to nodevents@landofnod.com if you plan to make it!
I was a busy bee the past week, finishing up my writing assignments over at Babble. If you'd like to check them out, here's what I wrote about:
Online Vs. In-Store – what's the cheapest way to get 10 popular health food items? Read the article to find out where to source some health food favorites, for the best deal.
Top Fitness Trends for 2014, and surprise, surprise, competitions for losing the baby weight the quickest is not one of them!
9 Pieces Of Wacky Fitness Equipment (that may actually work) – think old school like the thigh master, and even the shake weight.
I have one more post planned for this week, and then will be taking off the rest of the week to be with my family. I hope you all do the same!
Congratulations again to Christina!