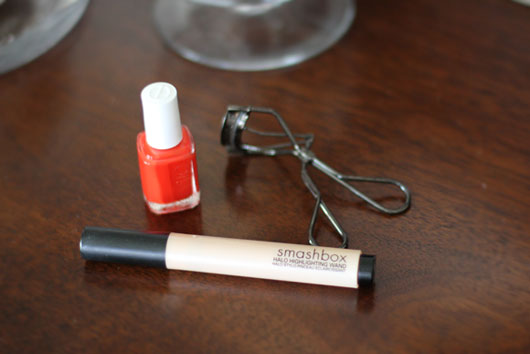 I had all intentions of getting a new DIY post up for you all today, after all, I did start 3 different ones over the weekend.  But we were too busy just having fun that I didn't have enough time and focus to sit down and finish any of them.  Never fear though, Thursday I'll have something for you.  Not wanting to leave you high and dry, I thought I'd share with you 3 of my latest beauty investments that I'm really enjoying.
Shiseido Eyelash Curler – This is my first ever eyelash curler and while everyone swears by it being a miracle tool, I'm in the camp of thinking it's helpful, but in no way a "miracle".  It curls my lashes just fine and makes them seem higher, but not longer.  Sort of perkier in a way, and perky is important the older you get I guess.  I'm still a bit clumsy with it and continue to pinch my lids at least every other day.  I've often read/heard some women say if they only had time for one step in their makeup routine, curling their lashes is the step they'd include, but I'd still go for under eye concealer.  For me, it's a small added benefit, but not one I find vitally crucial.  I'll keep it up though.  By the way, I chose the Shiseido curler over the Shu Uemera brand after a friend recommended it based on the ability to switch out the pads instead of having to buy a whole new curler once the pad wore out, a smart design feature I appreciate.
Essie Geranium Nail Polish – I honestly feel silly for saying I have a new favorite red after I just posted Fifth Avenue being my favorite red, and literally they're 1/2 a shade off.  Go ahead, call me a silly frivolous woman, I deserve it.  But truly, the ever so slight shade difference is enough to knock it into first place.  It's bright and cheerful, with a slight hint of orange and is great for Spring and Summer.
Smashbox Halo Highlighting Wand – Amber recommended this highlighter to me and I snatched it up because of it's liquid vs. powder state, and the fact that it's not too shimmery.  I've been adding it daily to my routine and place a smudge above my cheek bones, the arches of my brows, the bridge of my nose and a small dab above my top lip and my chin.  Basically you apply it in all the places where light hits your face and it just adds a very slight hint of luminescence to your face, a trick Amber recommended.  It really does work, more so in person than in pictures, and makes me face feel brighter and more awake.  My only complaint is that it doesn't last all day.  If I want to continue with that glowing look, I have to reapply every couple of hours.  Not sure if this is normal or if another highlighter would perform better, but so far I'm overall pleased with this one.  I bought my wand in Gold by the way and is the perfect shade.
Have you bought any beauty items lately that you're really loving?  Please share!  And if you also have another recommendation for a highlighter, I'm all ears.