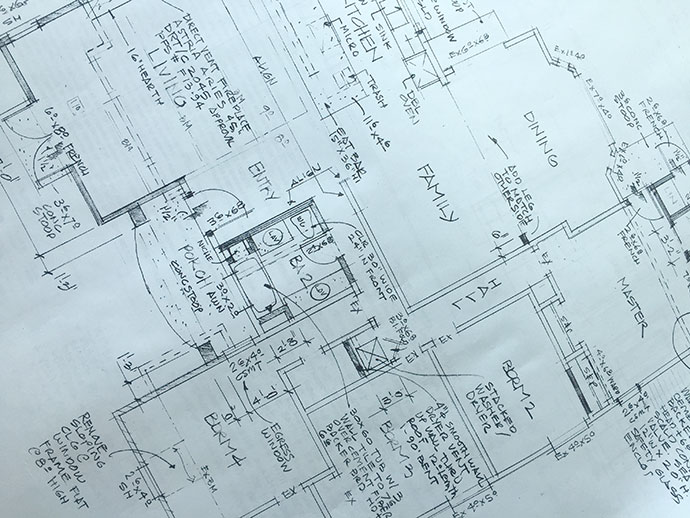 We moved into our home 5.5 years ago, and the longer we've lived in it, the more I have grown to love it. When we first moved in, the freeway noise drove me crazy and the school traffic made me irritated. For the first two years we lived there, we regretted our decision to buy this particular house and often talked of eventually moving. We even went so far as to put an offer on another house. We low balled it because I think deep down we both knew we were being ridiculous and subconsciously sabotaged the transaction.
Of course we were being ridiculous, and over 5 years later we have really come to love this house of ours. I've gotten so used to the freeway noise that I no longer even notice it (we're the 3rd street in from a major SoCal highway and it really has come to be regular white noise to us). And being that we have late-risers, living steps from the school has become the biggest relief to us as we yank kids out of bed and rush across the street to make it in the nick of time. We've grown close to our neighbors, and our kids love having built-in playmates, and of course we absolutely love our backyard and wouldn't trade it for anything.
So if we love our home so much, why are we remodeling it? Well, I suppose it's because we see ourselves living in it for a very, very long time. When we originally moved in, we weren't thinking of having another child, and now that we have 3 under our roof, we'd like to make that roof a bit bigger. So we're adding a bit of square footage, knocking down a wall to make the living areas bigger, and we're moving the master into the back of the house, and swapping rooms with the boys. Let me take you on a little tour that will give you the overall gist of the project.
The front of the house, which is our living room, will move forward 8 feet and the fireplace will move to the left side of the house. Let me show you what it looks like from inside.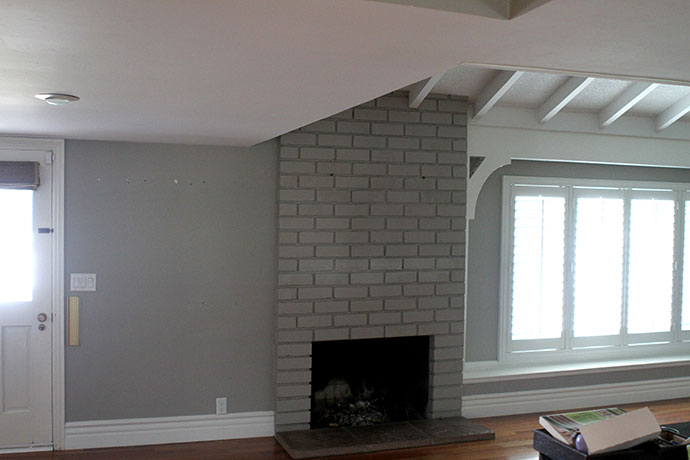 When you walk in the fireplace is directly to the left of the front door and just sort of floats in the center of the living room. Most houses in our tract have the fireplace already on the wall we're moving it to, making seating arrangements centered around the fireplace much more feasible. With our rare model though, the fireplace almost serves to heat the entire house with its center placement. Great back in the day before central heating, but not very functional otherwise because of lack of seating space.
The ceilings will all be made flush and raised where need be, to be 8-9 feet high. Our entryway is 6'10" high, and us tall people can touch it with bent arms. Raising the ceiling here will make the house feel a lot more open. Funny thing is, there is nothing structurally necessary about this mix of low and high ceilings, just the way the designers built the houses back then.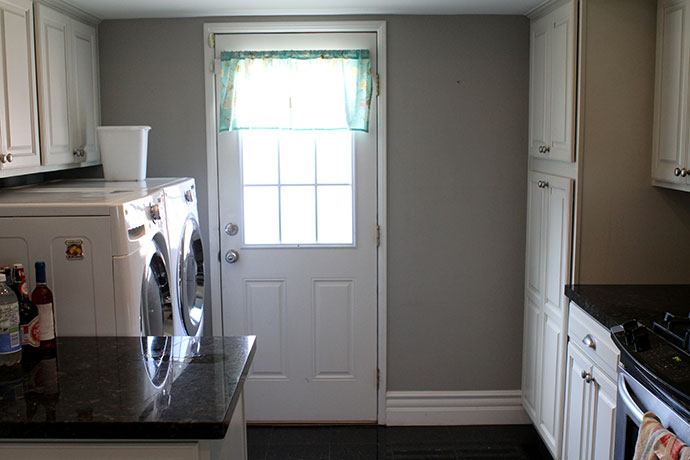 The wall between the kitchen and living room will come down and the kitchen will go from a galley layout to an L shape. The washer and dryer will find a home in the hall way. The main goal of the remodel in this area of the house is to make it more open and gain more space. The kitchen was remodeled by the previous owners about 5 years before we moved in, so over 10 years ago. The cabinets are from Home Depot and some of them are holding up okay, but a few are falling apart including the 2 pantry cabinet pull out drawers are buckling and falling apart. The fridge is from our old house and is now 11 years old, and will move to the garage. The microwave and dishwasher will be relocated to Art's office and we are donating the oven to Habitat for Humanity.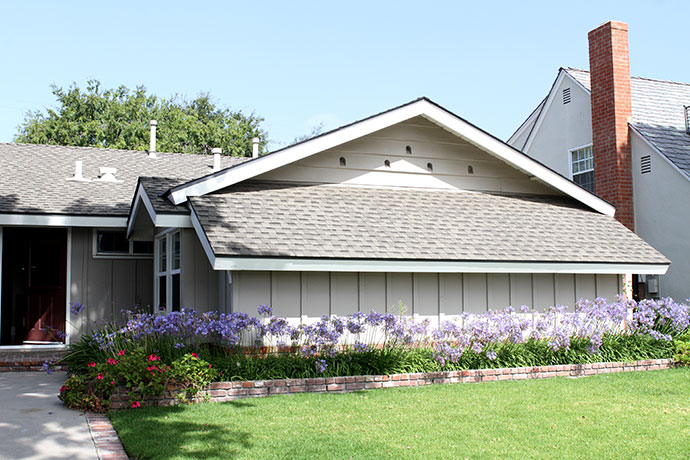 The one part of the house that we haven't grown to love is having our master bedroom in the front of the house, which you see pictured here. Normally it would be fine, but since our house is front and center to the school drop-off and childcare center, families start arriving to school before 6:30 am. There's one kid who when he gets dropped off yells goodbyes to his dad for about 5 minutes as he drives down the street. It's a sweet, albeit jarring wake-up call each and every morning. The front of our house offers primo parking so cars pull in and out all day long and it's pretty much noisy throughout the day since the child care center is open from 6:30 am-6 pm, and remains open through summer. It's just part of living across the street from a school and I take the good with the bad, but because of this we are moving the boys up front and we're taking their room in the back. Since they can sleep through alarms and freight trains, let them deal with the noise.
So that's about it. A lot, I know. We've saved and are taking on debt to get this done, our consolation being that investing in your home in SoCal is usually always a good idea. That's what we keep telling ourselves at least. I'll update our progress occasionally over the next few months and don't be surprised if I look for suggestions and advice. We've never done something like this before, and don't plan on ever doing this again. This is our one shot to essentially take our home and make it into our dream home, so I'm not taking it lightly. I'm a bit nervous but most ecstatic.
Oh, and in the mean time, we're living with our in-laws while this goes on. They live just a few blocks from us and are the sweetest, most generous people I know. My father in law is in his eighties and most of his day is spent watching the news, Judge Judy and reading his Bible. We are trying to keep things as quiet and calm as possible and sort of just stay out of his way. My mother in law is a bit younger and full of life, teaching Tai-Chi classes 4 days a week and flutters in and out of the house, busy as a bee. We've been there 2 days and I'm just trying not to freak her out by taking over her kitchen. Of course it won't be easy not really having our own space, but the money we are saving is so worth it. We really can't waste a cent right now, so having them open up their home to us has been the biggest blessing.
One things for sure, it's going to be a very interesting summer 🙂 Wish us luck! xo