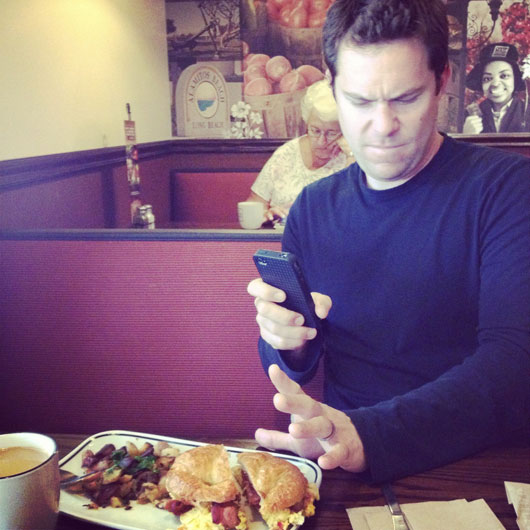 This is my husband, making fun of me and all the other geeks that take pictures of their food before eating it to post on Instagram.  He was working on perfecting his composition.
Today my husband turns 38 and I'd like to take this opportunity since I have a blog, to tell him the things I wouldn't normally tell him in person, sitting right in front of him.  I mean, how embarrassing to actually have to sit down in front of someone and say nice things to them, tell them all the ways you admire and respect them.  Makes me feel flush just thinking about it.  What did people do before the internet and email and all that jazz?  I guess write letters.  At any rate, here goes.
Dear Art,
Thank you for making me laugh.  Every day, whether I want to stay grumpy or not, you always find a way to make me smile and laugh.  Thank you for being the positive person that you are.  I love and admire your faith in God, and that you are always there to talk to me about my doubts and questions.  Thank you for always believing in me and our children, for always seeing the best in us no matter what.  Thank you for your continual support in all my hair brained ideas, and for believing in me, and for working hard so I can follow those ideas and dreams.  Thank you for being ambitious, while at the same time a little lazy.  The mix of the two makes you in my view, the perfect family man.  You work hard enough to succeed and provide for your family, but you can easily be cajoled into stepping away from work for a bit to take your son to the Pediatrician or to grab a donut with us.  I love that you realize that in life, there needs to be a balance.  Some men don't know that, and I'm so grateful you do.  Thank you for allowing me to be lazy sometimes and always getting up to fetch me some water or ice cream when we're sitting on the couch at night, and never ever complaining about it.  As I write this at 6 am, after going to bed early and leaving you with all the dishes, I realize that I could go on and on.  Tell you how wonderful you are with the kids, and tell you I appreciate the fact that after 13 years of marriage, you still try to get fresh any chance you get (even though I act annoyed, I'm glad you still find me attractive).  But I think I'll leave some stuff for the card.  And maybe actually tell you some things in person 😉
Happy Birthday Art!  I love you more than I could ever put into words!
All joking aside, I really do tell my husband nice things to his face 😉  Maybe just not as often as I should, but on someone's birthday I firmly believe you should take any opportunity you have to tell someone just how special they are, however unconventional that may be!