I don't believe I have a single staged family photo from my childhood, not even one of those awkward family photos from the Sears portrait studio. I think I've seen an intermittent photo of just myself as a baby, sitting in Santa's lap or atop a pony, maybe even on a carpeted backdrop from KMart, but the point was, we never did family photos. I'm sure it had something to do with the rather chaotic, dysfunctional state of affairs our family was in for many years, and when things were good, we were more apt to take a random Easter photo standing out front of our house, than getting dressed up and hiring a photographer to take tastefully staged pictures. No matter the state of dysfunction your own family may have been in, I'm sure this is the same for many of you, am I right?
But family photos are sort of a big deal now, especially since digital took over and families could get affordable, fun, less-uptight photos taken just about anywhere. Miranda of M.Shanti Photo took ours again, and found a great backdrop in Signal Hill, a little subcity in Long Beach. We're not really sure what the building is used for, as we saw an older lady open it up and feed several cats while we were there, so maybe it's just an old building she holds on to as a shelter for stray cats from all over the neighborhood? Who knows really, it looked cool in photos so that's all we were concerned with, but if it doubles as a sanctuary for homeless cats, all the better.
The kids know Miranda just as well as a family member since they see her on an almost weekly basis. Getting them to loosen up for her is always a problem. Not really.
She had some ideas of poses she wanted to see us in, so once we arrived we got those out of the way first, and then we sort of just had fun. It was sprinkling during most of the shoot, and at the end it began pouring rain, so towards the end we were sort of just frantically running around trying to get some decent photos captured. For a twenty minute shoot, I think she did a damn good job.
Coordinating our outfits is always an interesting and time-consuming venture for me. I really should try to plan earlier or try not to worry so much about it, but at any rate, I'm happy with how all our outfits came together this year. The day before Thanksgiving I went to the mall by myself and searched around, as I was uninspired this year. Usually I have an idea of where I want to go with the outfits, and center them around something I already own, but I was coming up blank. So I just started looking around, and came across the patent leather red boots Taylor is wearing, and I knew I had a starting point. 
After finding the red boots, I still wasn't sure how we were going to go, so I just walked out of Zara and started going to different stores. I went into Gap Kids and found the plaid dress, and the combo of the boots and plaid reminded me so much of the style I loved from my youth, I went with it, adding in the leather jacket for some warmth and texture. So Taylor's outfit was really the jumping off point for the rest of us.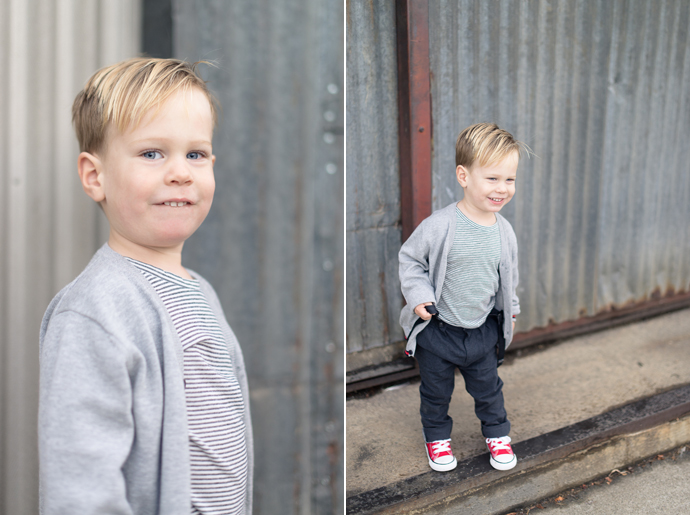 I couldn't find anything I loved for Hayden that was red. All was either red plaid, red stripe, all patterns that just felt overdone, so I decided to go more black and white for the boys, and add in pops of red. Note the red piping on Hayden's cardigan, and of course his Converse.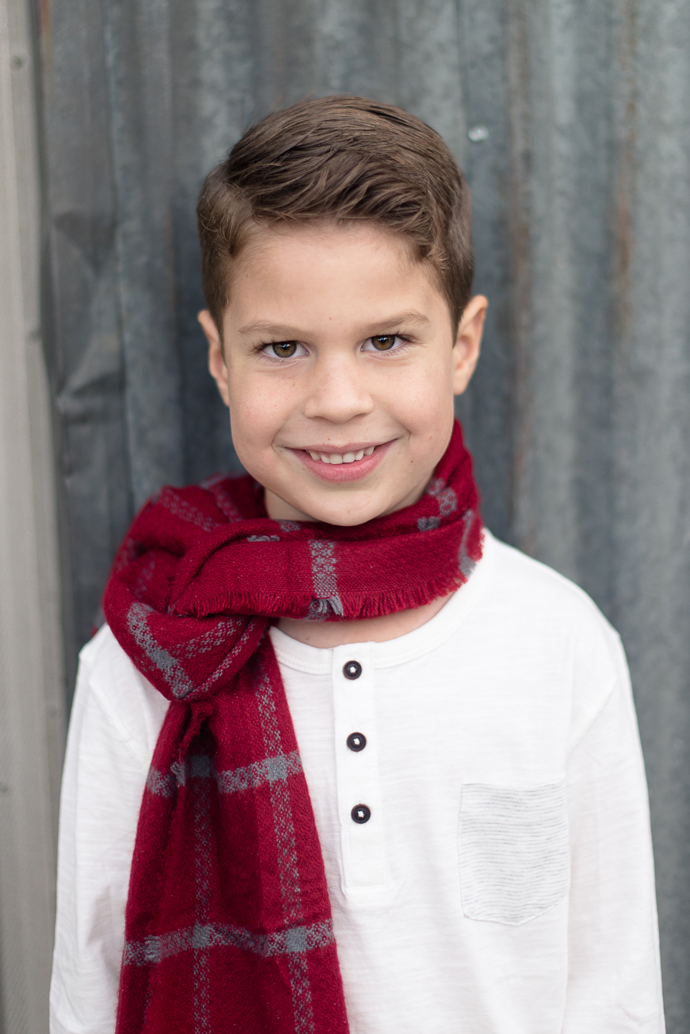 Had I found bright red jeans for Syd, I would have went with those, but then I saw this scarf and knew it was just enough. He also had a bit of red trim on his black hi-tops. 
Art's outfit was the hardest and easiest to put together. Red for guys is sort of hard, you've either got a red sweater or scarf, but red vests or red jeans just aren't him and I knew would be too much, so I settled for the tiniest hint of red in his shirt. Good enough.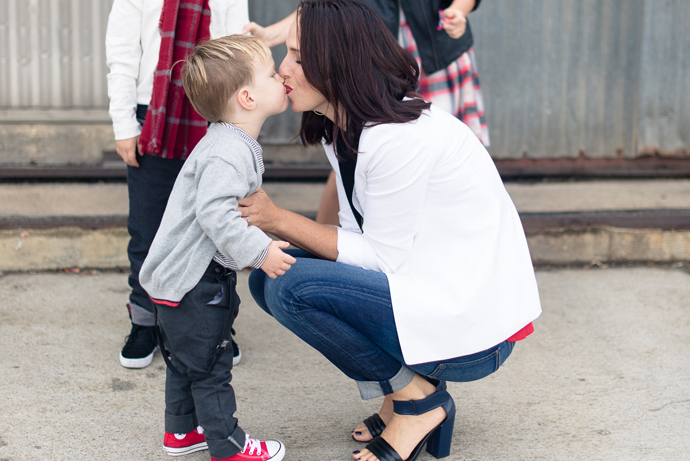 My outfit was the only one which used items I already had on hand. I did buy a plaid shirt in case I didn't like the way the blazer looked when I got home, but I ended up loving it so took the plaid shirt  back. 
The end result is a look that coordinates, blends in together without being too matchy-matchy, but also stands out because of the subtle pops of red. We've done jewel tones before, brights, standard white and denim a long time ago, so even though black, white and red is a very typical holiday look, it was new for us this year.  
Miranda asked us to dance here, and all of us had no problem with that, except for Hayden. He just stared at us.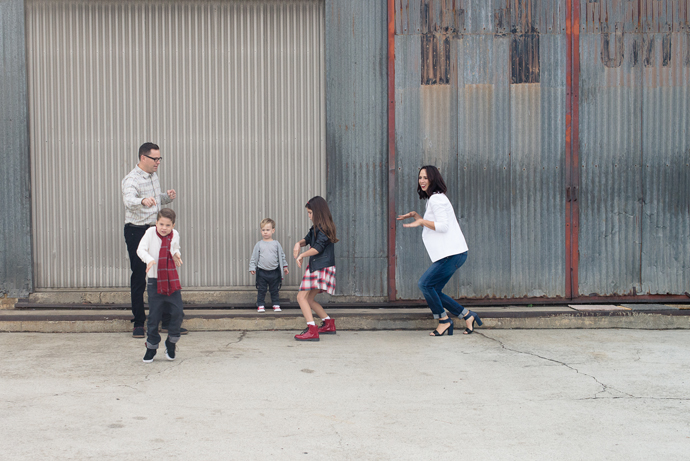 Finally towards the end of our dance sesh, he did a little half-turn, either to try and get in the groove or to ignore us, still not sure. Our Christmas cards from Paper Culture came today and I love how they turned out so much. For the first time I ordered two different styles to mix it up, and will give the card with the funnier poses to friends and close family, and the more simple, kid-centered card will go out to extended family and work clients. 
I can't wait to turn these photos into prints for our wall and frames. How about you guys? Are you big on the family photos, or do you think they're too much work? They are fun to have when all is said and done, but they're certainly a lot of work and stress to prep for, I don't disagree. My goal for next year is to somehow take the stress out of the prep process so I can enjoy the actual shoot more.
Outfit details:
Andrea – tuxedo blazer old from Club Monaco, similar here, blouse J. Crew, jeans Elizabeth & James, heels Shoemint
Art – shirt Grayers from Nordstrom, jeans J Brand Kane style, boots old from Nordstrom
Taylor – dress and jacket Gap Kids, boots Zara
Syd – pants, shirt & scarf Zara, Supra hi-tops already owned from Nordstrom
Hayden – pants, sweater & shirt Zara, hi-tops Converse