We are deep in the throes of babyhood with Hayden. Ever curious, playful and full of personality, he's making his wants and needs known by lots of grunts and screaming. That boy is all smiles most of the time, but he can most certainly get worked up. Seeing as how easy he was the first year, we'll happily take some passionate screaming right now.
Our routine and schedule the past couple of months has been a bit wonky due to him dropping his second little cat nap. We usually spend our mornings at home, so that he can get some good play time in before his one and only morning nap, which is usually from 10:30-12/12:30 if we're lucky. It's a tricky time because that stretch to bed time is a looong one, and it means that I'm usually home alone with all three kids, trying to get homework done and dinner cooked before Art gets home about 6:30. 1st and 3rd grade homework is challenging and requires focused attention, so for at least an hour, Hayden usually needs to entertain himself. Then by the time dinner prep rolls around, I'm trying to chop and stir with a baby on my hip, which is risky business.
All this to say that our mornings are spent playing and out on adventure, trying to give Hayden some one-on-one time and tire him out so he gets a good rest. Our afternoons are spent trying to keep baby happy and entertained so I can get accomplished what needs to be done. For these goals to be met, a momma needs more than just some ingenuity and creativity, some toys and baby products I can count on are crucial to our success. I've rounded up some of our current faves from Mother's Organic, that help make our life easier in this current season.  What are some of your favorites for the season of motherhood and parenthood you're in right now?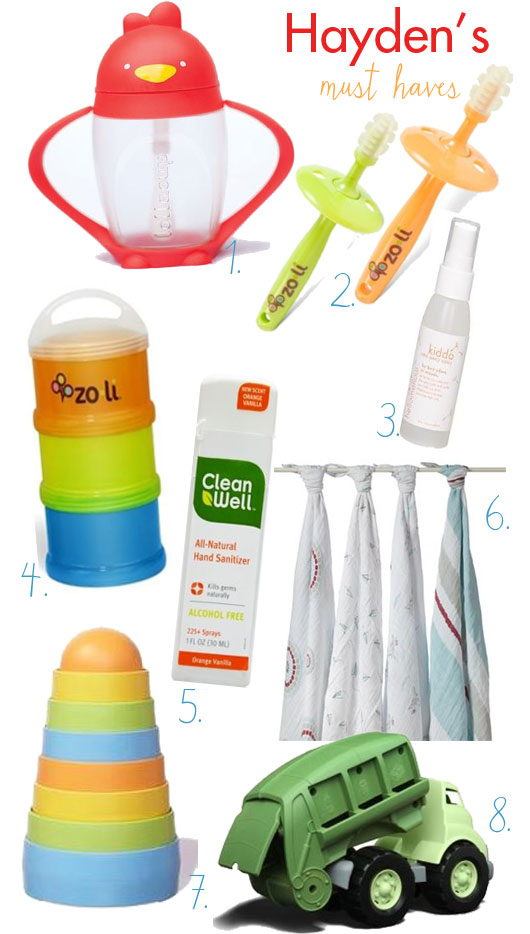 1. The Lollacup is a genius invention that has a weighted straw so babies, especially ones just learning to drink from a straw, can still get liquid from the cup even when they tilt it. 2. I have a really bad habit of letting Hayden chew on my toothbrush.  It can transfer germs and bacteria from cavities, so I love these Zoli Gummy Sticks teethers that mimic the look and feel of a toothbrush that babies love so much.  3. Hayden's room can smell quite ripe when he wakes from a long nap where he may have gone potty, and especially because we're still cloth diapering.  Even the strongest diaper pails don't always hold in all the stink.  This Hellmellow Stink Away spray is perfect!  4. On the go means having to take easily transportable snacks with you.  These Zoli Stackers are perfect!  5. Every mother needs good hand sanitizer on her at all times.  This one by CleanWell is vanilla orange scented. 6. Even though we're long gone from swaddling, we still use our Aden & Anais muslin wraps on the go to cover up the stroller or set down on the ground.  7. & 8.  Stacking toys are a big part of our play time, as well as hammering and things that move.  Hayden loves anything that he can manipulate and change and move with his own hands.  Stackers and push cars are just perfect for this stage of play.  Green Toys Stacker & Recycle Truck.
Mother's Organic was founded by Kelly & Jason McKnight, parents who were in search of products that were safe and healthy for their own children, as well as the environment. They started the website to curate some of the best eco-friendly products for baby, mother and child around. Everything on their site gives you peace of mind that it is non-toxic, safe and good for the environment and your child. I can tell you that the journey to a more sustainable life, whether it be through cloth diapering or choosing certain foods, is overwhelming. Reading labels and trying to decipher everything that's out there is stressful. You can shop Mother's Organic with peace of mind though, knowing that they have sifted through the minutia for you.
This post was sponsored by Mother's Organic, but all views and words are my own.  Thank you for helping to support those businesses which help support For the Love Of.