Several times I've tried to broach the subject in a Babble article, of limiting kid's sweets consumption. It's usually met with a mixed reaction, with a fair amount of folks approving, and with an equal amount of very vocal people objecting to such a horrific idea. The most common comeback to a typical discussion of limiting junk food for kids is, "Everything in moderation" and of course "Let them be kids!"  The sad truth though, is that there really isn't a lot of moderation in the average kid's diet. Empty calories from added sugars and solid fats contribute to 40% of daily calories for children and adolescents aged 2–18 years, and most US youth do not meet the daily recommendations for fruits, vegetables and whole grains. And oh yeah, the average adolescent drinks more soda pop than milk each day. So when we talk about moderation, I'm not sure what we mean here.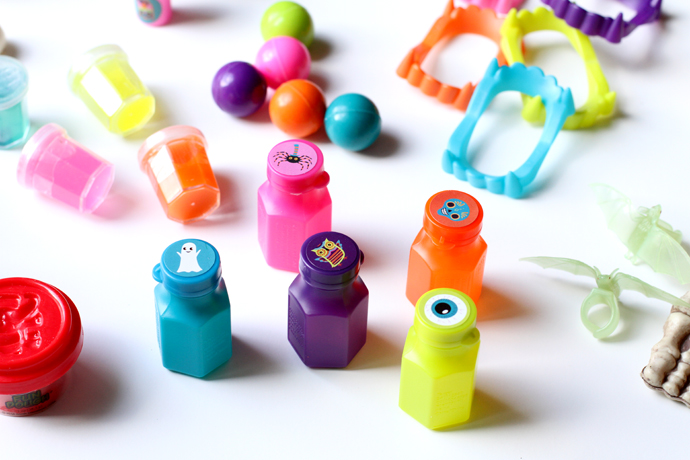 But this post isn't about a guilt trip, it's more to explain my crazy logic in offering up non-candy treats this year. Between birthday parties, play dates, church, chorus practice, baseball practice, football practice, sports games, and the well-meaning grandparents, my kids get plenty of junk offered to them on a daily basis, and I'm sure yours do too. I pick my battles, and almost always I allow them to "just be a kid" and partake in most of what's offered to them, and when they're not looking I may ditch the leftovers. But I'm sort of thinking, where and when it's easy enough, it may be wise to sway from the pack and offer up entertainment in other forms. Hence, the toys and other little goodies we'll be passing out this year, in lieu of candy. I'd take a wild guess and say our house will probably be the 1/100 houses offering up something other than candy, so it's safe to say no kids will suffer during this process. They will get plenty of candy this Friday, I have no fear of that, and now kids knocking on our doors will also get a little different treat. 
Of course this idea is nothing new, and others have been offering up non-candy treats for years. But this year, we're finally jumping on board and since it's early enough to still make the switch from candy to non-candy, I thought I'd share what I found yesterday. Target made it too easy for me, and I got out of there with over 100 little items at just under $25. It's safe to say I usually spend at least $20 on a few bags of candy, so this wasn't that much of a cost difference. A couple of readers offered up the brilliant idea of glow sticks, which I love and will probably steal the idea for next year when I have time to order a bundle in advance. Someone else I know passed out bags of Pirate's Booty and a healthier yet still yummy granola bar, but I'd imagine that's gotta be expensive. And little packs of pretzels, which usually just have a couple of ingredients, is another smart and affordable option. Pretty much the possibilities, while maybe not endless, are plentiful.
Oh! And after I posted on IG our non candy selections, a friend brought up the Teal Pumpkin Project. While I'm not sure we'll have a teal pumpkin on our doorstep on Friday, I do feel happy knowing that kids will allergies, and their parents, will be able to enjoy what we're passing out.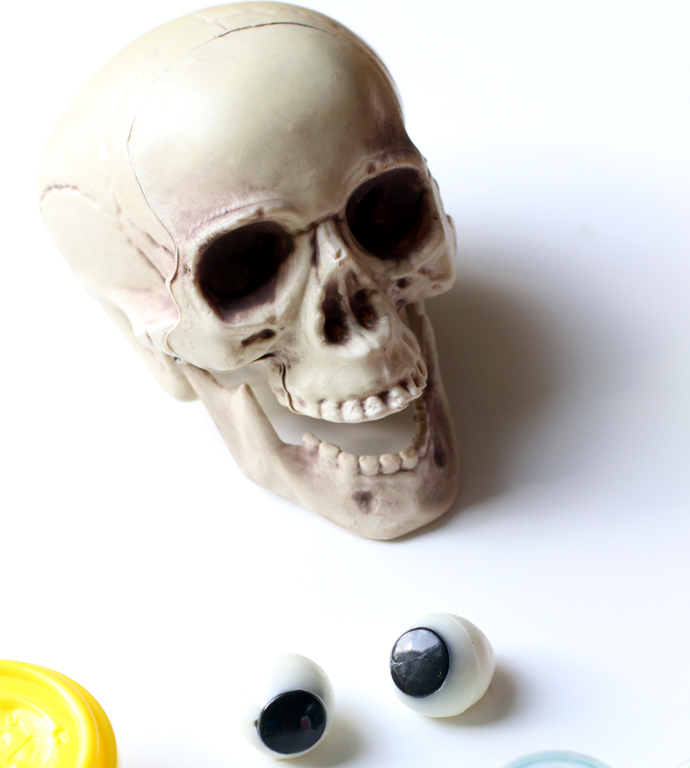 Of course not everyone can make the switch and pass out non-candy options, or else the kids will revolt I'm sure. But even if we can just make a more conscious effort to take it easy on the sugary sweets, during whichever holiday or event you choose, I think our kids will be a lot better off for it, don't you? Okay, off my soap box now! Trick or treat all!
Clockwise, from left of the skull: stampers set of 6 $1; colored fangs set of 24 $3; glow in the dark bat rings set of 6 for $1, bubbles set of 20 for $5, bouncy balls set of 15 for $3, slime set of 12 $4, Rose Art play doh set of 4 $1, sticky eyeballs individually wrapped set of 24 $3.