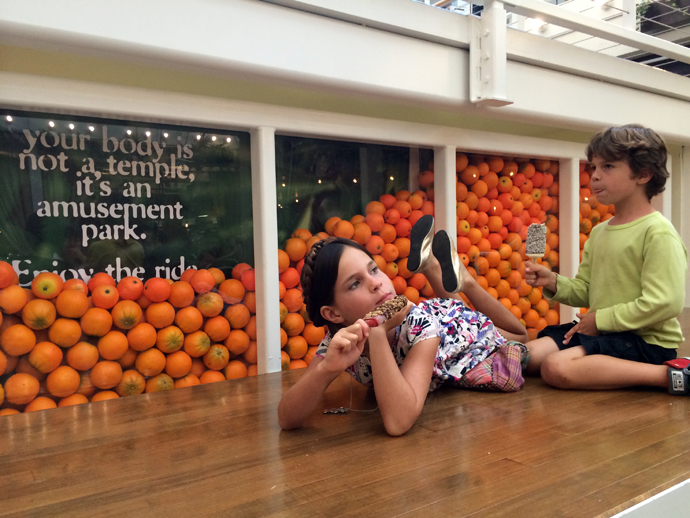 Our school schedule runs a little bit different than the norm. We have a modified year round schedule, so our breaks are broken up throughout the year into smaller and longer vacations than the traditional school year calendar. This makes for a short summer which flies by in the blink of an eye. We try our best to strike the balance between lazy days and activity to keep everyone happy. Some days and weeks it works, and we take our time and enjoy the lack of schedule. And some days the kids fight or we are rushing out the door, and I take a sideways glance at my calendar to see how many days left till the school bell rings.

I don't know what the right balance really is, and if it can ever be achieved, but we try our best to make the best of each day, and we had quite a few of them.
We recently discovered a somewhat local place called the Anaheim Packing District, a large food hall housing a variety of restaurants, a couple of bars and several dessert stands, one of them being a popsicle stand called PopBar. The kids asked to go there twice in our last week of summer break, so we did. Some days I should probably say no more, but I tried to focus on saying yes a lot the last week of break. Saying yes a lot led to one tired momma, which made me excited for school to start and less sad about summer passing too quickly. Not sure if that's a healthy way to treat sadness, but whatever works, right?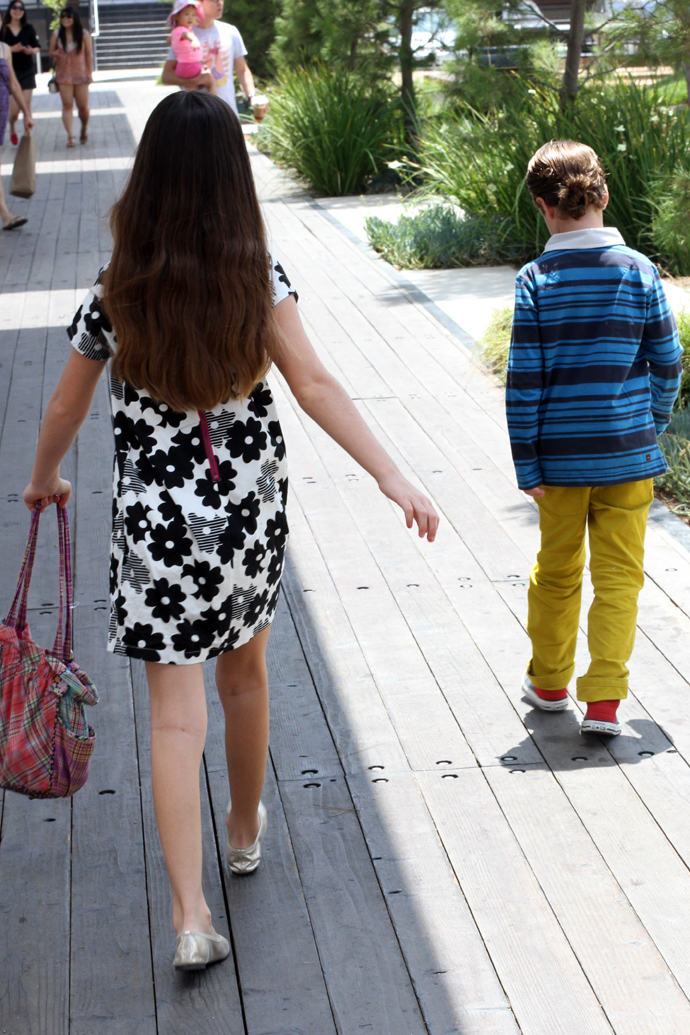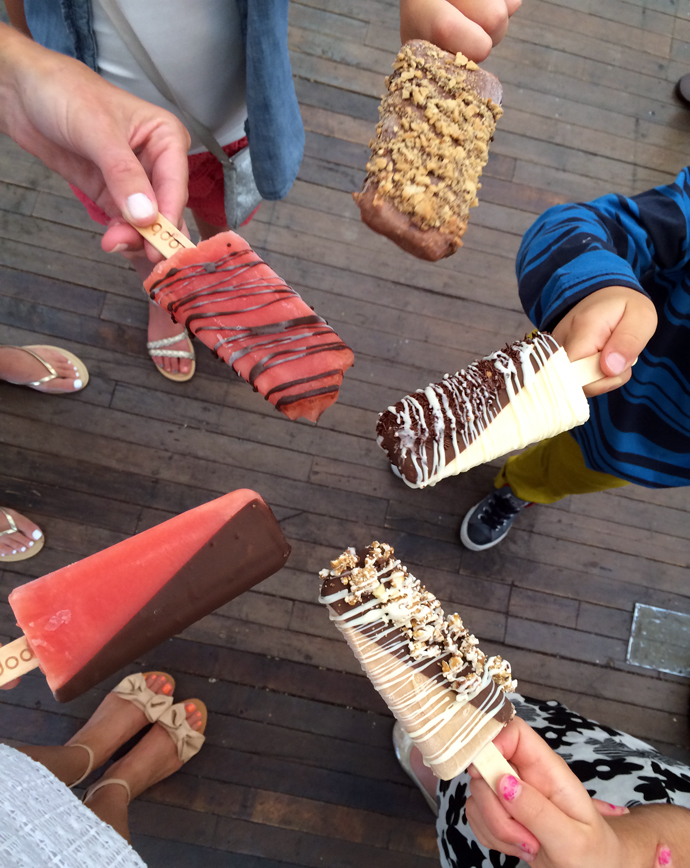 I also said yes to them wearing school clothes and shoes this summer, a rule my own mother never let me break when I was growing up. You can see how well that went.
But in reality, a good soak and a long night of sleep did us all some good each night, and getting to sleep-in without an alarm clock was one of the things I already miss most about summer.
I do not miss the inevitable bickering though, I'll tell you that much. Perhaps I'm doing this parenting thing wrong, but I've yet to find the perfect formula for endless "together time", that leaves all parties smiling and happy. Let me know if you have the answer, pretty please.
The kids returned to school just yesterday, and how exciting of a day it was for all of us. The kids seemed to really love their teachers after the first day, are excited about a few projects they will both be working on in 2nd and 4th grade, and were downright pleasant to each other all afternoon. Hayden and I also got to return to our routine of Curious George and a long morning walk.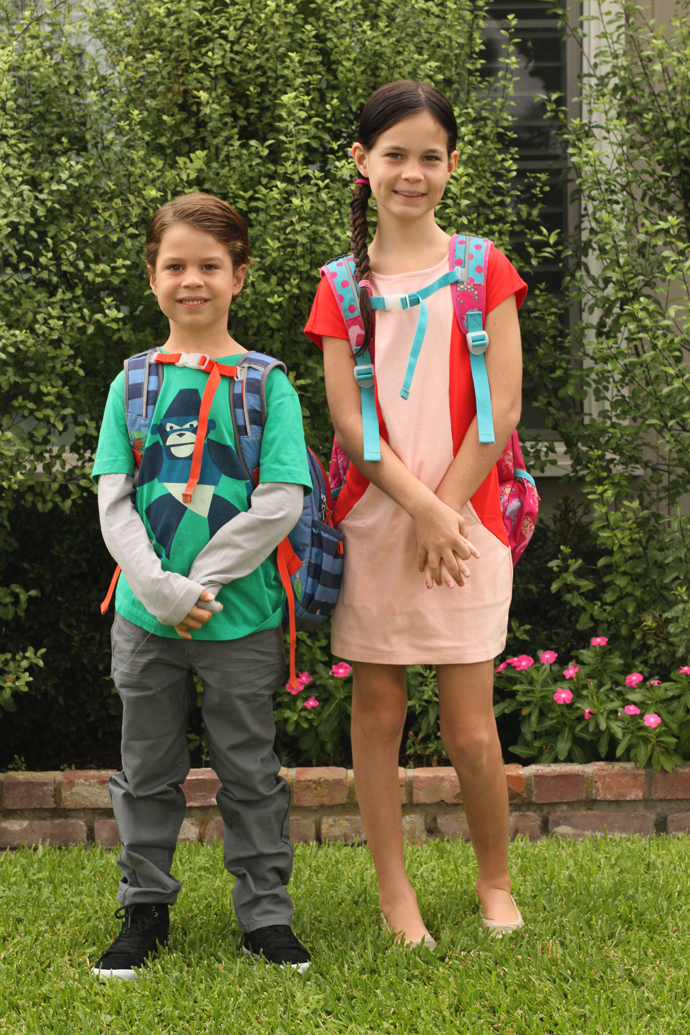 I'm sure soon enough we will all be missing summer, but for now anyhow, we're happy to have a bit of routine back in action. Plus, before we know it, it will be the last week of September and we'll be signing out for a week of vacation. How much longer do you have before school starts for your kiddos? Are you joyfully anticipating the return of school, or dreading the daily grind?
The lovely folks at Tea Collection have designed a wonderful new line of clothes, perfect for back to school, called Be Bold, Be You. The idea behind this collection is taking some great mix and match pieces, and making them suit each wearers individual personalities and style. The pieces you see the kids wearing throughout this post are all part of the new collection, and they each had a lot of fun picking them out. The dress colors and prints are still so age-appropriate for Taylor, yet with the right amount of stylish edge to make her love them. And Syd wears jeans 365 days of the year, no matter what the weather, so he was more than happy to sport these, which are the perfect mix of skinny and relaxed, making his touchy self very comfortable.
You can find easy to shop sets here, for both boys and girls, or you can shop the individual pieces through this link for boys and this one for girls. Taylor's favorite printed dress is the Lyrical Shapes, and the adorably mod black and white floral dress, with an exposed back zipper, is the Odette. Syd's favorite pair of pants are actually made of twill called the Daytripper.
We've long been fans of Tea, since Taylor was first born, and I am thrilled to be able to collaborate with them in such a fun way. Thank you Tea for always designing such perfectly stylish, quality clothes, and thank you for supporting the brands that help me do my thing.
This post was sponsored by Tea Collection, but all opinions are my own.