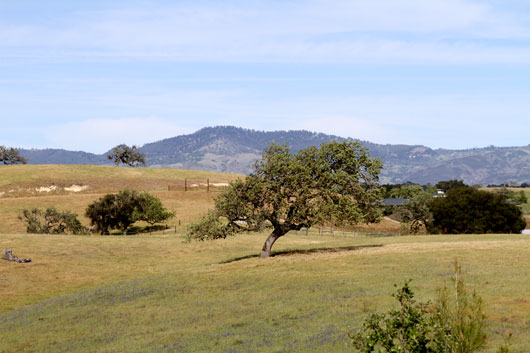 It wasn't until after I graduated from UCSB that I even discovered the Santa Ynez Valley, a small area about 45 minutes north of Santa Barbara. Known for its countless wineries and gorgeous rolling hills, we started visiting the area for short weekend trips in our mid twenties, and since have usually found an excuse to get up there at least once a yaer. Simply put, the scenery is breathtaking and the pace nice and laid back. Living just a few short miles from the beach, perhaps I'm jaded, but I'd take these views as my everyday over any slice of the Pacific Ocean, and I'd definitely trade the rat race of living in a big city for the serenity of the slow paced lifestyle. The valley is a special place, having an instant relaxing effect on us every time we visit.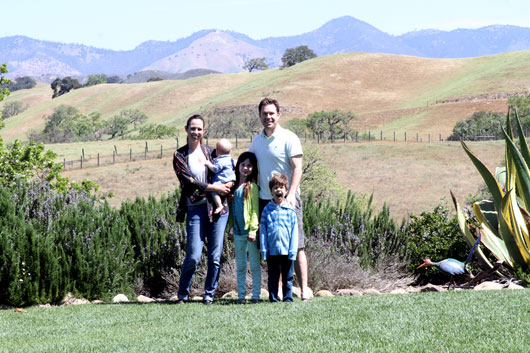 As you can tell by the amount of photos in this post, we covered and documented a lot of ground during our trip, but what I thought I'd mostly talk about is vacationing with young kids to a slower paced destination, and finding a way to do things that will make everyone happy (for the most part). When I first told my parents we had settled on Los Olivos/Santa Ynez as our vacation spot for Spring Break, they asked what on Earth we were going to do with the kids and how we'd keep them occupied. Even more pressing to them though, was whether we would be lugging the kids around the entire trip on wine tasting excursions. The answer was a resounding no, but we did fit in a couple of tastings.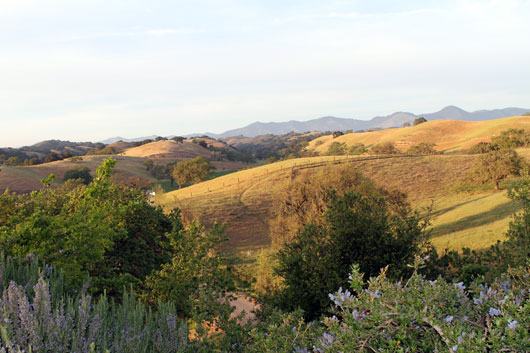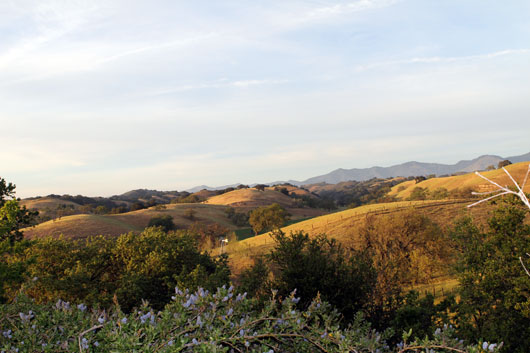 We started off by finding a house to rent on VRBO so we could cook meals and have a couple of separate bedrooms. The house we stayed at was initially out of our budget, but after contacting the property manager we negotiated a lower rate, and had friends stay with us for 2 nights, lowering our cost even more.  The lower cost was just an added bonus of being able to hang with our friends.  If you can find a family or two to occasionally take trips with, I wholeheartedly suggest it.  It gives everyone a break from the usual; kids get to play with their friends and grownups can feel like they're on a regular vacation since they have others to interact with.  We searched for a place with a yard, a patio and either a pool and/or spa to give the kids something else to do.   The house we found had all of this and more, with the added bonus of a stunning view, bikes to use at our disposal, and an outdoor fireplace so we could roast s'mores. Turns out the kids only went in the spa once, and spent the majority of the time just running around outside and exploring the pond on the property.  Let me know if you'd like the link to the specific property we stayed at.  It was at least 5 acres, and the nearest neighbor was across the other side of the valley.  It was pretty much the most remote place we've ever stayed.  The coyotes, frogs and crickets at night were unbelievable.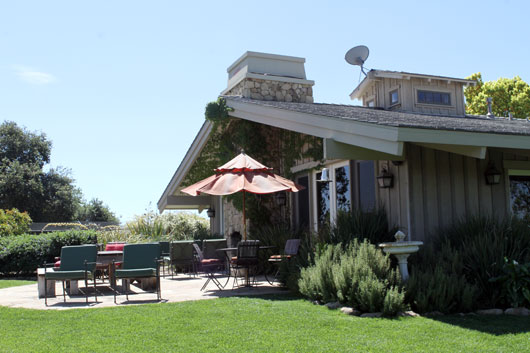 We brought along the things that the kids always tend to want to play with at home on the weekends; Legos, and more recently, Chess. When they needed some quiet time, they just sat and built Legos or we played Chess. As a side note, we bought local, hard to find wine a few times while in town so that we could enjoy a glass or two while overlooking the backyard view, and hanging with the kids.  This gave us the feeling and experience of enjoying the fruits the valley has to offer, without dragging the kids around to countless wineries.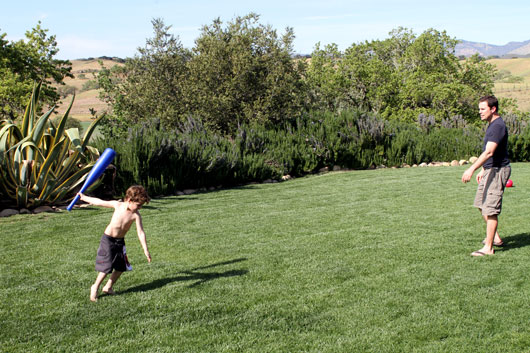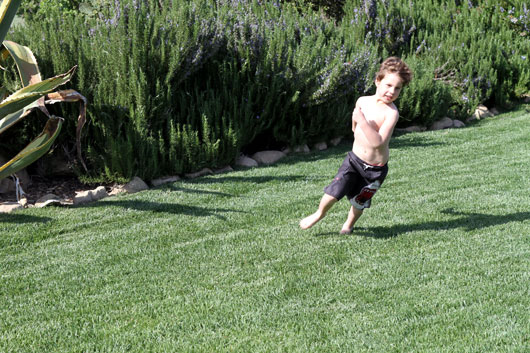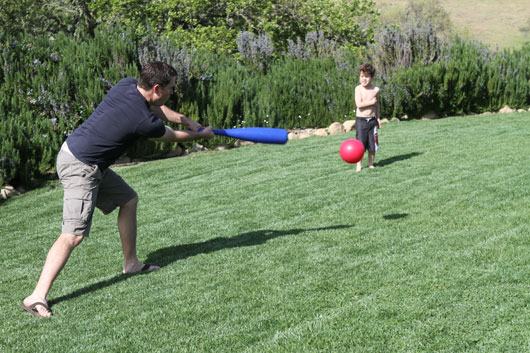 We chose Los Olivos as the place to stay because of its quiet, small town atmosphere.  It's located within the Santa Ynez Valley, just a couple of miles away from the town of Buellton and Santa Ynez.  Having access to the town would allow us a place to go when we didn't want to cook meals and to just stroll around if we did want to get out of the house. Los Olivos has dozens of tasting rooms in town, but I would not recommend taking young kids into them. While the overall atmosphere of the Santa Ynez valley is very casual, the tasting rooms tend to be small and quiet places where grown ups go to enjoy themselves. There's really nothing at all for the kids to do in them except get bored and get into trouble. We did trade off with our friends though and the guys watched the kids while me and my girlfriend took a tasting, and then we traded. While the grownups were tasting, the kids and the other set of adults hung outside the Cuquelicot tasting room and played bocce ball and ran around.  After we each had our turn, we took the kids to a great local park to play a bit.  The trip was always a bit of a trade off.  We go to a nice meal, then we play Chess for 2 hours.  Hang out and play games out side while the grownups enjoyed a wine tasting, then go to the park.  Endure another meal at another restaurant, then take a ride on a surrey.  Give and take, that's how we roll 🙂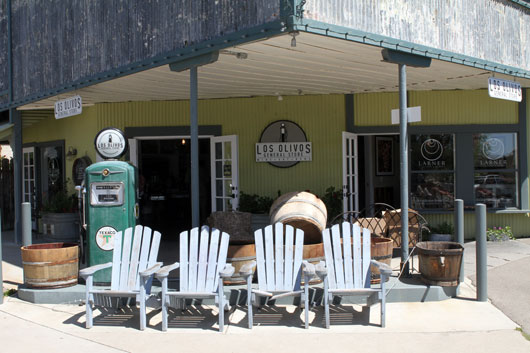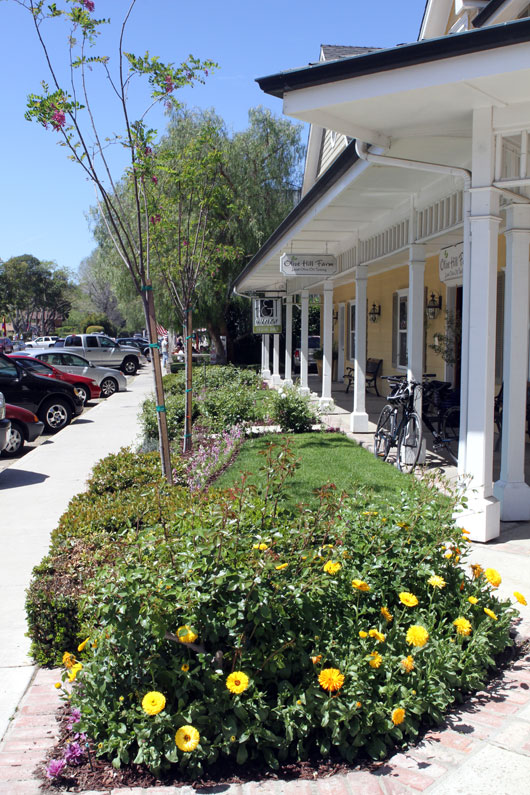 The only other time we went on a proper wine tasting was on our last day when we stopped at Sunstone Winery with a picnic lunch and the Chess set and sat outside eating, playing and tasting. Most wineries are really laid back and it is okay to bring kids, and in fact you often always see kids at the wineries. They have large beautiful grounds that the kids tend to love exploring.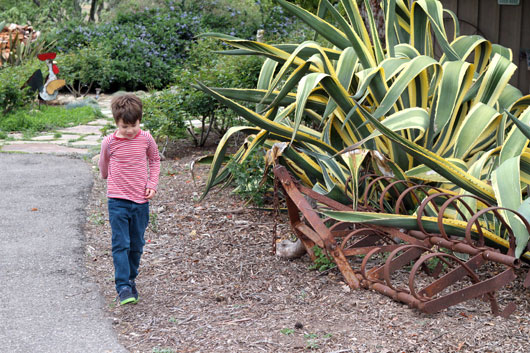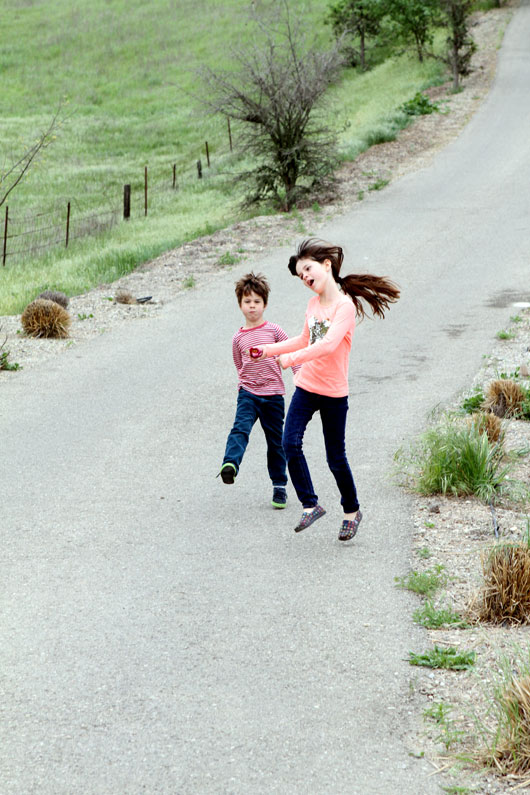 We really tried to strike a balance of not doing much of anything at all, but also get out of the house when we felt like getting out.  The entire trip, we never really felt rushed or an urgent need to actually have to do anything.  Isn't that what vacation is really all about?  On our third day we did venture into Solvang, a little town just outside of Santa Ynez that was founded by Danish school teachers in the early 1900's, hence it's Danish inspired architecture and windmills.  We rented a surrey and cruised around for a little bit, got ice cream and had brunch.  It was nice to feel free to stay as long or as little as we wanted, to not really be on any type of schedule.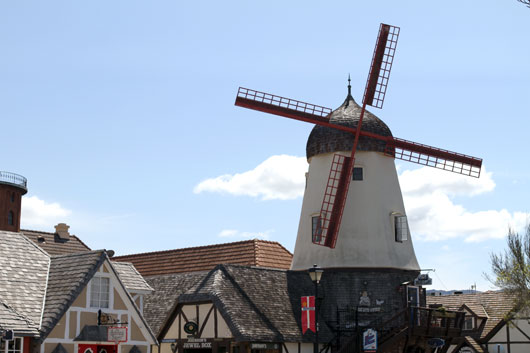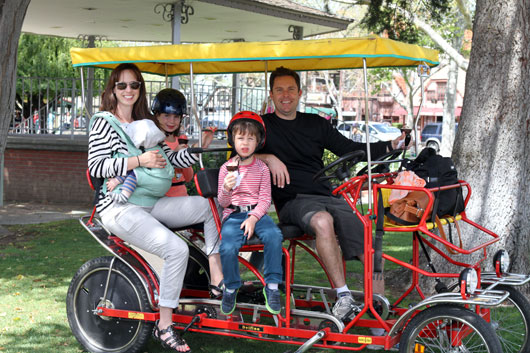 The wonderful thing about this area is how relatively close everything is to each other, and with no traffic to speak of, getting from point A to B is quick and painless.  In addition to Solvang, there's a great park for the kids just outside of town, and a petting zoo at one of the local farms.  The area has some great choices for eating out too including Los Olivos Cafe and Sides Hardware and Shoes, both in Los Olivos.  Full Of Life Flatbread Pizza in Los Alamos had amazing food.
I'm certain not every vacation will be a slow paced one like we had last week, but I am certain those are the best ones for our family.  There's lots we want to see, so as the kids get older we'll continue to take more adventurous trips that may challenge us a bit more with tight schedules, sights to see and tours to take.  But for now these laid back times to be together as a family away from home and the distractions of housework and home improvement projects and just everyday life are our favorite.  I asked Taylor at the end of our trip what her ideal vacation would be, and she quickly replied, "This, but with horses and other animals."