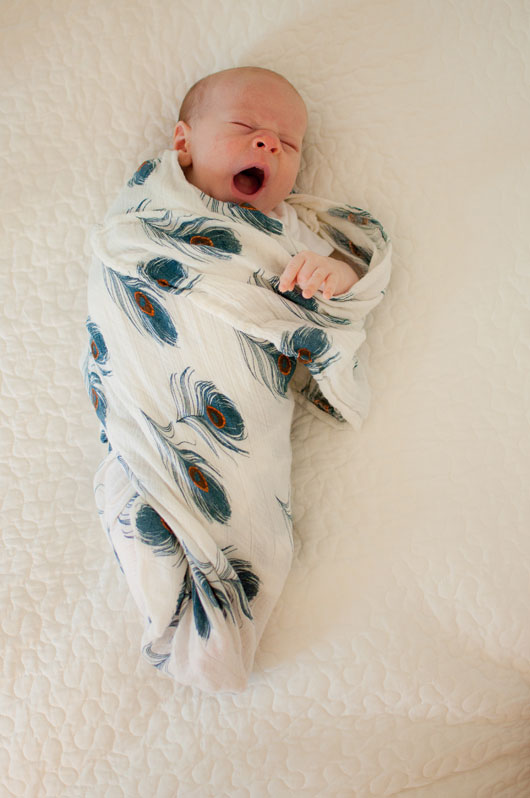 We got pregnant with Hayden on our trip to Napa last year. Is that too much information? Well you know how we got pregnant, so what difference does it make if you know where too, right? Anyhow, while we were on that trip, we bought lots of wine, and joined a couple of wine clubs. We love wine. Not in the snobbish way, where we can detect the difference between leather undertones from tobacco, like musicians can detect middle C from high C. We just like our wine, and don't care what vintage it is or how much it's worth; if it tastes good to us, then that's all we care about. So soon after our trip to Napa, we found out we were pregnant, and then subsequently, the wine we had ordered on our trip all started arriving at our doorstep. Art, being the smart and wise man that he is, knew better than to open any of that wine from our trip for the duration of our pregnancy, and so it sat, and piled up. After 9 months, we had at least 20 bottles from our trip just sitting there, a reminder of our little blessing, if you will.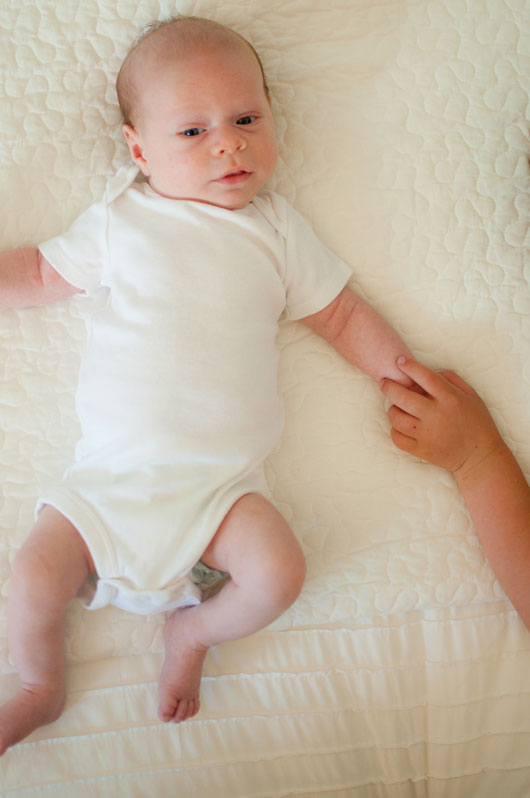 After Hayden was born, we got the great idea of inviting over just a few of our closest friends to enjoy some of that wine with us.  We still weren't comfortable leaving Hayden with a sitter to go out at night, so we figured if you can't go to the party, bring the party to us right?  So as it turns out, the only night we could all get together was the night before we were set to take our family/newborn pictures.  No big deal I thought, we would call it a night by 10pm and get some rest and be ready for pictures the next day at 11 am.
Well we thought wrong.  We were having such a great time we stayed up till midnight, and then Hayden, being the newborn that he was, decided to keep us up half the night.  The next morning we were complete toast.  Art took the first shift with Hayden and let me get some sleep, then when Hayden took his first nap at about 8:30, he climbed back into bed, where I was still sleeping, and left the kids out in the living room playing Wii.  Almost two hours later, we woke in a fog, and the taste of negligent parenting was fresh in our mouths.  It was 10 am and the older kids had not had breakfast (although they were not complaining), and they were still playing video games.  Miranda was also due at our house in less than an hour to start taking pictures, and we had to get Taylor to and from swim lessons in that short hour.

So what does all this have to do with these pictures?  Well I tend to take family photos very seriously (probably too seriously, I know, just look at my Maternity photo shoot part 1 & 2!).  I plan out our outfits, how I'll wear my hair, the location, and stress about them the day of.  Will everyone smile, will we be late, blah blah blah.  And so I look at these pictures and I see how much I've changed just in the short time since Hayden has arrived and we've become a family of 5.  You may not notice, and really it's not the whole point of these beautiful pictures, but I see Taylor's wet hair, because we didn't have enough time to dry it properly.  I see Syd's messy hair in the first few shots, and his mismatched outfit, because that's what he got himself dressed in and he had combed his own hair while his parents slept.  And in fact the only one wearing their preplanned outfit is Art.  I see my tired, puffy eyes, from getting too little sleep, but then also just having woken up.  I see my hair is sort of not done; done enough for photos but not completely curled how I had originally imagined it would be.  I see myself wearing a shirt that is too small for me, that highlights my postpartum untoned arms, but it's the one that Taylor really wanted me to wear so we could match, and I was feeling too tired to really care and fight her on it.  At that moment matching my daughter in our family photos seemed like the sweet thing to do, the right thing.  I remember saying "Oh, whatever" about 20 times that morning, and really meaning it, not saying it out of frustration.
I see that my husband and I had had a good time the night before with good friends.  And that the old me would have rescheduled our night with friends, or cancelled it, so that I could look fresh the next morning and everything would be oh so perfect.  I see that I'm learning to let go of perfect, and realize that life as is, is just as sweet and perfect.  Because really, perfectly combed hair or not, and matching outfits, isn't what it's all about.  I look at these pictures and I see first and foremost, love.  Our little family of 5 is now complete.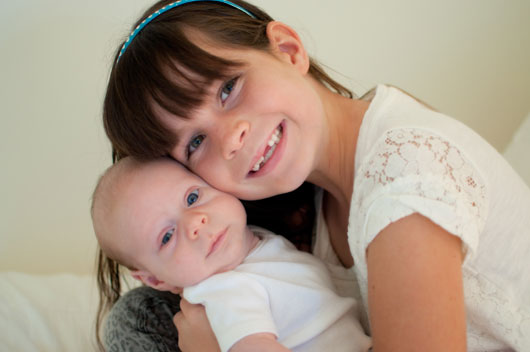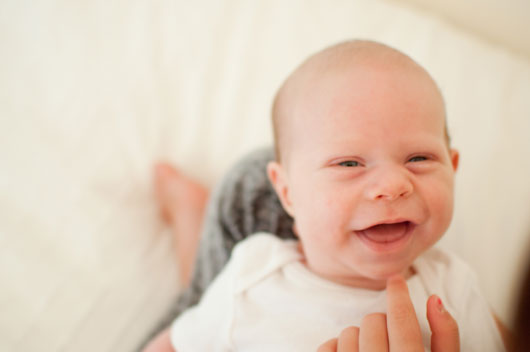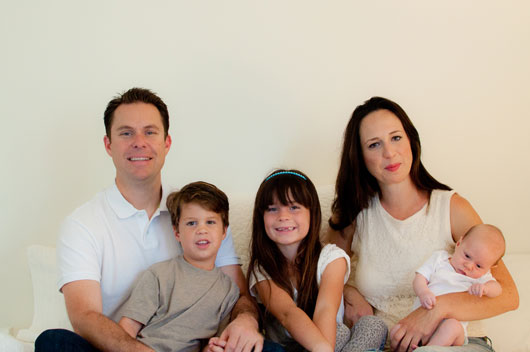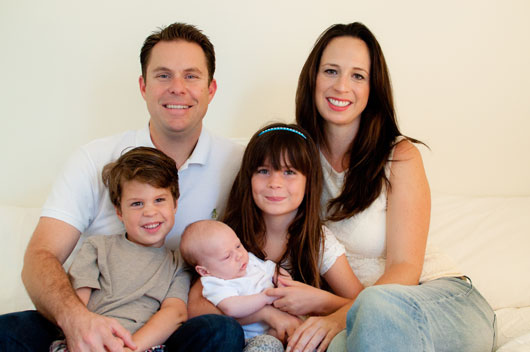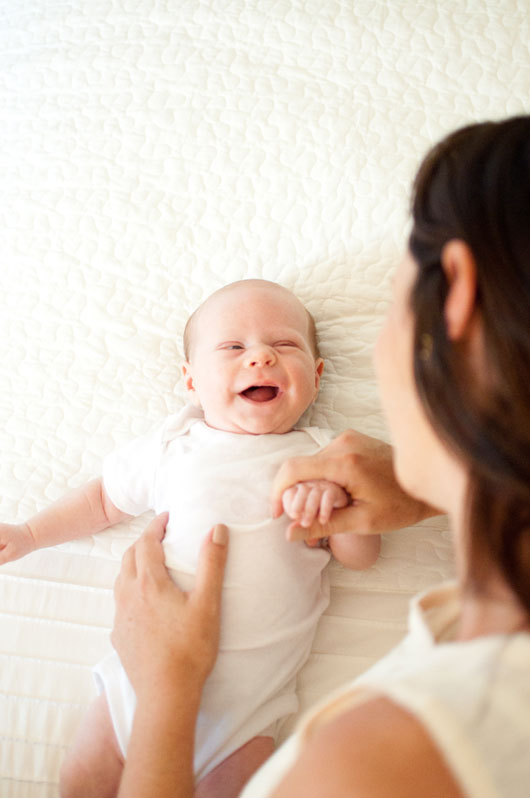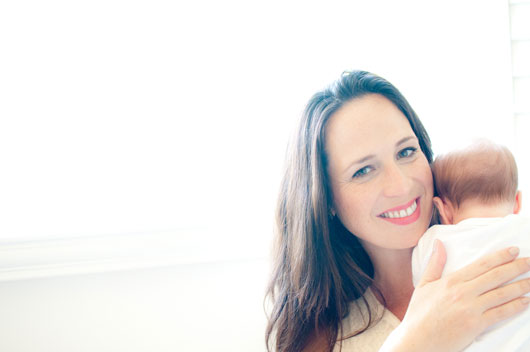 Thanks Miranda for capturing these moments with our new little family.  The perfect and the not so perfect.  And I'm most impressed that through all the craziness of that morning, you managed to keep the Lego's star ship out of all the shots.  Most impressive indeed my friend.