This post is part of a social shopper marketing insight campaign with Pollinate Media Group® and Tree Top, but all my opinions are my own. #pmedia #TreeTopInc #raisinggoodapples http://my-disclosur.es/OBsstV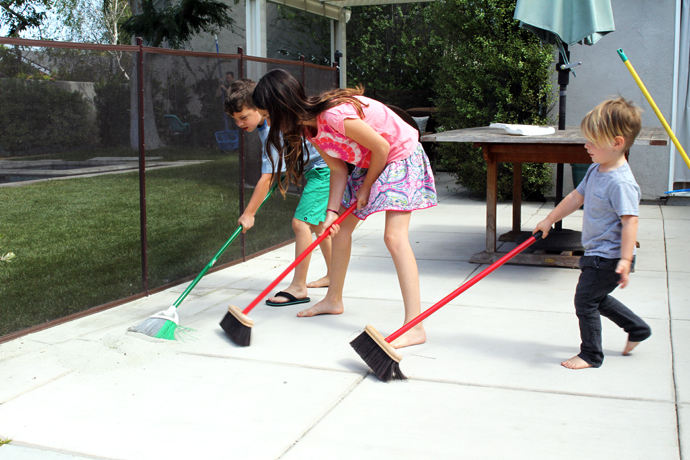 If you follow along with me on Instagram, you'd know that a certain little girl celebrated her 10th birthday last week, and because double digits are kind of a big deal, I wanted to throw her a fun party in celebration of the milestone. She requested a limo ride, hair and makeup, tea at Nana's house, followed by swimming, then a movie at dusk and finally a sleepover. We nixed most of the items on that list with the exception of tea (at our house), and age-appropriate hair and makeup. We spent a good portion of Saturday afternoon and yesterday morning getting the backyard ready for our girly guests.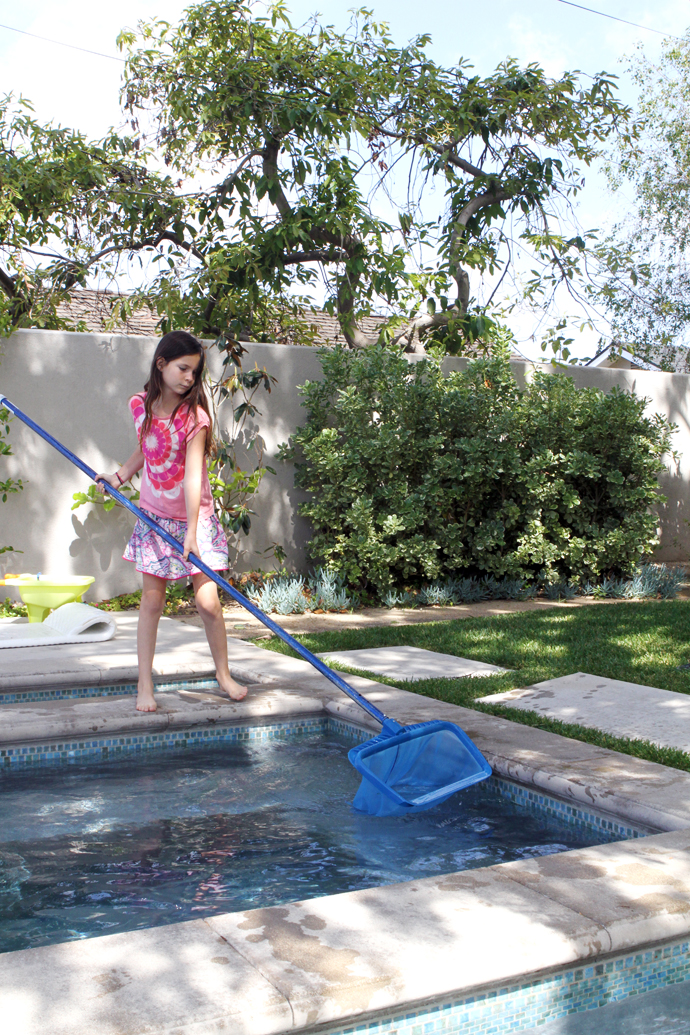 The main selling point of our house when we moved in over 5 years ago was the big backyard – big for Southern California standards anyhow. We fell in love with the giant Chinese elm tree and detached garage, with a long driveway hid behind a fence. It was and continues to be the perfect set-up for letting the kids play freely and hosting parties. When we put the pool in soon after moving in, we decided to leave the tree in place, even though we knew it would require a lot of maintenance, and for the most part we don't regret the decision. We also added lots of greenscape ourselves, which makes the backyard feel more cozy and lush, but which leads to even more maintenance. And with a garage full of ride on toys and balls and a sand table at their disposal, it all adds up to a lot of mess come Spring time. While we tend to do regular maintenance back there once we're regularly hanging outside, from Fall to Winter I kind of ignore the mess and just let things go a bit wild. This meant there was a lot of work to do to get the backyard ready for party hosting. And it also meant that we needed all hands on deck to get the yard in shape in time for the party.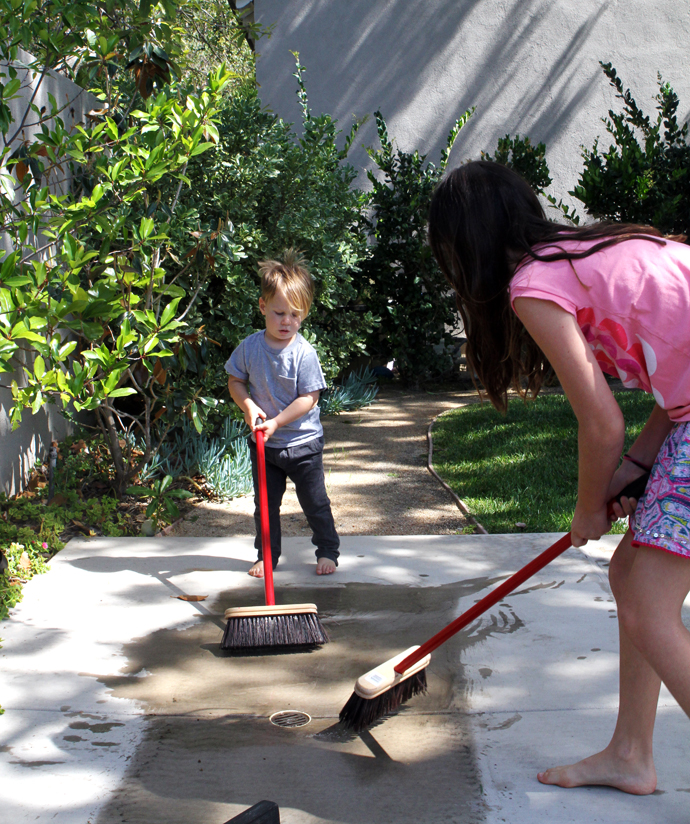 Balls and toys needed to be put away, hardscape needed sweeping, chair covers had to be removed and patio furniture swept down and the pool needed some cleaning too. We don't give the kids an allowance, but we do have them perform regular chores around the house including emptying the dishwasher, feeding the pets, wiping down counters and dusting the tables, and of course keeping their rooms clean. Twice a year when we plant our vegetable garden we have them help with the planting and weeding, but other than that, they were not too thrilled about helping clean up the backyard. I think they feel the open space of the yard means they can't just leave their toys out to play with at a moment's notice. So I had to do some explaining that yard work was about more than just pruning some bushes and keeping balls all in one place.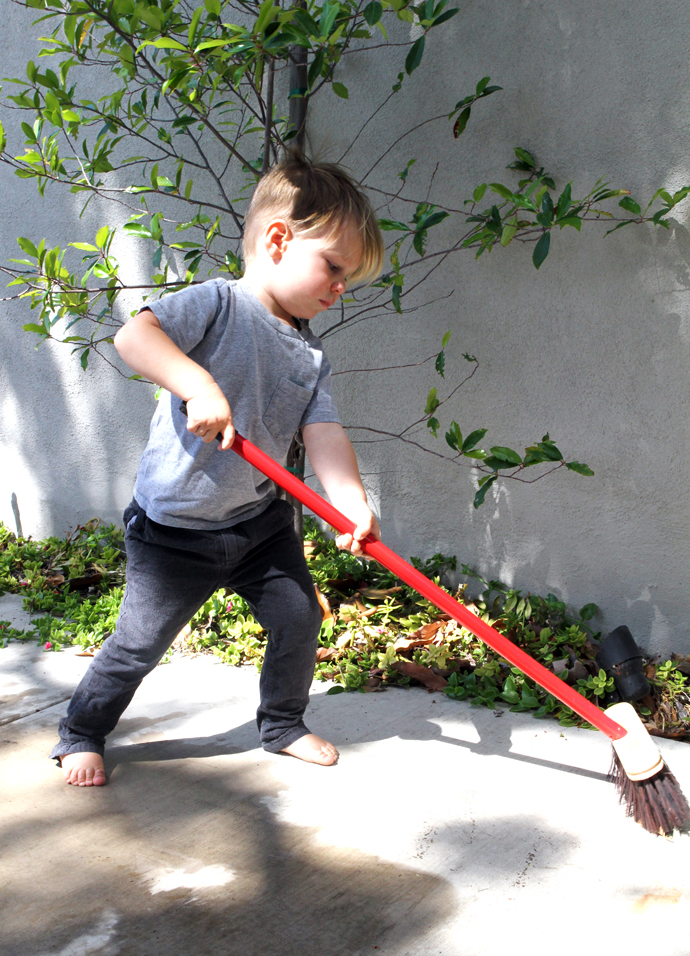 For the most part, they ended up catching on and helping out just fine. I mean, look at how serious he is taking that sweeping? In skinny jeans no less. 
After a while though, we found Syd taking a nap, he was so tired from all the hard work 😉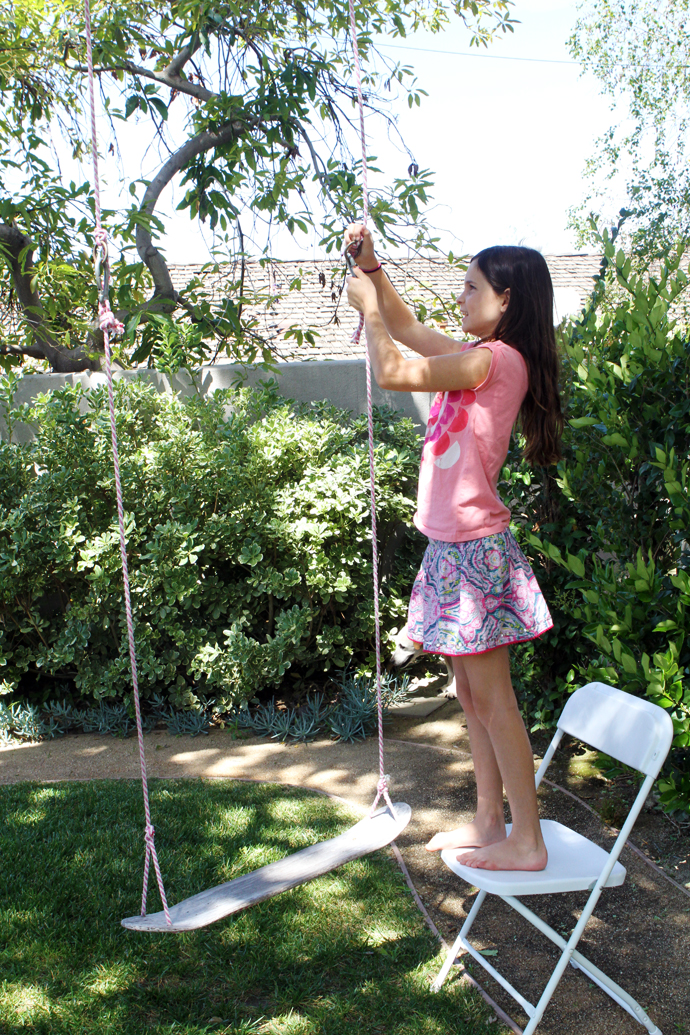 After the yard was in order and the table and chairs were set up for the guests, we got out the swings to hang, still one of the best DIY projects we've ever turned out. Taylor did the honors of hanging the swing, a true sign that spring was here.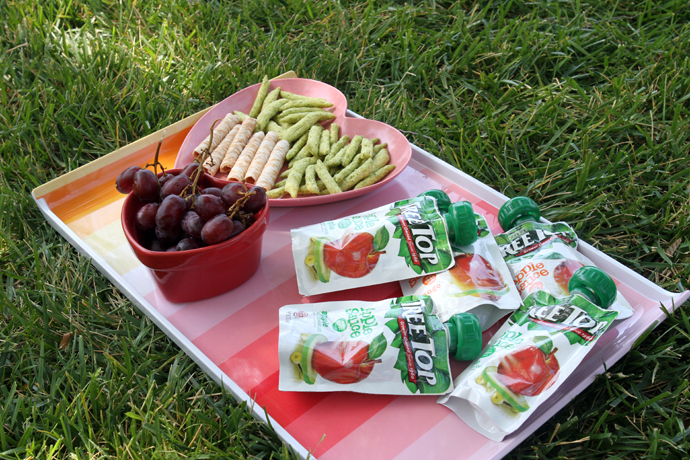 Of course all that work not only tired them out (just a bit), but also made them work up quite an appetite. I threw together a simple snack they could munch on unassisted while I finished the decorating and last minute party details. Grapes, snapcrisps and these new coconut rolls I recently discovered, and some Tree Top apple sauce pouches that I picked up at Vons on sale for $2.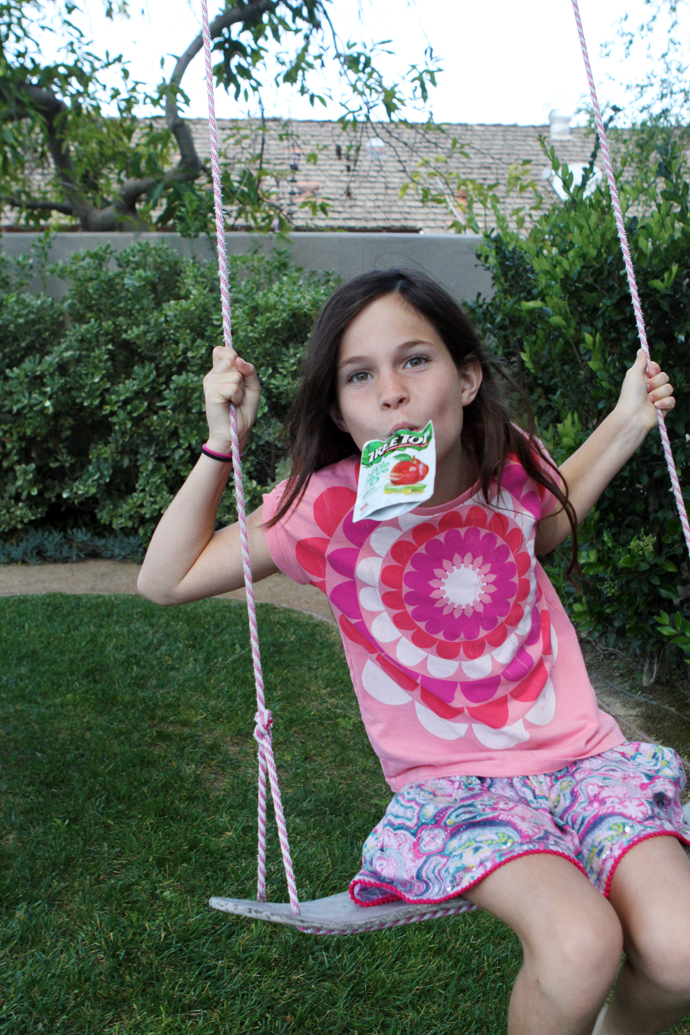 You guys know I try to be pretty balanced with the food choices I give the kids, focusing on health and nutrition most of the time, but including indulgences here and there too, because it's a natural part of life. But it's really great when you can offer your kids nutrition and a "treat" all at the same time. The ingredient profile on these pouches are pure and simple; apples and fruit puree for the flavored varieties like the mango-apple, and I love that Tree Top is a 50 year old grower-owned co-op located in Washington, and that the apples are all 100% USA grown. These pouches are a simple no-brainer for us because the kids love them, from the 2 year old toddler all the way up to the too-grown-up 10 year old, and of course they're healthy and nutritious. 
While I was busy hanging tissue paper tassel garlands, the kids were busy swinging away and Art captured these photos of the kids. It's unbelievable looking at these, compared to the original swing pictures we snapped when we first installed these, and seeing how much they've grown!
I could hear Hayden saying "more, more!" I figured he was asking for more swinging but when I came back to collect the snack tray, I realized he had meant more squeezers, as he had eaten three of these pouches during his time on the swing!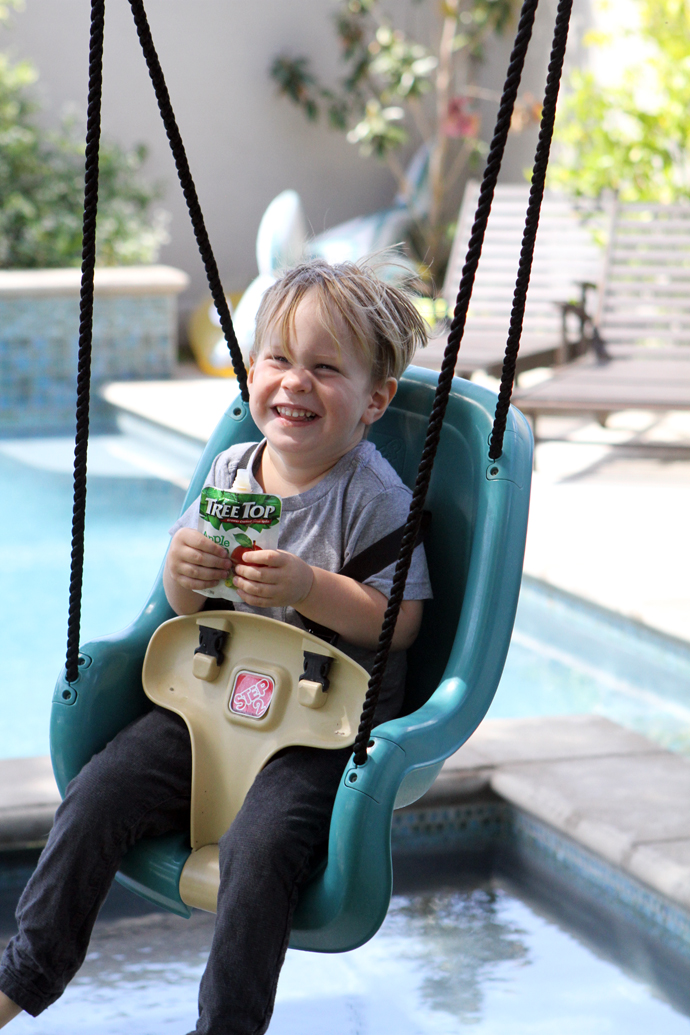 In effort to bring awareness to "Raising Good Apples", Tree Top is partnering with the National Gardening Association's KidsGardening.org to help educate kids on gardening. For every box of Tree Top Apple Sauce Pouches purchased through 5/31 Tree Top will donate $1 to help KidsGardening.org to help build and grow youth gardens. I couldn't love or be more on board with this initiative and I'm pretty proud and honored to be partnering with Tree Top to help spread the word.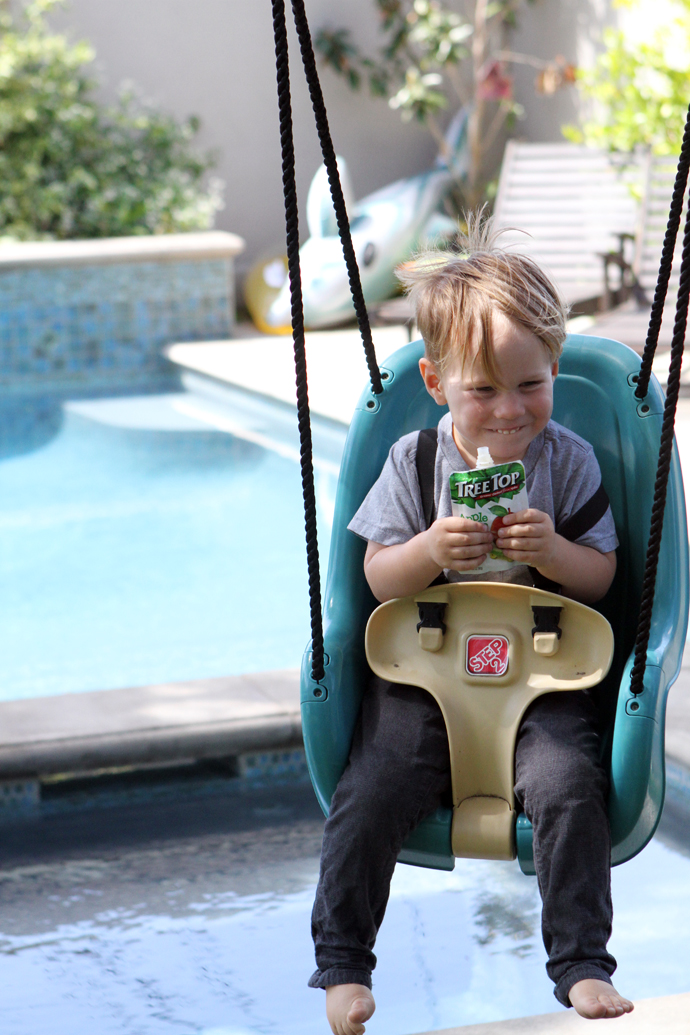 GIVEAWAY!
In alignment with the season and Tree Top's partnership with the National Gardening Association, they are offering one of my readers their own "Kid's Gardening Kit" to help inspire you and your family to get outside and grow something good. The kit will consist of "My Gardening Journal", Red Tubrug pail, kids gardening gloves, a watering can, Soft Touch hand tool set, Favorite Five sprouting seeds, and of course Tree Top Apple Sauce Pouches. 
The giveaway is open today, April 27th and will run through Monday, May 4th. To enter to win, simply leave a comment below letting me know your favorite Spring time activity to do with your family. A winner will be announced next week!
Thanks for reading and entering, and I'll be back tomorrow with all the details from Taylor's tea time birthday party!