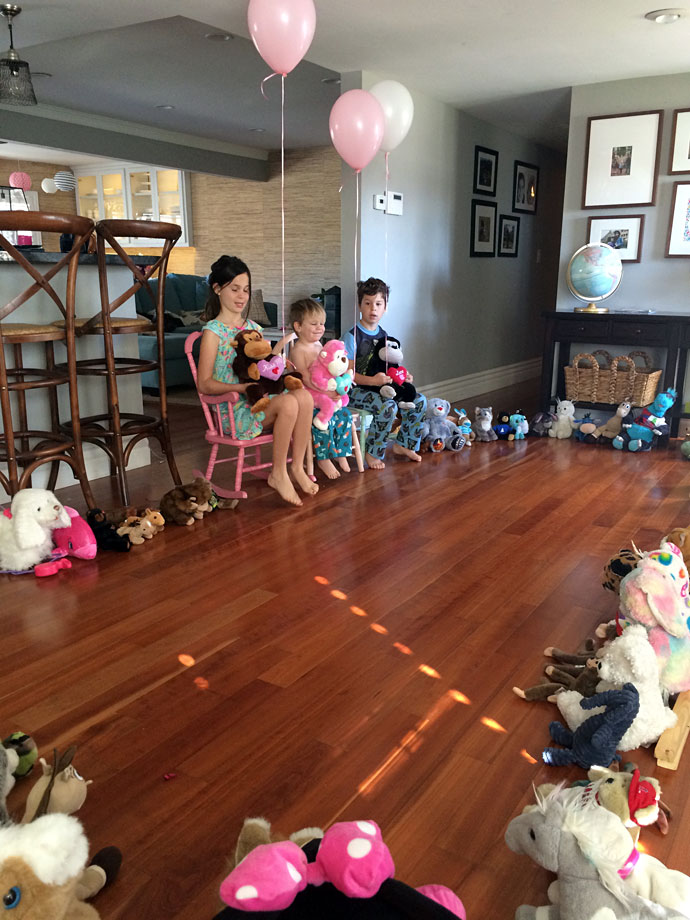 Last week while Hayden and I were at Target shopping for groceries/home decor/shoes and candles, Hayden fell in love with some colorful stuffed gorillas, meant for Valentine's Day gift giving. He ran over to them and picked up one, the pink one first, and ran over to me, stuffed it in the cart and said "mine!" He ran back and got the black colored one, came back over, threw it in the cart and yelled "Bubba's!" A third time, he ran back over, picked up a brown gorilla, shoved it in the cart again and said "Tay Tay's!" And that was that.
As you can see, we have plenty of stuffed animals, more than we can count really, although the kids do keep surprisingly accurate inventory, and the last thing we needed were more stuffed animals. But it's hard to refuse Hayden, and it was Valentine's Day after all. So I acquiesced and we took all three home. The kids fell in love immediately and named them appropriately; Bubble Gum, Blackberry, and Cocoa. In fact every single one of their stuffed animals has a name and the older two can recount how each of them came to be in their possession.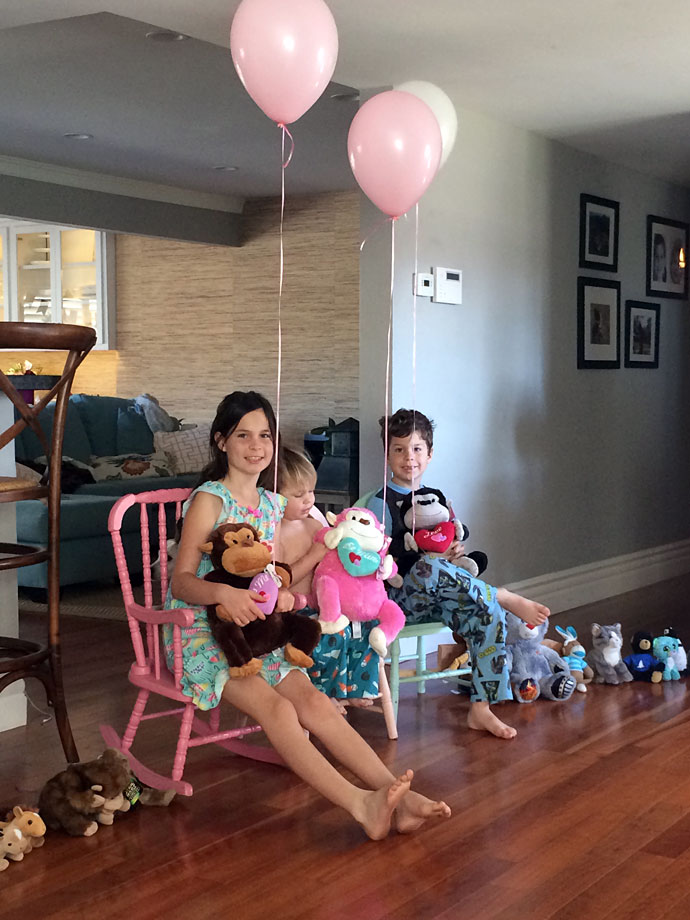 I really should start a stuffed animal toy drive and get rid of 99% of these animals, but when I watch them snuggle up and play with these guys, it allows me to think they're still very little and are far far away from the perils of growing up. Of course they're no longer babies and after experiencing our fair amount of school drama these past few weeks, which has thankfully settled down, I'm content to stay in my naive bubble and let them get lost in pretend childish play for as long as possible. I figure they'll want to toss the stuffed animals soon enough.
But seriously, it would be a tragic day if we ever got a case of lice in this house.
Good reads around the web:
1980's Teen Movies Mashup – I love this so very much, and if you're a child of the 80's, I bet you will too. Every single memorable teen movie of the decade is included. And after you watch that, get a bit more nostalgic with my 80's fashion post.
I still don't know what to think about this woman who makes close to a million dollars a year, selling on Etsy, but my gut tells me I think it's shady.
10 Types of Odd Friendships You're Probably Part Of – I'm definitley part of 1, 4, 7, 8, 9 and 10. What about you?
How One Stupid Tweet Ruined Justine Sacco's Life – I remember still, when all this went down, and even before we knew the full story, I have to admit I felt bad for Justine Sacco. The people of Twitter can be abnormally abhorrent, and she went to the electric chair, the gallows and lethal injection for her stupid tweet. And a follow up worth reading, if you find the story interesting, is the public apology the instigator eventually gave her, after experiencing his own Twitter nightmare when he too tweeted something stupid. All this adds up to, why I'm never on Twitter. I hate that place.
Currently reading:
I am about half way into listening to the audio book version of All the Light We Cannot See
. I'm still not sure if I like it as much as I thought I would; I'll keep you posted.
I'm also reading Blink: The Power of Thinking Without Thinking
by Malcolm Gladwell and so far it's interesting, although I still like Outliers more.
And tonight I'm cooking from the new ATK Slow Cooker book – The Healthy Slow Cooker Revolution
In other news:
I finally placed an order from Fabletics and I love the fit and feel of my first outfit! I'm wearing it to hot yoga tomorrow, and will keep you updated as I wash and wear it a few times. I'm hoping it holds up well.
Kate Spade Saturday is 40% off site wide! I grabbed one of these initial sweatshirts
In case you missed it:
I published the recipe for Cashew Cream, and last week, I also posted the recipe for Kick-Ass Bone Broth.