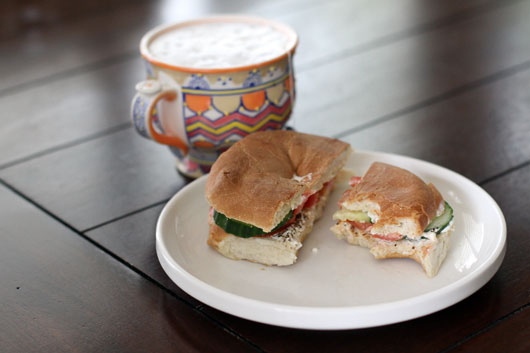 My Writing Elsewhere:
People had me riled up this week, and I left some pretty lengthy comments on a few blogs/articles, and wrote a couple of posts over at Babble.  First, I really want parents to stop feeding my kids crap when I'm trying to encourage healthy habits by putting them in sports. Some said I was over thinking it, but have a look at what Syd received as his post-game snack after his last baseball game. It will probably shock you.

Also, Martha not only dissed bloggers this week, but she went and dissed Gwyneth. Stop. right. there. Martha. Your crazy is starting to show.

Sometimes I have to sneak health into my kids diet, and I'm okay with that.  7 healthy foods and food items my kids actually love.
I think the hardest thing to try and discern when you're trying to clean up your diet, is to drown out the noise and figure out what your body needs, and what your gut tells you. Goodness knows that all the information coming at you from all angles makes it overwhelming, and often leaves you feeling like Alice falling down the rabbit hole. Unfortunately, confusing marketing schemes, misleading labels and USDA policies that are often misguided does not help matters. Also let's not forget, people can get very passionate about food, which can and sometimes does lead to crazy.
I came upon an Instagram account yesterday, and in her bio, the owner of the account listed her cooking style as containing no dairy, no wheat, and no toxic oils. For a second I got a pit in my stomach and thought to myself, as I was eating my wholesome bagel, made at a local bakery, smothered in kosher cream cheese, "Oh no, I shouldn't be eating this." Luckily that feeling was only momentary, as I reminded myself that bagels, nor cream cheese, are inherently evil things set out to kill me.
Lots of fad diet plans and ways of eating will try to make us feel like certain foods are toxic, after all their success relies on it. But really, when you're doing your research, listening to your body and what it needs, and consuming whole foods, the concept of evil and toxic go out the window.
When I first started eating clean, I figured I had to ditch wheat, switch to rice everything, say bye to butter and only adopt vegenaise. But after weeks of trying to avoid landmines, I figured, why not just figure out how to eat the best butter, consume the most wholesome wheat as possible, and decide for myself what my body needs?
Which is why my idea of clean eating is often very loose by definition and I can honestly wholeheartedly say that by not getting fanatical, it has made this whole thing so much easier. Last night a friend asked me if I was planning to eat this way forever, and while I got what she meant, I was sorta confused.
"What do you mean?" I asked her. She went on to say it's gotta be hard and I just told her no, it really isn't. It's not hard because I'm not letting the crazy get to me. I like the taste of whole wheat above rice flour, and I don't need to cut out gluten, so I'm gonna eat whole wheat. I still love half and half above all else in my coffee or tea, so that's what I'm going to add in my coffee. The only rules when it comes to food, are the ones you put on yourself.  Whenever I feel myself starting to get the least bit crazy, I remind myself to step back.  It's about fascination with learning and improving, not fanaticism.  Fanaticism is where things go awry.
I just finished reading a post titled "There's No Such Thing As Clean Food" written by a girl who is basically saying that those of us who strive to eat clean are trying to demoralize others, and saying their food choices are "dirty". While I can understand where she's coming from, her article in my opinion, was a pretty weak argument against the movement and I plan to write a rebuttal to it on Babble. But I mention it because I do see how some people can take the superior, moral high ground when it comes to food choices, and I hope to God that I have never come across that way. If I have, I'm deeply sorry. What I've striven to do is show that you can make some changes in your food choices, even when you're busy and you were raised differently, and you can do it affordably. I hate to even use the word "inspire", but whatever you want to call it, I just hope it was and never is holier than thou. Smack me if I become that way, will you?
Now, what do you want to see for the next two weeks in this series? More recipes? I know I still need to follow up with a couple of meal plans. More information about certain aspects of clean eating? Reading labels, etc? GMO's?