Happy Monday friends!  How was everyone's weekend?  Mine was busy and tiring.  We're working with Hayden on adjusting his schedule a bit and it's leading to some less sleep for us right now, but hopefully it will lead to more sleep eventually.  Wish us luck!
You may have noticed that things are a bit different around these parts today.  I made the decision a couple of weeks back that I needed to scale back on some things in my life, and one of them was having two different blogs.  Life is just too busy and filled with good stuff to be worrying about spending so much time on the computer, so I've decided to discontinue writing at my other blog Four Flights of Fancy, a decision that was hard for me to make, but very necessary.  I'm sad because my love for blogging was sparked by that site, and I had so many really sweet and supportive readers, but for now it's just not the right season of my life to be trying to do so much.  So with that said, I have decided to focus my energy and attention here on this site, and with that decision, I had to make a few changes around here so I contacted my fantastic blog designer Sara and her coding partner in crime, Thor, to make some site adjustments.
I've added sponsors for the first time, and put up ads from the Glam ad network in order to help continue to fund the DIY projects y'all love so much.  I've also added tabs for Family and Home, since I will be intermittently writing about both here on this site, I hope you don't mind!  While the site will remain focused heavily on Style, Beauty and DIY's, my family and the things we do together as a family in our home are the most important things in the world to me, so doses of the two will be added in.
Other than that, Sara added some fancy new design elements in the post headers and the sidebar, just to give the site an overall more cohesive look.  I love it and the work she does.
To celebrate new seasons and giving things a refresher, I thought I'd celebrate you all, the ones that have been reading here since I began a few months ago, or the ones that are brand new, and offer a chance to win 2 Anthropologie gift cards so you can give your Fall look a bit of a refresher!  I'm giving away a $50 and $25 gift card to Anthropologie!  Details, and your chance to enter are below.  This giveaway is open to everyone, both US and non US residents and winners will be announced next Monday.  Thank you so much for reading and all of your support!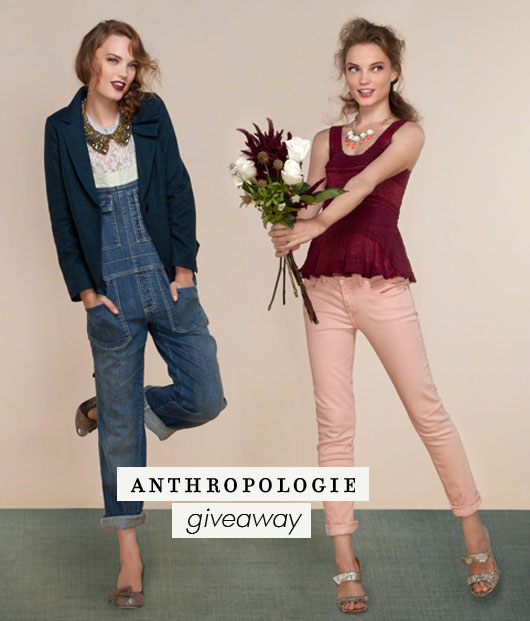 a Rafflecopter giveaway