This post is part of a social shopper marketing insight campaign with Pollinate Media Group® and Land of Nod, but all my opinions are my own. #PMedia #NODinCA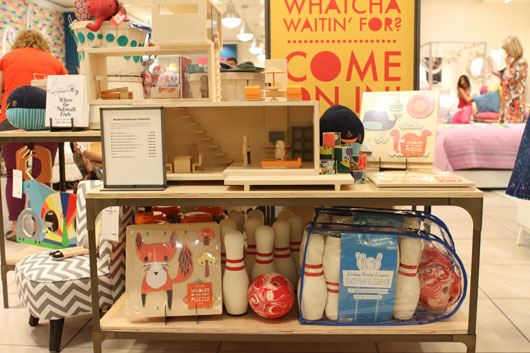 It's been really inspiring to see the evolution of The Land Of Nod over the last few years.  I received my first Land Of Nod catalog soon after having Taylor, and like many, admired all of the pretty pages filled with magical kid's rooms and beautiful nurseries.  Picture perfect, and styled just right, the catalog for me was aspirational, yet attainable at the same time.  I kept old issues of it laying around the house to refer to whenever I needed a dose of inspiration.
Over the last few years though, the brand has evolved into more than just perfect rooms and pretty pictures.  Through their partnerships with small, independent artists and artisans, to their creative set displays, to their very down to earth depictions of real life via their social media channels, and their most recent catalog cover featuring the photography of blogger Kelle Hampton, The Land Of Nod has become a brand that I deeply respect and admire.  And the very cool thing about them is that they've transcended the "kid's only" realm, in that many of their products that could live in any area of your home.  Can you tell I love them?  Well, my love reached an all time high when I was invited to come to their pre-grand opening party last week, of their first California store in South Coast Plaza.  For once Orange County gets something before LA.  You don't know how satisfying that is for those of us living in Orange County ha!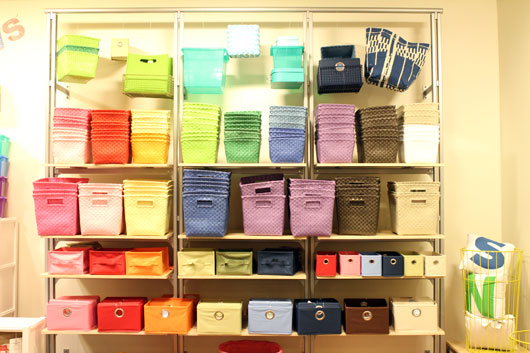 The store did not disappoint.  I expected it to be larger in scale, but was actually really excited to find that the store had taken over the old Loft space, so that it was a much more intimate, manageable size.  I get overwhelmed in those giant 2 story home stores.  The size was just right.  The store is set up into zones; girl rooms towards the front right of the store, nurseries to the left.  In the middle of the store were all the boy's room displays, and towards the back you find the artwork, storage bins, and lots of play toys.  I love how easy the layout of the store was to navigate.  Displays, fixtures and artwork was creative, funky, eclectic, and I love how they mix vintage finds into their displays, making them feel even more authentic.  Every item from the furniture to the bedding was tagged with easy to read price labels.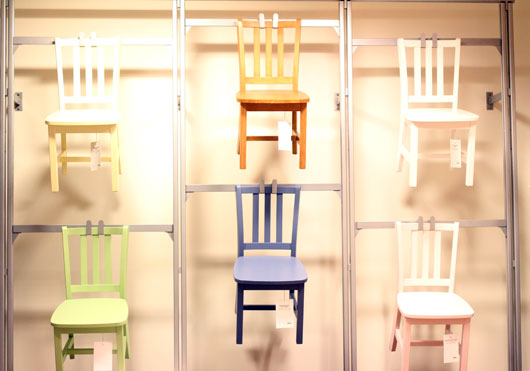 The entire staff was welcoming and so down to earth and easy to talk to.  I had so much fun getting to know them, seeing old friends and meeting new ones, that I didn't even really spend much time shopping at all.  Hayden and I went back today to look around in the calm of the store, and I decided to bring the one piece home that definitely isn't the most practical of items, but definitely the most loved.  Syd could really use some new sheets, and I still want to redo Taylor's room, but right now I'm thinking the summer could use a little bit of fun, brought to us in part by a very cool teepee.
We made the kids stay inside while we set it up, and when they ran out to see their surprise, they completely freaked out.  Both my kids at 6 and 8, are still very into imaginative play, which I am so thankful for.  They can entertain themselves for hours playing dress up, role playing, making movies, building forts, you name it.  Within 10 minutes of us having that thing set up, they had brought all their blankets and pillows out to the teepee and begged for some privacy.  They soon became annoyed that I was taking pictures when they had important teepee business to conduct.
With 5 days left of school, and no more homework to be done, we let them be, and didn't say a word when they brought out every light saber and glow up stick and flashlight we own, to tell stories once the sun set.  Bedtime was pushed back further and further until finally, at 9:15, they both walked in and said they were turning into icicles (dramatic Southern California wimpy kids!).  Eventually the teepee will live in Hayden's room since it will fit in perfectly with the theme, and he has the most space, but I love that it easily collapses down and can be transported with ease.  I see the teepee making an appearance at the beach this Summer to help baby Hayden find some shade.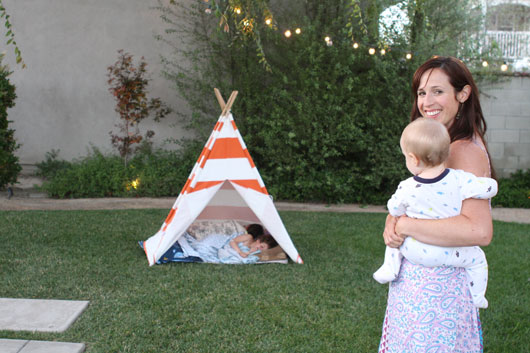 Thanks Land Of Nod for being such a cool company, making such cool things and introducing us to even cooler products.  And thanks especially, for helping to make my kid's summer a bit more magical.
If you don't have a store near you, you can find the Land Of Nod online, as well as on Instagram, which I highly recommend you follow.  They post the coolest behind the scenes images, the best brand Instagram I follow by far in fact.  They're also really fun to follow on Twitter and always tweet back to answer questions or just to say thanks for the shout outs.  You can also follow them on Pinterest for lots of inspiring finds.