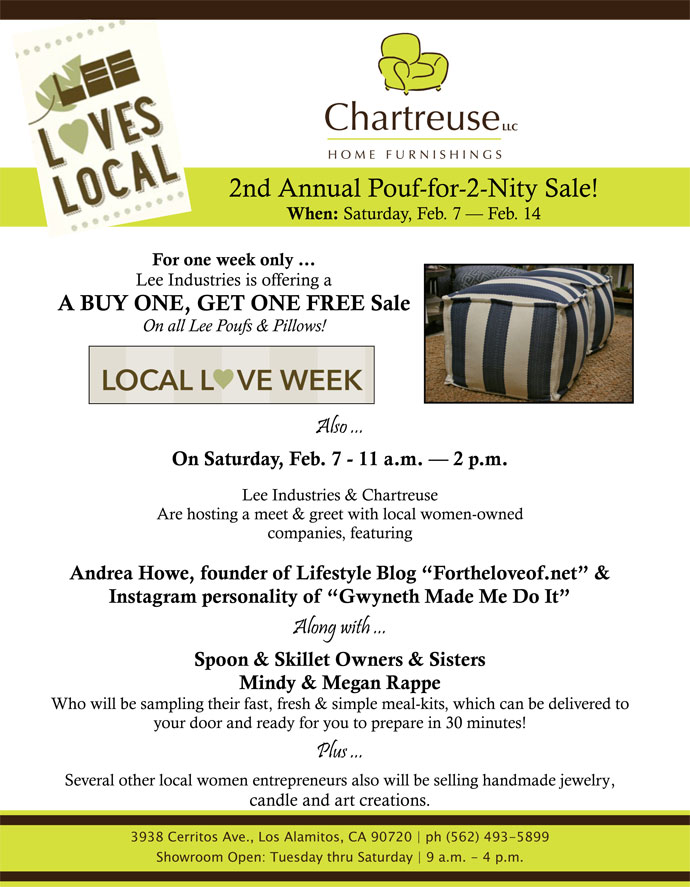 Hey guys, how are you doing this week? Me, I feel still like I'm easing into it, but since hump day is almost over, I figure I better try to swing into things and get a few points of business out of the way. First off, thanks for all your encouraging comments on Monday's post, about closing old doors so that new ones may open. I look forward to 2015 as a year to relax and grow a bit more, and I'm grateful to have your support.
One way I'd like to continue to grow and branch out, is to continue to meet new faces and get myself out there. With that in mind, I'm thrilled to be partnering with a local business I've been a fan and customer of, for years, Chartreuse Home Furnishings. My friends at Chartreuse contacted me a few weeks ago about a possible event, and after hearing the details, I was more than eager to jump on board. In partnership with Lee Industries, they are putting on a small event to help support local, women-owned businesses in the neighborhood, and I'm honored that they thought of me. How does what I do as a blogger, tie in with a home furnishings store? Well, as a lifestyle blogger I cover a range of topics from style to food and wellness, and since a lot of what I talk about and support involves sustainability, and supporting small, local businesses, this seemed like a good fit.
Lee Industries, the company that Chartreuse has partnered with, is an US based company, dedicated to creating sustainably produced home furnishings. You can read all about their practices here, but a couple of great points that I wanted to mention is their use of 100% recycled fibers made from clear and white plastic bottles to fill all their back and throw pillows. Wood for the frames used by LEE comes from certified sustainable forests and are bonded with a soy-based resin and their springs are 80% recycled metal. Pretty cool, right? Beyond that, they make a beautiful designer level product, and for the event, all their custom made throw pillows and poufs are two for one.
I'll be on hand to answer questions, sample some of my favorite fresh, cold-pressed juices, and even help you shop. Since a good portion of my home furnishings are from this store, including both couches, my pillows, the kid's bedroom sets and dining room chairs, artwork and countless other things, I know my way around the store pretty well. Actual design professionals will be on hand to help you shop too though. You guys, this store is amazing! Think of all your favorite big-box furniture stores including Pottery Barn, Restoration Hardware, West Elm and even Ballard Designs, all under one roof, at much better prices! This is Chartreuse! Everything from their furniture to their accessories are on point, and the store overall is just immaculately curated. If I don't want to spend money, I steer clear of Chartreuse!
Megan and Mindy from Spoon and Skillet, another woman-owned local small business, will also be on hand offering small bites from their delivery meal kits. Their business is simple, they prep and provide you with all the food, deliver it to your doorstep, and then you just have to cook it. Meals are guaranteed to be ready and on the table in 30 minutes or less. I can't wait to taste what they have to offer.
To recap, here's a rundown of the deets:
Meet and greet with me, answering questions and offering up my favorite fresh cold-pressed juices. This Saturday 2/7 from 11-2.
Spoon and Skillet will also be on hand to offer small bite taste samples from their meal kits.
Lee Industries, leading the way in sustainable furniture manufacturing, is offering a 2 for 1 sale on their poofs and pillows, which are gorgeous!
Chartreuse is basically your home furnishing dream store – so much inspiration and all under one roof.
Event supports small, local, woman-owned businesses!
I really hope I'll see some of you there! No need to RSVP, just come on by open-house style.