"Thanks to VSP Direct for sponsoring this post. I am part of the Mom It Forward Blogger Network"

Brown Leather Booties – Nine West; Fashion Frames – Nine West; Ankle Skinny Jeans – Paige Denim; Cardigan – Loft; Striped T-Shirt – Nordstrom (2 other really cute options here & here); Moto Bag – Rebecca Minkoff
I've been wearing glasses since I was in third grade. One of the first pairs of specs that I can clearly remember was an oversize frame in hunter green by Nine West. It was seventh grade and I had a crush on an eight grader named Jason. It was the time of The Cure, The Smiths and Morrissey, with oversize cardigans and Doc Martens, and I was smitten with his long "skater" bangs and thrift store cardigans. Flash forward nearly 20 years, and not much has changed. I still need corrective lenses, and the thrift store oversized cardigans are back in style. 
It's strange to think that I've also been seeing the same optometrist this entire time, and for the last few years he's been suggesting I get Lasiks to correct my vision that is so bad I am pretty much considered legally blind. I've been holding off though because for all these years, contacts and glasses have been my companion and they have served me well. After years of paying out of pocket for eye exams and lenses, our credit union recently started offering all members VSP Direct™plans at an incredibly affordable rate, so we jumped on board
If you're not familiar with VSP Direct™, it is an individual vision insurance plan that offers all around vision care, including eye exams and stylish frames for those of us without employee plans, or who are self-employed. Our particular plan covers the whole family for less than the weekly grocery bill, and includes exams for all of us, and the choice of either designer frames or contact lenses. Syd recently had to join the glasses club, so his frames were covered, and a years worth of contact lenses were covered for me. Art will soon be due for a new pair of glasses, and Taylor is lucky enough to so far have perfect vision. It's nice to know though that if we need it, VSP is there.
VSP Direct is currently holding a "Frame Your Fall Look" Sweepstakes through November 7th, where you can pin your favorite fall look for a chance to win a $150 Nine West gift card, a Nine West must-have fall accessories package, and free VSP Direct Insurance for one year.

We had a brief taste of Fall last week, and so I assembled my go-to Fall look that I will be sporting all season long. The standard outfit for me this fall will be my new ankle length skinny jeans, a comfy striped tee that can stand on its own if the weather turns warm, as it so often does in SoCal, a cardigan so when the weather turns on a dime as it so often does, I'm prepared, and of course some comfortable shoes. High-tops, as pictured here, are a great choice, as are flat comfortable booties that can take you anywhere. For transporting all your possessions around, the cross-body can't be beat.
Feminine, yet still plenty functional and comfortable, this is my standard go-to look on a day to day basis. Adding on designer frames can help complete your personal look with affordable, on-trend glasses, like Nine West frames.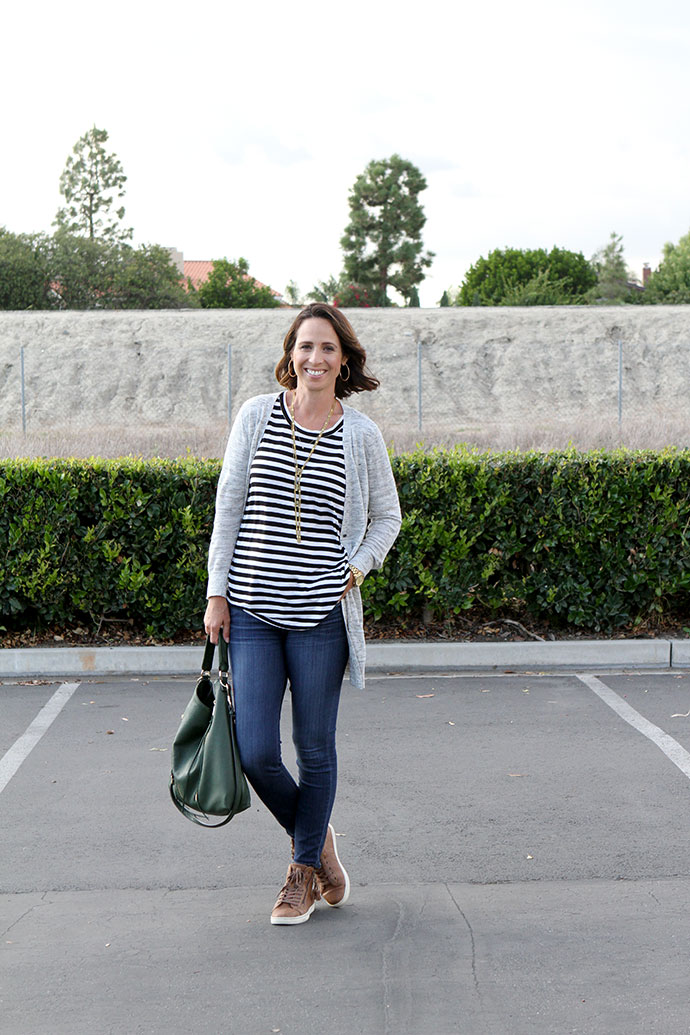 In addition to the "Frame Your Fall Look" Sweepstakes, I'm also excited to be giving away an individual VSP Direct 1 year plan for one of my readers. Just leave a comment below telling me about your favorite Fall look, and you'll be entered to win. I'l choose a winner next week on Sunday 10/25. Open to US residents only, giveaway closes at 11:59 pm PST. Good luck, and happy Fall!