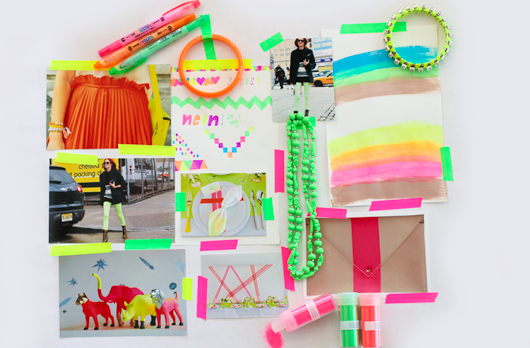 Are things bright enough for you over here?  Welcome to neon week, a week long celebration of neon inspired style posts.  All week long I'll be sharing fun and simple DIY's with a style post or two that will help you incorporate a bit of this bright trend into your life in a  modern way.  As a child of the 80's I fondly remember this trend it's first time around, and I love seeing the way designers and crafters have updated brights with such a sophisticated twist by pairing it back to shades of white and taupe.  The bits of neon popping up everywhere inspired me to create a whole week of posts dedicated to neon, and I first wanted to share with you my inspiration board.
I've been collecting images for a few weeks, and it was a fun exercise to gather them all together, along with some neon items of my own, and create a visual board I could look at on a daily basis for inspiration and encouragement.
A tour of the board if you will; Taylor Tomasi Hill, the gorgeous red head, and her neon J Brand jeans caused quite a stir when she first wore them during fashion week.  These amazingly cool hand painted Etsy animals are from The Good Machinery .  The leather and striped neon clutch is from Claire Vivier, and although I wasn't able to make one of these this time around, I'd still like to replicate this gorgeous thing.  The table setting pictures are from a very hip wedding, see more pictures here.  The rest of the items pictured are my own, including some neon highlighters that serve double duty as fine tip markers, neon jewelry I recently found at the flea market, and Martha Stewart's incredible neon glitter, which I'll be using in a stationary DIY for later today.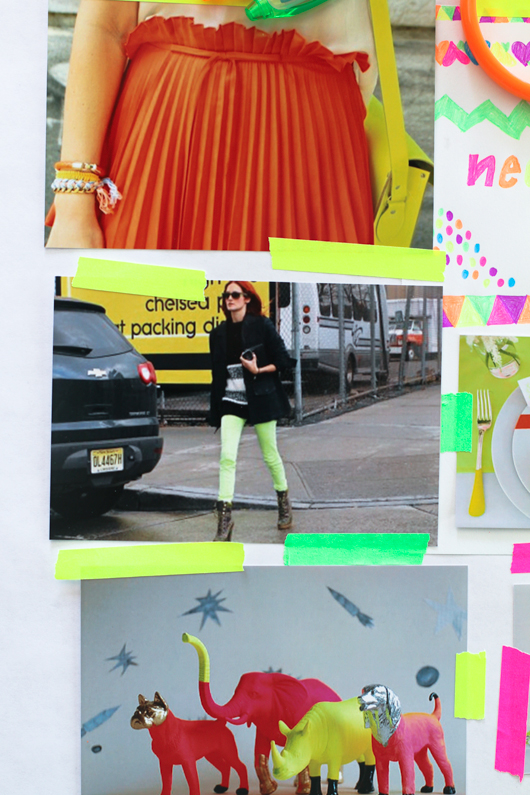 Inspiration boards or mood boards, are not new to me.  Every season designers create a board that inspires their new collection.  They're usually tear pages from magazines, fabric samples and beautiful scenery of locales that may have inspired the collection.  Leslie of a Creative Mint has been doing mood boards for Decor 8 for a while now and they are always so beautiful to see and look at her thought process.  I love the concept of creating a mood board for little ol' me using images and items I own for big concept projects I hope to work on or am already working on.  After creating my own for this week's project, I encourage any of you, whether you see yourself as creative or not, to create a mood board whenever you have big ideas you want to see come to life, but need a visual aid to help inspire you along the way.  This was very helpful in keeping me on track, and I love how my first one came out.
So get excited, lots of neon style headed your way this week!  Thanks for reading along friends!  Oh, and I'll also be sharing some neon DIY's at my other blog throughout the week too.  DIY's that are a bit more home and kid related.  I hope you'll check in to both spaces.