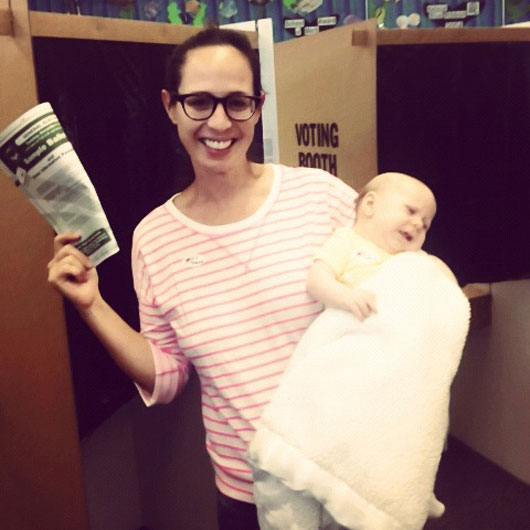 I realize I'm walking on dangerous ground by publishing a political post on here, especially today of all days.  But I thought I'd write about something a bit different, and perhaps help you get to know me a little bit better.  Why mix blogging with politics?  Well, for no other reason than the simple fact that politics are important to me.  If politics aren't important to you, then by all means move on and skip this post.  This morning I posted to my Instagram feed and Twitter a picture of my Romney yard sign with the caption, "It's Go Time."  In a matter of minutes I watched the unfollows commence, both on IG and on Twitter.  One follower commented (and later apologized), that she was disappointed in me and my views.  It's not the first time that I've heard something similar this election year, after posting a political statement via Twitter.  I've had several people tell me I must hate women since I'm voting for Romney.  Seriously.
So here's the thing, I thought I'd take a moment today, on election day, when we get to exercise our political views in absolute freedom and without fear of persecution, to let you know what kind of Republican I am.  Not to try and persuade anyone to my side, not to try and argue for one party over the other, but just to remind us all that we cannot put each other in boxes based solely on political parties.
My parents are staunch Republicans.  They are also ridiculously pro-Union, a combo you don't typically see.  Aside from a brief moment where I went vegetarian and vandalized the local Albertson's meat department with PETA "Meat Is Murder" stickers, I have always held right-leaning political views since I knew enough to have a view.  My dad is a retired truck driver, my mom a retired grocery checker.  Neither of them graduated college and instead got good paying Union jobs to help support the family.  My brother and I are the first of our family to go to college, and we paid our way with a combination of help from our parents and taking out student loans.  We very much grew up with the belief that hard work pays off, and that government should stay the heck out of our lives as much as possible. We are far from being rich or entitled, yet we are still Republicans.  I tell you all this because I firmly believe that where you come from and how you grew up largely impacts and shapes your belief system.
As an individual however, I also believe in marriage equality and I am pro-choice.  On the other hand though, I don't believe that companies should be forced to pay for women's contraception.  If that's the sticking point that makes me hate women, well then I guess I hate women, but that's severely short-sighted if you ask me.  I realize that being pro-choice and believing in marriage equality may also make me a bad Republican and a bad Christian, but for various reasons that I don't need to get into, it's what I believe.
So when people tell me that as a Republican, I must not believe in women's rights, or gay rights, or worst of all, that I'm racist(!), it irritates me.  I can identify with a political party, but not believe in 100% of their views.  I can endorse a candidate, yet still see that he has flaws.  You see, I believe that there is more to Romney than his binders of women, just like there's more to Obama than Benghazi.  I believe the Republican party has a lot of work to do to redefine itself, but for now it's the political party I most identify with.
So please, before you decide to not like someone based on their political party, reconsider.  There's always a bigger picture.  Tomorrow I'll be back to outfit posts and giveaways and fun stuff, but today I just had to get this off my chest.  Thanks for reading, whether you're a liberal or a right-winger.  I love you all the same (as long as you're respectful).  Happy Election Day!