You may have heard, but as of yesterday, I now have an 8 year old AND a 6 year old. While the concept of time continually blows my mind with how fast it flies, unfinished projects, and projects yet to be started, are blaring reminders of how, if we don't move with it, time will pass us by and we wake up asking, "where did the last 8 years go?" With Taylor's entry into full fledged big kid status now that she's turned 8, and her entry into 3rd grade in just a few short weeks, we figured it's time she move up a bit, and what better way to do that than with a new bedroom?
Her horsey bedding is over 4 years old and starting to tear at the seams and is not so gently worn anymore. While my girl still loves horses as much as ice cream, and looks forward to her riding lessons each week, she admitted that she's ready for bedding that's a bit more grown up. This is what we have in mind, just by shopping online a bit. But we cannot wait for the actual brick and mortar Land Of Nod store to open up just down the road at South Coast Plaza next week, so that we can take a look at these items in person before she makes any big commitments. Because we all know, deciding on a new room theme for an 8 year old, is just about as big of a decision as you can make at that age.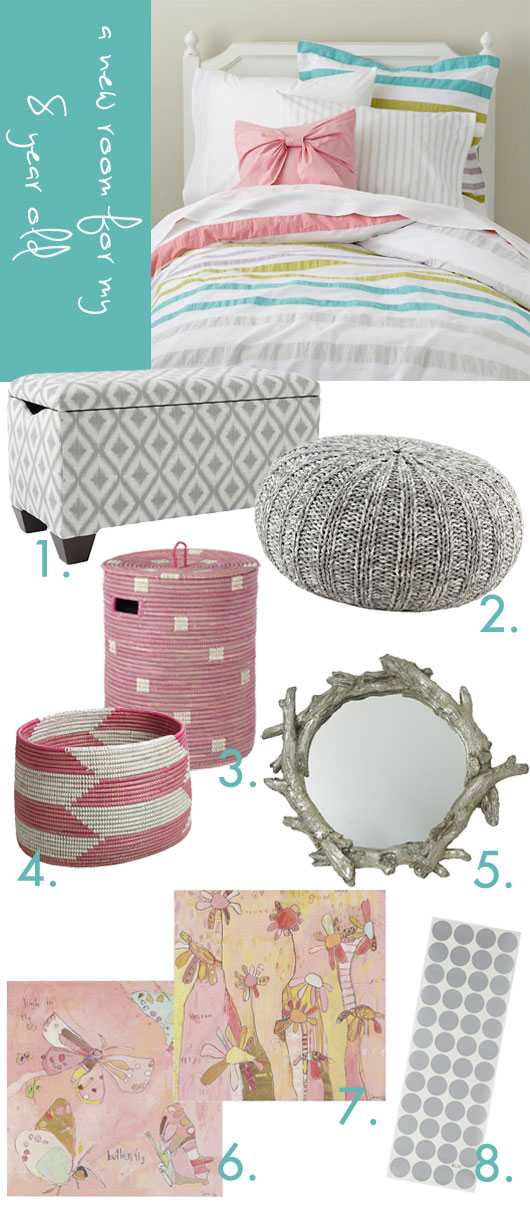 The bedding is the center of it all.  She loves the Sherbet Stripes Bedding, and I love it because of the soft combination of both pastels and neutral gray.  I'm thinking a soft gray coat of paint, contrasted by her white wainscoting that's already in her room would be beautiful.  To complement the room, I picked lots of storage options, because basically, my girl's a hoarder and has so much stuff that is "very special to her".  1. As You Wish Storage Bench in Ika Fret Pewter 2. Pull Up A Pouf in Gray.  These snake charming baskets are amazing and I want them all over my house! 3. Charming Basket tall 4. Charming Basket floor.  When we switched out her closet doors last year, she lost her mirrors and at 8, she is all about inspecting herself in the mirror.  5. This lovely silver Little Twigs mirror is gorgeous and will fit in her room for years to come.  For wall art, we both want something age appropriate, which means sweet and soft, but I also want something on the more sophisticated and artistic side so that it will have longevity in her room, and could even transfer to other parts of the house, like my office, if she decides to go goth when she's a teen.  6. & 7. Sky High Butterfly and Sprouting Flowers wall art on canvas.  8. And lastly, for the large wall above her bed, we both love the look of these silver wall decals.  In fact I pinned something similar months ago for my office, long before Land Of Nod had these nifty ones in their inventory!  When both mother and daughter agree on something, you know you have a winner.
So there you have it, a refreshed little girl's room for a girl who's on her way to growing up.  Soft, subtle, with just a bit of sophistication to grow with her.  I can't wait for the store opening next week at my favorite mall. and can't wait to see what displays they have in store for us, since Land Of Nod is always so ingenious and creative.  If you're local in Southern California, the store opens on Friday May 31st.  There will be giveaways throughout the day, and goodies passed out to those that arrive early to shop.  If you're not in the area of a LON store (so sorry), you can still shop online and get a taste of their awesome customer service.  When visiting them online, you can also enter their Win A Room Sweepstakes.   Pretty much my dream come true.  You can also visit Land Of Nod on Twitter, Facebook, and Pinterest.
This post is part of a social shopper marketing insight campaign with Pollinate Media Group® and Land of Nod, but all my opinions are my own. #PMedia #NODinCA
As always, with any sponsored post, I am committed to working with brands that I already love, or am new to and extremely excited about.  I've long been a fan of Land Of Nod, and we have several of their lovely items in each of the kid's rooms, including pretty much Hayden's entire nursery 🙂  I love the brand, the quality they stand behind, and the company for their excellent customer service, and am truly honored to be a part of this campaign.