I met Lisa over 5 years ago when we were working at St. John together. She had just come from Escada and had such good, well rounded experience that it was fun to pick her brain.  She was nice enough to let me pick her brain and we became fast friends.  On a personal level, Lisa is one of those engaging women that asks questions, listens and makes you feel important, even if you're just telling her about your pregnancy symptoms.
On a business level, she is cool, level-headed, and passionate, the consummate professional.  For years her roles in the fashion industry centered in the world of Sales, so when she called me a few months back letting me know she had moved back to LA to work as the PR Manager for the Neiman Marcus Topanga store, I was impressed, but not surprised.  The transition from Sales to Public Relations seemed like a natural fit.  Anyone that meets Lisa can easily see how she could really make any job work, and her latest role as the store's PR Manager has just proven that.  I asked Lisa a few fashion related questions, not so much about the business end but about trends and favorite items.  I loved reading her answers.
What's your favorite fall trend right now?
Mixed greens! I love the idea of playing with different shades, from bold and bright to natural and earthy. Being back in California has allowed me to have more colorful fashion moments.

What item are you currently coveting (clothing, accessories, shoes?
I am definitely a girl who likes her bags. I'm currently coveting the Alexander McQueen embroidered unicorn and skull-clasp clutch. The unique handle and whimsical details make this the perfect addition to my ever-growing collection.

Since you have to dress up for work every day, how do you dress for a casual day off?
I really like Annabelle Fleur's, of vivaluxury.blogspot.com, sophisticated yet edgy style. She is daring without being overt and always looks effortlessly cool. My weekend uniform usually consists of a maxi dress, gladiator sandal and an oversized tote. I top it off with aviator sunglasses and a swipe of Le Metier Haute Lip Crème in ballerina pink.

What are three pieces you think every woman should have in their closet?
1. The Stella McCartney boyfriend jacket because it's clean-lined and effortless.
2. A great leather legging. They work back to everything and can transform even the most basic of looks.
3. The Manolo Blahnik BB pump. The shape is simply stunning, and it comes in an array of fresh hues.
When you aren't thinking about fashion and PR, what do you enjoy doing?
I enjoy entertaining, cooking and spending time with my dog Tobias Patton.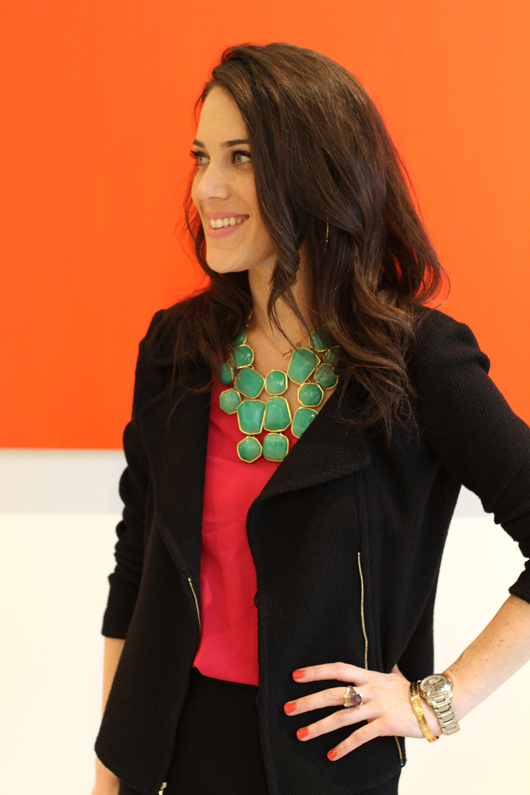 Thanks Lisa for continuing to let me pick your brain!  You are a gem and I'm so happy to call you a personal friend!