I'd be honored if you'd consider "liking" my Facebook page, or subscribing to my RSS Feed. Or better yet, receive some Love straight to your inbox by entering your email in that box to the right! Love is way better than junk mail!
I'll be 37 in 2 months! While I know that's not "old" by any means, it is old enough to come to terms with the fact that my skin has started to change and it's time my beauty routine changed with it. After an intervention from my friend and makeup guru Amber last year, I started thinking it's time for out with the old and in with the new, and here are a few new(er) items I've added to my beauty arsenal. They may not be right for all skin types or concerns, but for my skin, they helped transform my skin from dull and blah to bright, and even glowing.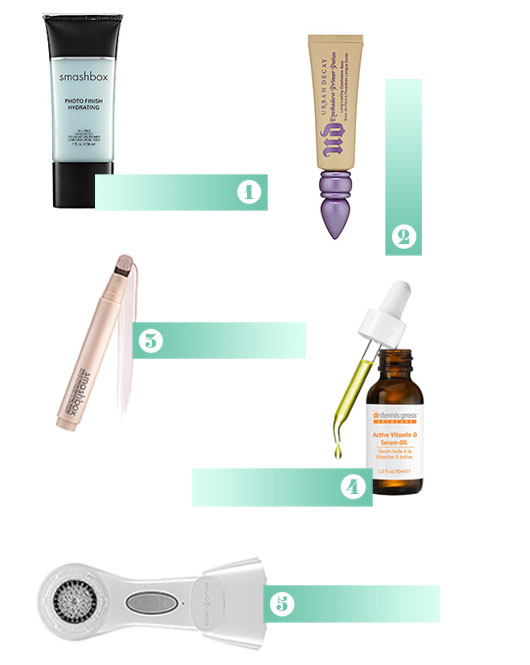 1. Smashbox Photo Finish (Hydrating) Primer – I know what you're thinking, why do I need to add another layer to my face? Well for me, as my age spots started to become more pronounced, I needed my foundation to do a better job adhering to my skin, and staying on throughout the day. The primer does just that. And my skin is super dry, so the moisturizing primer helps added a bit of dewiness to my skin, making it look brighter and fresher. There's a standard primer if you don't need the extra hydration.
2.Urban Decay Eyeshadow Primer – And another primer you ask?!? Yes! While I've been using an eyeshadow primer for years to help my shadow last and prevent those ugly smudge creases that happens when your eyeliner rubs and runs on your lid, I've never used one that I love this much. This primer has just the lightest tint of color, so I use it every single day, whether I wear eyeshadow and liner or not, because it smooths out the color tone of my lid, giving me a smooth finish and hiding dark tones and spidery veins from lack of sleep (from a certain baby keeping me up all night). This is hands down the best primer I've ever used.
3.Smashbox Halo Highlighting Wand – I don't use this every single day, but do use it several times a week when I need a little brightening. I apply some to my cheekbones, upper lids and along my nose and above my lip. It adds the slightest bit of glow and brightens your overall skin tone in just the right spots.
4.Vitamin D Oil – Lots of hydrating oils exist out there, but I really enjoy this one for it's all natural properties and because it's not too heavy but definitely feels like it's working. And it's loaded with Vitamin D. It was also voted a best buy by Nordstrom. I add a few drops every night to my skin and also during the day if I'm feeling extra dry.
5.Clarisonic Pro – Whether you get the Pro or a smaller version makes no difference, but either way, get one of these! I asked for mine for my birthday almost two years ago and over the last 2 years it has more than paid for itself. Since I've been using this, I haven't felt the need to get a facial, and I stopped buying this fancy glycolic acid cream to help with my dry flaky skin (that was $85 a jar) because this has taken care of that flakiness. I can't remember the last time I've had a pimple, even throughout my pregnancy last year I never broke out, and my skin is really overall much smoother and less dry than it has ever been before!
So these are my top 5 loves for good looking skin in your 30's and beyond. Do you have any you can recommend?