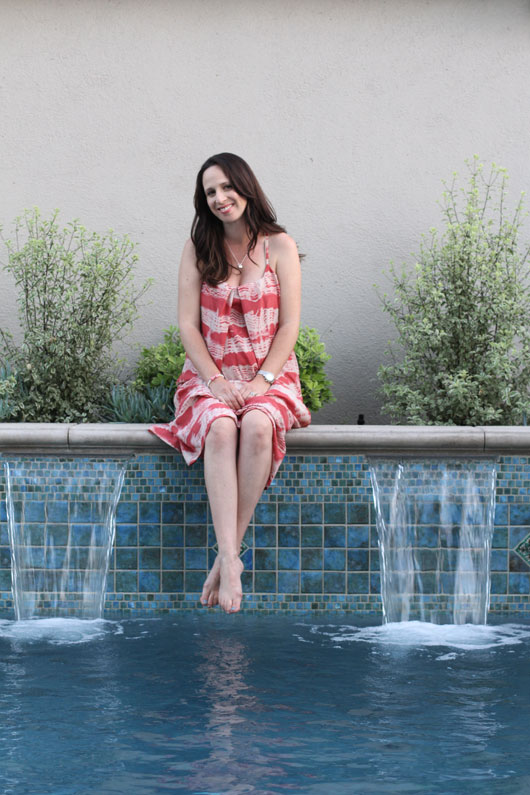 This is a sponsored post.  As part of the DailyBuzz Style Program, I received free Clear Tone Deodorant from Dove, however, my opinions are entirely my own.
This Spring more than ever, skin care is a top priority for me.  For the past 6 months I've been doing all I can to get my skin in the best possible shape, and now as we're deep in the throes of Spring, and I'm about to enter my 3rd trimester of pregnancy, I'm even more dedicated to keeping my skin feeling and looking good, from top to bottom.  From research I've read, to advice I've received from friends and readers, I've switched up my normal skin care regimen and have added some new tricks to my existing routine, for results I've been quite happy with. Here's a run down of what I'm doing right now to keep my healthy glow going, despite raging pregnancy hormones:
In the shower – I've stopped using my loofah.  I read somewhere that for women in their 30's and 40's, it can strip much needed moisture away from skin, and to use a baby soft wash cloth instead.  I can attest that after trying this for just a week or so, it does in fact work better.  It's most noticeable on my arms, that tend to look dry and even a bit scaly after spending an hour in the sun.  Moisturizer is seeping in better and my skin does in fact feel softer.
Another important step to super soft and glowing legs, and I've done it for years, is use body wash as my shaving cream instead of the real thing.  For my skin it's the best for controlling razor burn and getting the cleanest shave.  I've used Dove for years (right now I'm using the Pomegranate Lemon Verbena scent), and it's the most gentle and moisturizing for my very dry skin.  Plus I save money by having to also purchase shaving cream.
Out of the shower – Moisturize right away, all over!  I am religious about this and in fact feel very uncomfortable if my dry skin doesn't get a healthy dose of body lotion slathered on as soon as I dry off.  If I know I'm going to be out in the sun I've begun using a body lotion with SPF, and in fact always use it on my hands no matter what the weather.  You know that the first way to tell the age of a women is not by looking at her face, but by her hands too?  Tis true.  Keep those sun spots at bay and use SPF on your hands everyday ladies!
The Face – My face immediately gets a healthy dose of skin cream with SPF as well, and something new that I've begun doing is to apply a few drops of Vitamin D oil to my face as well.  It provides an added layer of moisture and helps to give my skin that dewy look when I put on my makeup.
The Makeup – During Spring and Summer I pretty much exclusively use a tinted moisturizer with SPF 20 or higher.  Tinted moisturizer is lighter and just feels better on my face when it's warm out.  Plus I don't have to worry about makeup stains or slides if I get splashed at the pool, which is an almost daily occurrence once school lets out.  If I'm going out and I have a bit of extra time to spend on my routine, I've been applying a makeup primer first before I apply tinted moisturizer or foundation.  The primer acts as a layer to help my makeup sit on top of my skin, rather than sink into fine lines. It's really is a bit like magic.  The other day Art even said how it looked like I was wearing less makeup, even though I had applied an extra layer of primer.  For a man to notice, you know it works.  And it goes without saying that waterproof mascara is a must when the weather heats up!
Overall Skin Care – Some general tidbits of advice: I don't think I even have to tell you, but since good advice is always worth repeating, drink loads and loads of water, even more as the weather heats up.  If you're spending a lot of time in the pool or hot tub, rinse off soon after getting out and re-moisturize.  The chlorine and saline in pools will zap the moisture right out of your skin.  Wear fabrics that naturally breathe such as cottons, light weight silks, and linens, over synthetics like rayons and polyesters.  Fabrics that breathe better help to prevent wetness and leave you feeling fresher for longer periods of time.  And lastly, speaking of eliminating wetness, a good antiperspirant and deodorant is worth its weight in gold.  I recently received Dove's new Clear Tone Deodorant, and it is quite honestly the best deodorant I've ever used.  It's lightweight, completely clear so it doesn't leave marks on my clothes (isn't that the worst?!) and it smells wonderful, so it keeps me smelling great.  Actually it doesn't really have much of a scent at all, which is what I like about it so much.  I'm really picky about my deodorant smelling too strong.
I love learning new tips about keeping my skin looking and feeling good, so if you have any favorites routines, please share them.