While last week the largest and most time consuming thing I created was the launch of The Craft Cabinet, I did still spend some time creating a few new things, mainly in the kitchen. I plan on sharing which recipes have been working for me later in the week, but for today I thought I'd share what I've been planning for.  Our home, like most, is a work in progress.  While we've achieved finished progress on some areas of our home, like our backyard and our garage, even Hayden's room, most of the rooms in our home are not where we want them to be, and I'm sure many of you can relate.  
I posted this picture today on Instagram, and many friends responded how lovely it was coming together.  It was a reminder that our home has made more progress than I would like to admit at times, and certainly more than I give it credit for.  This is a very lovely room indeed and it's almost close to being complete.  The main bones of the room are pretty much in place.  We love the paint color, Benjamin Moore Thunder.  It sets a nice tone for the room and because it gets good morning light and soft afternoon light, it feels cozy and never too bright or gloomy.  We love our English Roll Arm sofa and the two paisley wing back chairs, as well as the Serena & Lily metallic, suede and hemp rug.  But like the rest of the house, it's so close but it's the final little details that are holding it back; mainly art work on the very long wall that runs along the back of the sofa.  It's hard to tell but right now we just have a cluster of beveled mirrors that are hung off-set above the sofa and look really goofy.  I'm convinced that most of our "problems" with this house being finished lies in the walls.  So I pin gallery wall inspiration pictures almost every day.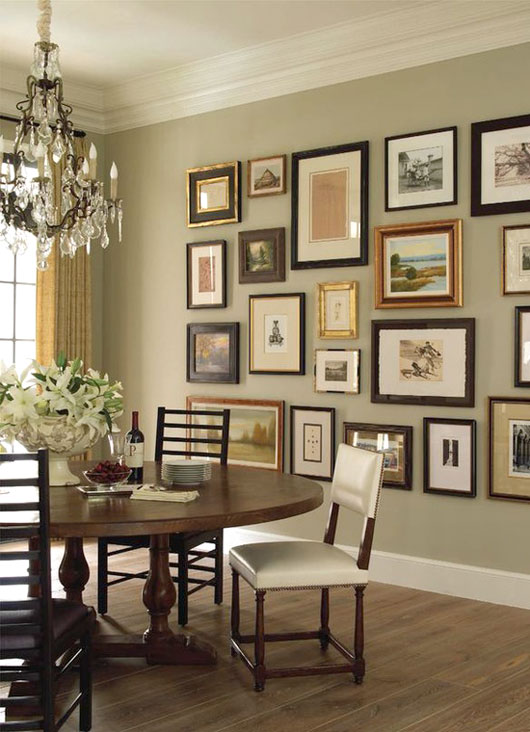 Walls that have an eclectic array of frame colors, textures and widths.  Set in a symmetrical pattern, they look fresh and interesting instead of scattered and hodge-podgeish.
Pretty gilded frames in different shades of metallics are so glam and would look perfect in the living room in particular.  The similar finish allows some play in the arrangement; not so symmetrical but a bit more random.  
Of course a gallery wall doesn't have to look like a puzzle piece and can look just as funky and eclectic when frames are evenly spaced out.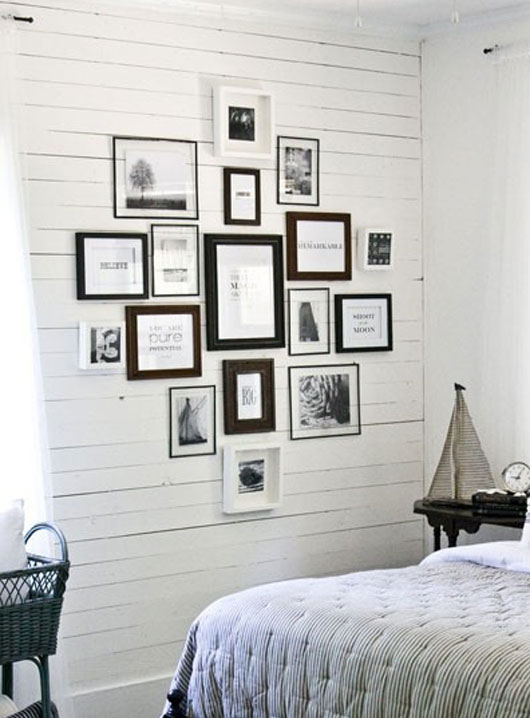 When hung in a diamond shape, using a mix of black and white frames the look is modern and fresh.
And look at what we have here.  This photo reminded me so much of my bed side office arrangement with the slanted wall and step pattern arrangement of the artwork and prints.  The problem with all of these inspiration images though, is that I just don't have enough artwork.  I own hardly any as a matter of fact, so I then want to fall back on family pictures, and realistically how many family photos do we need to see all over the house, just in different arrangements?  So does one just find art and prints off of websites like Etsy and Art.Com, or flea markets, garage sales and thrift stores?  While the set up and pattern of the gallery wall can be easily duplicated, it's what you actually fill the wall with that stumps me.  Like I said, most of my house problems could be solved with some simple wall hangings, but for now I'll continue to plan and look for inspiration.  In the living room, however, I did finally order the pillows for the sofa and so textiles will all be compelte then.  Sometimes it's just taking the time to get things finished, like ordering 3 pillows to set on the couch.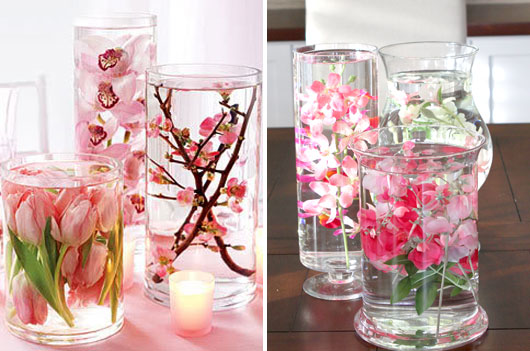 One last thing I worked on just because I was feeling the need to try and bring some color to my dining room, was make some floral centerpieces using fake flowers found at Ikea, and floated in glass jars filled with distilled water, inspired by this pin.  While the process was easy and the effect is pretty, I don't love the look overall.  Good for a party or a wedding, but not good for a home where the risk of filled to the brim water containers overflowing with the not so gentle nudge of a rambunctious kid can spell disaster at any moment.  Proof that sometimes not all pins turn out as you'd hope.
Finally, this is the gift bundle (not all items are shown!), for the #52WeeksToCreateMar Instagram challenge.  The chance to win $100 worth of my favorite craft supplies by tagging all of your "create" photos on IG with the hashtag.  Remember that anything you make or do, including home decor and organization, new recipes and crafts and DIY count and can be tagged!  You can also regram this photo, found in my feed, for extra entries.  Remember, I'm @fourflights and I'd love if you left your IG name in the comments so I can follow along if you plan to play!