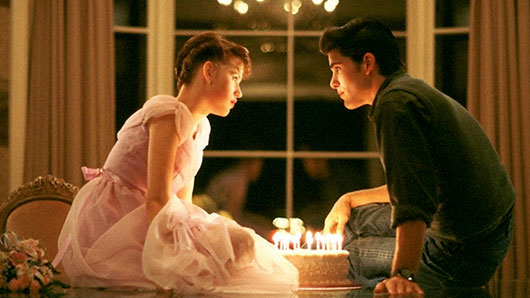 In just 2 short months I turn 38 years old, and have now lived long enough to see a decade I grew up in, chosen as a theme for an upcoming event.  A decade doesn't get chosen for an event theme unless it's long gone passed for a while now. I mean, no one's really holding 90's themed events yet, are they? At any rate, the 80's are the decade I remember the most, because during that time is when I started to form my own tastes in music and clothes. Culling my own style happened towards the latter part of the decade, when I entered middle school, and you know that at that age, impressions form fiercely and shape the person you'll be for the next several years. In my case, there was an intense love for Morrissey, plenty of moody tween angst, and regular scouring of local thrift stores, in search of the perfect vest to wear with my first pair of 8 hole lace-up Doc Martens.  In between boyish cardigans and boots, I mixed in a lot of feminine florals and patent leather.  Actually, my style leanings were very similar, albeit much more refined, to what they are now as a grown woman. A good mix of boyish, loose gender neutral looks, with a lot of soft girlie touches thrown in.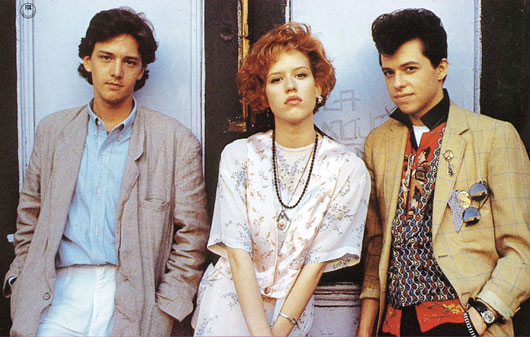 One thing my style was decidedly not though, was what we now come to think of as typical 80's fashion.  No fish net gloves, or lacy skirts and headbands.  Nothing resembling a deranged jazzercise instructor or Madonna or anything and anyone pop in fact, and surprisingly enough, no neon.  While I recall going through a brief pegged leg jean moment, and even did the layered scrunchy sock thing, it was definitely before middle school, when my mom was still picking out my clothes.  Once I felt like I had more of a say, or at least once I felt like I had more of an opinion about my style, I bucked the traditional 80's trend items, and leaned towards anything you'd see in a John Hughes film.  Molly Ringwald was my style idol and icon, and all throughout 7th and 8th grade, I had the cut and (attempted) color to prove it. My love and admiration for Molly's style was only slightly trumped when I saw Uncle Buck for the first time, and drooled over bitchy Tia's wardrobe.  I can recall with distinct clarity the longing I had to replicate her bundled up looks.  
So while many recall visions of neon and teased bangs and pop-star worthy looks, I just recall anything relating to John Hughes and his films during that decade.  I think because I was so impressionable at the time, and his films had the biggest impact on me emotionally, it was natural that the wardrobe styling would in turn define style for me in the 80's.  The dress code for the upcoming event isn't specified, so I'm assuming I could go dressed up or casual.  At this point I can't decide which way to go, but realistically something dressy would probably best translate as 80's.  If I showed up wearing something like what Molly Ringwald wore in The Breakfast Club, I may just end up looking like a slightly off version of what we'd wear today.  Like I belong in this decade, but not quite.  And people would probably look at me like all, "I don't get it."  It's a look I got quite familiar with during that time period.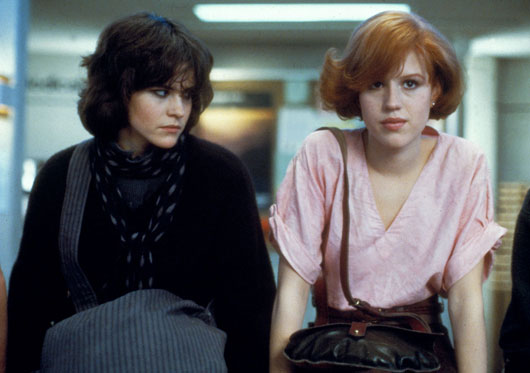 Let's have a look at some of the John Hughes' films that had the greatest style impact on me during the 80's.  It's not what we typically think of when we hear 80's, but no one can deny that these looks are anything but 80's.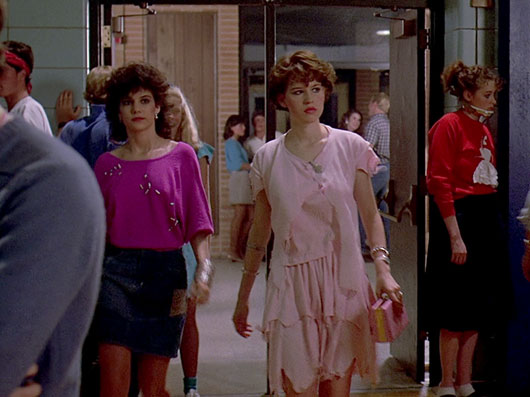 Starting in chronological order, let's look at Sixteen Candles.  While Sam's wardrobe wasn't distinctly memorable for me, I do recall with vivid accuracy her bridesmaid confection of a dress, and pink.  Lots of pink. And of course who could forget Jake Ryan's sweater vest, and his drunk girlfriend's poofy sleeved lavender taffeta prom dress.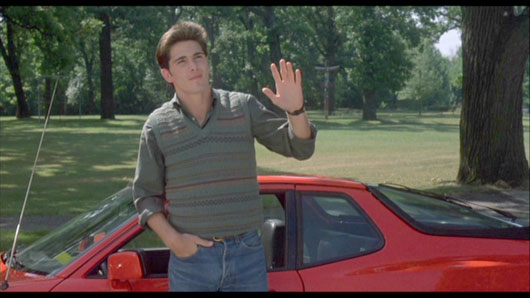 Maybe I should go with this look?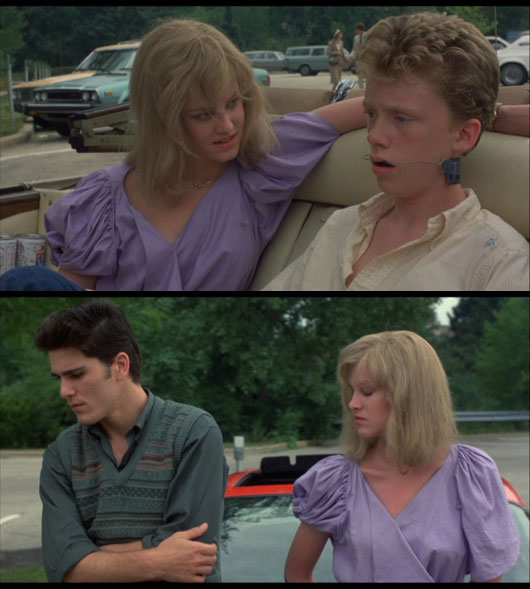 After Sixteen Candles, came The Breakfast Club, and dude, I can't recall how many times I watched this movie.  Claire, and the entire crew, wore the same outfits throughout the entire movie, which not only helped highlight each character's decisively different personalities and backgrounds, but also made each outfit stand out that much more.  Claire's riding boots and too-sophisticated for high-school paisley wrap skirt were style personified for me, and then the dusty rose crossover blouse, gah, it was all too much to handle!  On a side note, I truly can't express how much of an impact John Hughes' movies had on me at the time, but perhaps this will help – in high school drama club, my group reenacted the lipstick scene from this movie.  I was Claire, and in front of my whole high school I stuck a tube of lipstick in between my tiny teeny breasts, and applied away.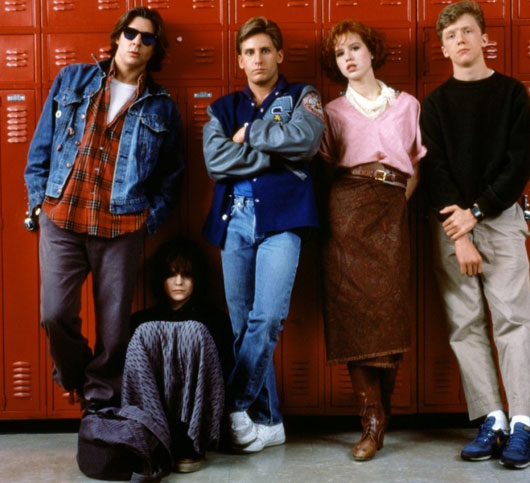 The other pinnacle high-school drama of that decade, was of course Pretty In Pink.  The (literally) poor misfit Andie falls for the rich guy, and her fashion choices make her stick out more than that the fact that she is actually from the wrong side of the tracks.  While her style was a little out there, even for me, there were key looks that I loved, including the huge floral over sized skirt, and the many vests.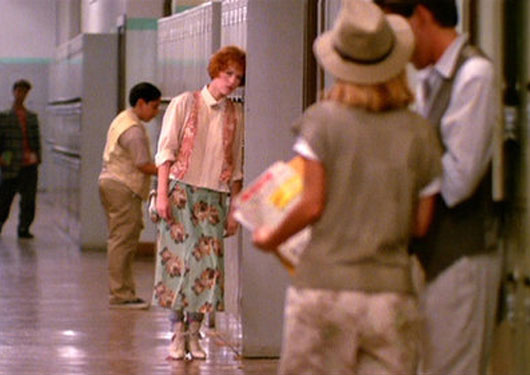 Because Andie was an aspiring designer made her fashion choices all the more relevant to the movie, and the pinnacle point of the movie is when she shows up to prom, with the bolo-tie sporting Duckie on her arm, wearing the "pink" handmade recreation of  her mother's dress, who had sadly abandoned her years prior.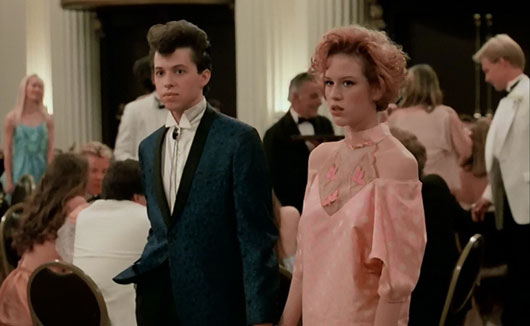 Let's get a close-up of that neckline, shall we?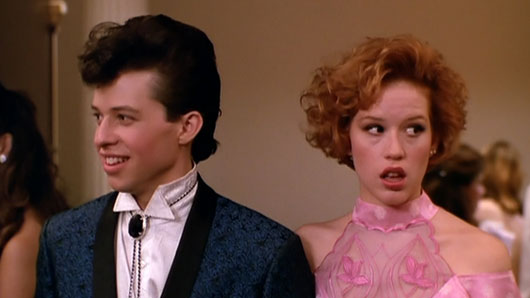 And that hair! Shit that hair is fierce!  And probably my favorite look of the whole movie is this ensemble below.  Take note of the leggings and the wrestling style high-top Adidas.  My big brother, who I looked up to, was a high school wrestler at the time and had these same shoes.  I thought that was totally awesome!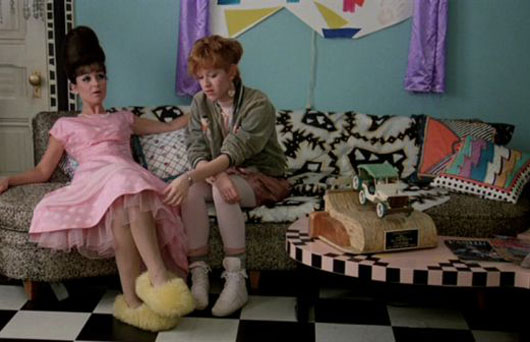 After Pretty In Pink, John Hughes made Matthew Broderick famous in Ferris Bueller's Day Off, and all the girls I knew added a white fringe leather jacket to their Christmas wish-list.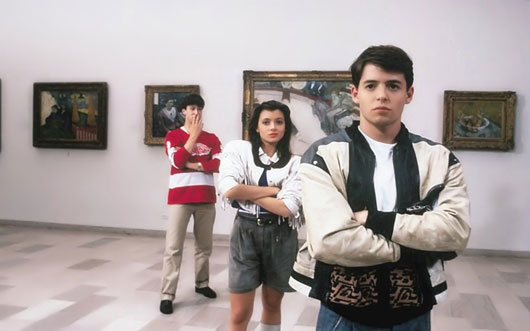 Again with the vests, this time on a boy.  And pleated pants.  Taking notes for Art's ensemble, because I have to dress the both of us, you know.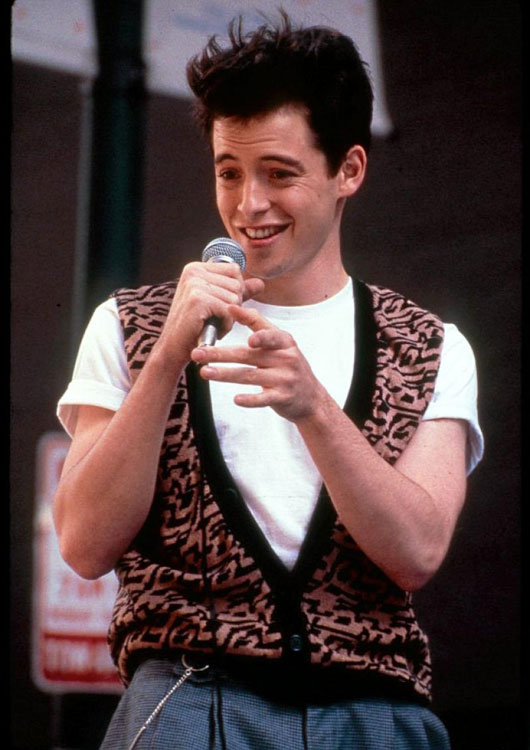 While we both hated and felt sorry for Ferris' sister, I had nothing but love for the funky and quirky outfit she wore throughout the entire movie.  Over sized cardigan, suspender leggings, and more of the same high-top lace-up wresting shoes, although you can't see them in this photo.  Shades of rose pink all around!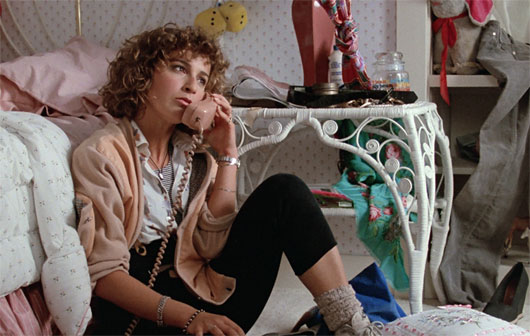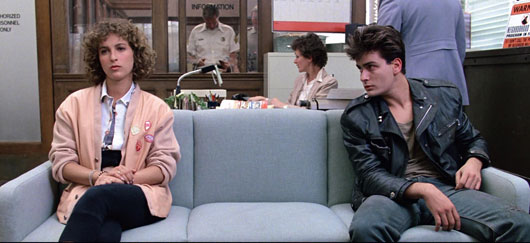 Charlie Sheen is totally winning.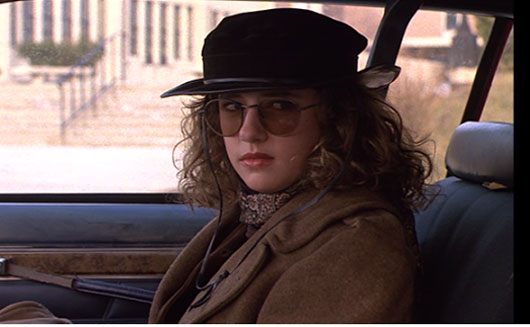 One of the last films John Hughes made in the 80's was Uncle Buck, a box office hit, but one of the more obscure teenage type movies.  Tia's wardrobe throughout was as fierce as her glare, and her stockinged legs and short knit skirts made me long to live somewhere cold, in particular Chicago.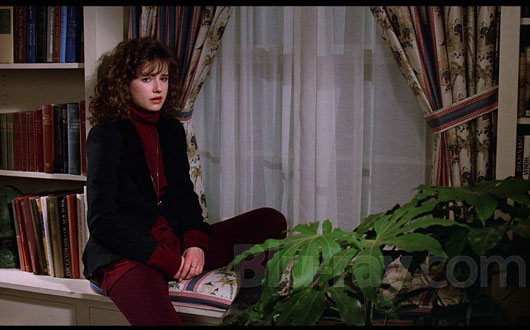 I was 13 when this movie came out, and probably close to 14 when I finally saw it on VHS at home.  I was experiencing all the drama and turmoil that is typical of a high school freshman, and I just remember thinking if I had her wardrobe, life would be better.  Back when you thought the right wardrobe and hair style could solve all your troubles.
The characters in these movies personify 80's fashion and style for me, and while it's entertaining to see a younger generation try to pull off the style of the decade, it often winds up being a silly caricature of what it actually was.  Those of us who grew up in it are often guilty of the same.  While it's fun to exaggerate the trends of the decade, it also misrepresents what the average girl was wearing at the time, because we weren't all walking around looking like a pop star.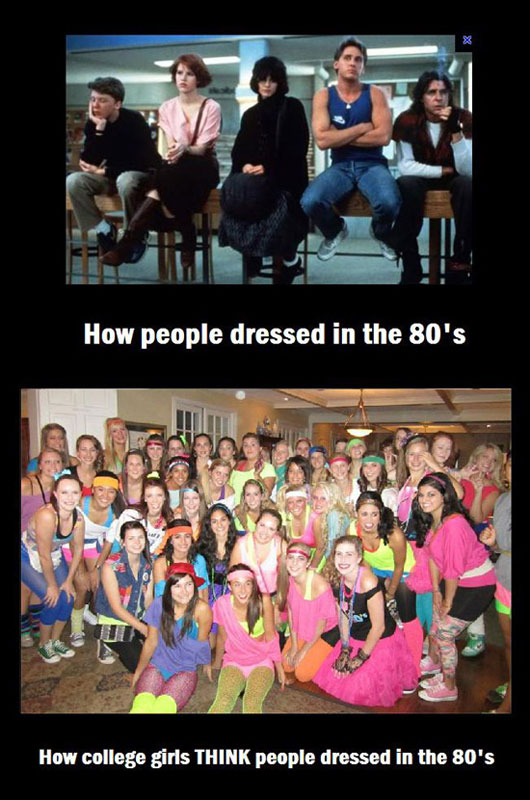 So I'm curious, what does 80's style mean to you, and how do you interpret it?  Is it loud and boisterous, with layers of lace and an arm full of black rubber bracelets?  Or is it a little more laid back and loose, with some big shoulder pads to top it off?
Whichever way I end up going – dressy or casual – I do know that I can probably find what I need at Forever 21.