Today I turn 36, and while it's not a milestone of a birthday like last year's, I do believe each year is special and deserves to be celebrated in even the smallest of ways.  My husband had recently surprised me with a new lens for an early gift, but he wanted to give me something small to at least open today, and so he asked for ideas.  The only thing I could think of was a beauty related item, so I thought today I'd share with you my tried and true beauty essentials that I've, for the most part, been using for years.  I'm not a huge makeup addict and usually only buy new items twice a year, with the occasional lipgloss purchase here and there.  The picture above completely sums up the contents of my makeup bag and are my go-to items every day of the year.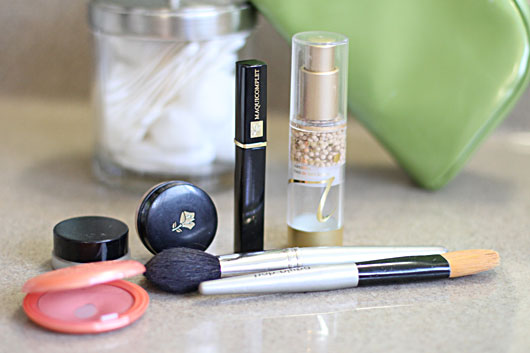 Beginning with face and foundation products.  I guess I should preface this post by saying for the most part, I am a loyal Lancome fan.  I began using their products when I was 22 and had my first managerial job after college at Macy's.  The girls at the Lancome counter lured me in during Gift With Purchase time and I've been a loyal customer ever since, so you'll see a lot of Lancome items throughout the post.
Let's start with foundation.  I had always used a Lancome foundation, and then two years ago by chance I tried Jane Iredale's Liquid Minerals foundation, which my local beauty supply carries.  The color beads are actually floating in aloe vera and when you pump out the foundation you give it a little mix with your brush or hand and then apply.  The coverage is light yet still conceals without feeling heavy, and it makes my skin feel moist and dewy.  I use the color Amber most of the year, and then switch to Honey Bronze during the summer when I have a bit of a tan.  I can't tell you how much I love this foundation and highly recommend it!  I use and love the Paula Dorf Foundation Brush to apply my foundation.  It is hands down my most coveted and used makeup brush.
For concealers I start with Lancome's Maquicomplet Corrector (it has a yellow tint) to hide dark circles, and then after I've applied my foundation I use an eyeshadow base in Nude and the Photogenic Skin Illuminating Concealer SPF15 in Buff, both Lancome products.  Even when I don't wear eyeshadow, I always apply the base because it gives my lids a smooth finish and evens out the color tones of my lids.
For color I usually wear Mac blush along with the Lancome blush brush, but for the past few months I've been using Stila's Convertible Color in Gerbera and really enjoy the creamy finish.  I find it gives off more of a glow than traditional powder bushes.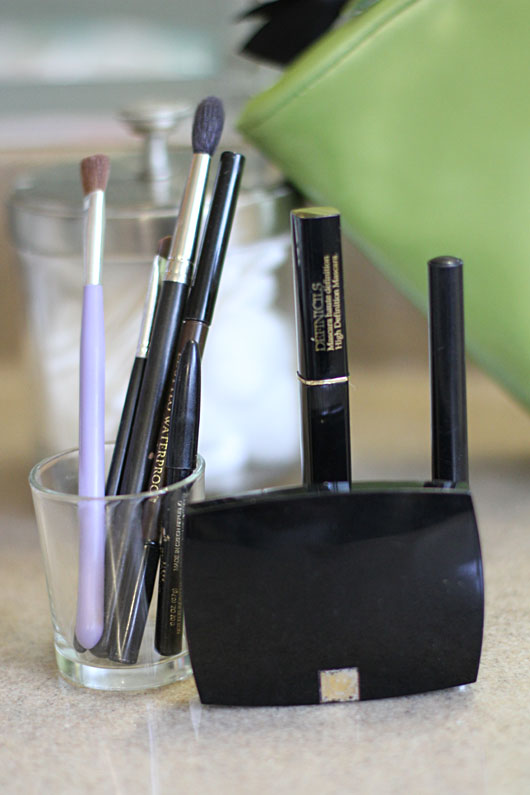 For eyes I try to keep it simple.  I've had this same eyeshadow Quad from Lancome for about 5 years (I kid you not).  I actually remember getting it from the Nordstrom in San Francisco when I was traveling for work, and we found out I was pregnant with Syd during that trip.  So actually that's 5 1/2 years!  I guess perhaps I should throw this one out and get a fresh one?  At any rate I don't wear eyeshadow everyday which is why it's lasted me so long.  The quad color set is called Palette 4 Ombres and contains the perfect, for me, shade of brown that I can use in my crease and as an eyebrow liner, a pale pink color that I use as a highlighter, and two darker shimmery shades of olive green and augergine that I can use to highlight for a more dramatic look.
I use two shades of eyeliner; brown and black and always use Lancome's Le Stylo Waterproof long lasting eyeliner in Cafe and Black.  I ran out of black and so have been using this Kohl eyeliner also from Lancome that I received as a GWP (I try to be resourceful and use those GWP's to save some money).  For fun I also have the Superslick Liquid Eyeliner from MAC in On the Hunt.
I keep three brushes on hand; the 224 Tapered Blending Brush from MAC to apply my darker shadow in the crease, I use the lavender smaller brush as my highlighter (it was a Lancome GWP), and for my eyebrows I use the 266 Small Angle Brush.  I rarely fill in my brows but it's a small brush that takes up no space so I keep it on hand.  I got both brushes in a set years ago and they are still going strong.  MAC brushes are amazing and the quality is great.
Finally, let's talk about the ever important mascara.  I am a long fan of Definicils from Lancome and have tried several others that people rave about, specifically Great Lash from Maybelline and Stila.  I thought both were terrible (for me) and ended up being a waste of money.  I've also tried a couple of "newer" Lancome mascaras that are supposed to be updated but I always go back to Definicils in Black. It's waterproof without being ridiculously hard to wash off, doesn't irritate my eyes, doesn't smudge or wear off and gives a good amount of definition and volume without looking fake.  I LOVE this mascara!
I think lip color is the one beauty item that flows with the trends.  I recently took in a bunch of old MAC tubes for recycling and it was fun to see how the shades changed with the trends.  From the rich shimmery auburns and browns of the late 90's early 2000's, to the pale matte phase in nudes of the mid 2000's to a big gloss/anti lipstick phase for a while.  It's been fun to see bright cheery shades of lipstick colors come back over the past two years and these are a couple of my favorite shades I'm enjoying right now.  From left, MAC's Chatter Box is a great shade of pink; girly and gives a nice pop of color without being over the top.  For a more saturated and showier shade of pink, Lancome's Fuschia Clutch is fun (it was a GWP but is available for purchase).  When I want to go red I've been falling back on Jane Iredale's Nicole, which also has SPF 18.  It's the perfect red for most of the year and has a nice balance of orange and blue tones so it works on a variety of skin tones.  It's very moist and moisturizing too.  My new gloss purchase recently was MAC's Cremesheen Glass in Right Image and looks fantastic alone or over Chatter Box.  The perfect shade to carry me all through summer.
With makeup I believe that you do get what you pay for.  Most of the products I use and love are only available at department stores and cost a bit more, but I can count on them.  Whenever I've tried to save money and buy drug store brands I just haven't been happy and end up feeling like I wasted more money.  I know this isn't the case with every product out there (I actually do recall loving some Revlon products), but since I buy so few products and so rarely, I find instead of wasting time and money on experimenting, I just stick with what I know works for me.  With that being said, if you have any other products you love that could save me some cash, please share!
I also firmly believe in only stocking up during Gift With Purchase time.  Most major cosmetic lines that can be found at department stores have a regular "gift time"or a "beauty event" where you get extra goodies when you make a purchase.  About half the items I'll actually never use, but the other half I most certainly do.  Lancome for instance always includes a trial size definicils mascara sample, and a full size sample of lipstick or lipgloss.  Many of the shades I've used over the years and I use the trial size mascaras to get me through to the next GWP time when I run out.  Neimans does a beauty event 2 times a year and they give out amazing samples of high priced cosmetics/beauty lines that I usually can't afford or would splurge on.  Plan accordingly, shop wisely and take advantage of these special periods.  You need to be savvy when it comes to shopping for cosmetics since they're usually NEVER put on sale.
I'm not sure if by average standards this is "a lot" of product, but to me it seems manageable and I can usually apply my entire makeup routine in less than 10 minutes (ask Jules about my ninja makeup skills).  I have been wanting to try a primer and a true highlighter for brows and cheeks, but haven't taken the time to hunt for a good one.  I sampled the Laura Mercier primer recently and loved it, but will probably wait to add it to my arsenal.
So what about you guys?  What are some products you can't live without?  Tried and true favorites, items you've been wanting to try?  Please share!  While I'm not a huge makeup addict, I do love getting inside scoops on what other people are using and loving.