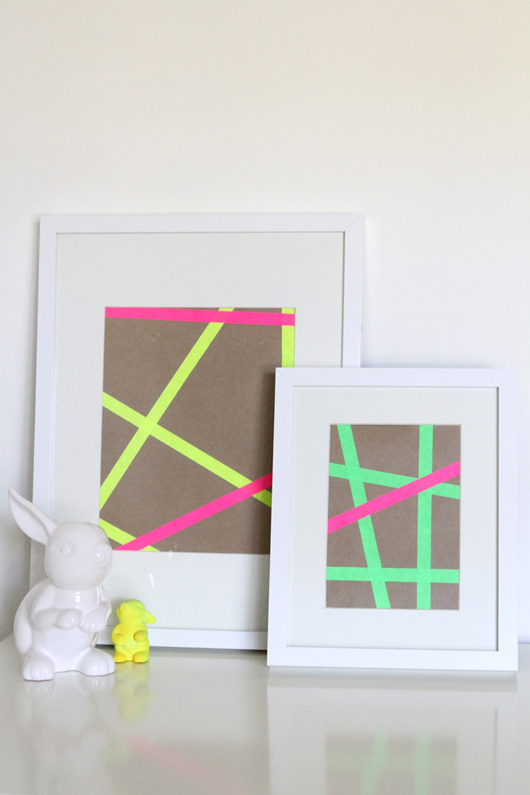 I have a new contributors post up at Making It Lovely, showing you how to recreate these fun and modern pieces of graphic artwork for any room in your house.
Now I know what you're thinking, "does this girl ever stop with the neon?"  Well eventually I'm sure I will, but we've decided to use bits of it in the nursery, so you'll be seeing glimpses of neon in our lives for a wee bit longer.  The neon will be going back to all white with bits of linen beige as well to help ground it and add a bit of warmth to all the brightness.  So far it's coming out just as I had imagined it and this baby is going to have the most cohesive, consistently decorated room in the house!
I tried another DIY art project to hang above the bed and I'm still not sure what I think about it.  It's an ombre effect on pieces of linen.  What do you think?  If you like, I can post the DIY for it because it was super easy, just not sure right now how much I'm loving how the came out.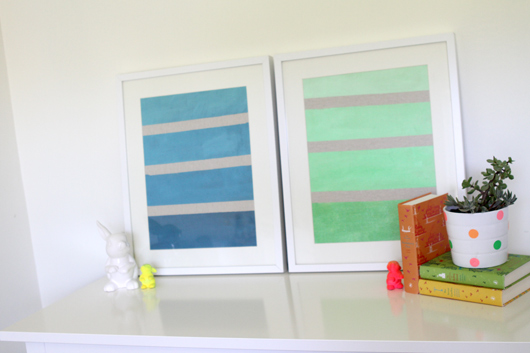 Other bits of the room I've posted to Instagram (I'm @fourflights if you want to follow me!).  We still have a ways to go and just found out yesterday that we had to order a new crib because ours had been recalled because of the drop down side rails, so we'll be set back at least another week or two in completing.  But it's kinda fun to take our time and see it all come together how I had envisioned it. 
Remember these potted plants?  Looks perfect in the room!  You can get the DIY here.
I hope you all are enjoying your week and having a good one.  I'll be back tomorrow with an awesome giveaway you're going to love.  And have you noticed no new style posts?  Well the heat has taken a toll on this momma's style and I'm not sure if I'll be getting it back in the next couple of weeks before I deliver.  Fingers crossed I didn't leave it somewhere in the aisles of Babies R Us.