My favorite part of church is worship. Actually in all fairness, it's been my favorite part for many years, but now as I find my faith growing and my knowledge of the Bible and scripture grow, the actual sermon is inching up to a close tie. But for many, many years, during worship, is the only real time I felt a connection with God, felt a presence of the Holy Spirit. It's not hard to understand why I suppose, considering my history and faith journey. Having not grown up in the church and with very little practical knowledge of scripture, I felt I could at least read some words and sing along to the tune. What was seemingly a very simple task became the way I connected week after week with Jesus. Where scripture sometimes left me confused and frustrated, song lyrics and melodies helped to bridge the divide and kept me coming back week after week. Music is the common denominator that can bring most of us together, tie us up and allow us to connect on the same level, no matter where we're coming from. Some of my favorite songs and music that I found myself connecting with over and over again were by Chris Tomlin and Hillsong.


Last Saturday Art and I had a wonderful opportunity to go and see Chris Tomlin at the Verizon Wireless Amphitheater. I'll be honest, I wasn't sure what to expect, going to see a worship band. Would it feel uptight, would it feel like an extension of church, would it feel good or awkward? I really honestly didn't know if it would feel strange to worship outside of church, because essentially that's what we would be doing. I've talked before, how Art and I sort of have a private relationship with Christ, whereas I pray on my own and he prays on his own, and rarely do we really pray together. During church we hold hands and he hands me a tissue when I inevitably start to cry, so I wasn't sure what the evening would be like. Would it be like all the other concerts we go to together where we sing our faces off and lose our voices by the end of the night, or would we sort of stand side by side holding hands, similar to what we do in church? Maybe I'm over thinking this, I know, but I have a feeling some of you out there would be thinking the same thoughts, right? When we got there though and saw the DJ onstage, leading us through a dance song with high energy and awesome beats, I had a feeling it would be all good. Turns out we did a mixture of singing and dancing our faces off, and also standing side by side.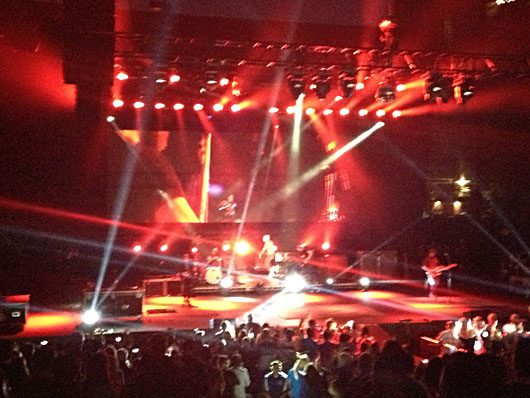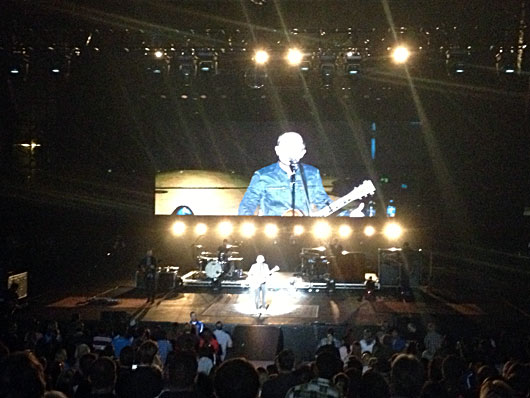 The night turned out to be beautiful. Art and I had just celebrated 14 years of marriage a few days before, so to be outside under the stars on a beautiful California night, singing praise and feeling the energy and presence of Jesus in that auditorium was nothing short of awesome. Chris (it's totally okay to call him by first name after spending an evening with him right?) and the band's energy were incredible, and their stage presence pretty magnetic. Art admired the drummers beard, I admired their overall fashion sense, and we both admired their skill level as musicians, singers and songwriters. The way they connect with music and the audience is something special and a beautiful thing to see.
It definitely was the most energetic, yet peaceful concert I've ever been to, and we left there feeling a sense of just happiness. That's the most simple way to put it. If you're a long time fan of Chris Tomlin, or even if you're new to his music, and not sure how you'd do at a "Christian concert", I'm here to say that you'll love it and be very awesomely surprised. There will be a few posts being published online today talking about our Chris Tomlin concert experience, and while I'm not sure the perspective that everyone else will be coming from in their writing and experience, I'm here to represent the girls who didn't grow up in the church, who don't have their scripture perfectly memorized, who goes to church but sometimes still has lots of questions, yet for whatever reason, connects with Jesus through music on a level she never thought possible. I'm representing that girl who is curious and wants to try out something like a Christian concert but may be a little hesitant and afraid. Afraid if you'll fit in, have a good time, connect, feel good while doing it. Try it, push yourself, and I can almost guarantee you'll come out of it not only glad you did, but also inspired and humbled in the process.
Transparent Productions is a concert promotion company who strive to bring Christian shows to Southern California and the rest of the nation.  Transparent Productions has promoted shows and events with Hillsong United, Casting Crowns, Third Day, Mercy Me, Chris Tomlin, Michael W. Smith, Steven Curtis Chapman, Amy Grant, Delirious, Jesus Culture Band, David Crowder Band, and Tenth Avenue North as well as shows with Switchfoot, Family Force 5, Relient K, Owl City, NeedToBreathe, Anberlin, Red, POD and many many others.  You can follow Transparent Productions on Twitter, Facebook and find them on Instagram.

Tickets for Fish Fest 2013 is on June 29, 2013 at the Verizon Wireless Amphitheater and tickets go on sale today.  To find out more and purchase tickets visit here.  The Hillsong United show is on Friday June 7th, 2013 at my all time favorite venue The Hollowood Bowl.  To get tickets visit here.
This post is part of a social shopper marketing insight campaign with Pollinate Media Group® andTransparent Productions but all my opinions are my own.  Thank you to Pollinate and Transparent Productions for the wonderful experience, amazing seats, and for pushing me a bit out of my comfort zone.