The wonderful thing about being an adult at Halloween is that you can make minimal effort in terms of getting in costume, yet still count as being in costume.  Throw on some borrowed scrubs, hey, you're a doctor!  Wear a pair of glasses and a pocket protector, instant geek!  Sunscreen and a Hawaiian shirt?  Say hello to the Hawaiian tourist.  When you think about it, there's really no acceptable reason for you not to dress up considering it doesn't take much, right?  If you're looking for something a bit more glamorous and pretty than the wayward tourist, and need something quick and easy, you've come to the right place.  Why not make yourself a pretty masquerade mask, apply some heavy liner and slip on a sequin blouse, and you're ready for the ball!  This DIY is quick and very budget friendly.
To get started all you need are some feathers, a few jewels, your glue gun and a simple black mask.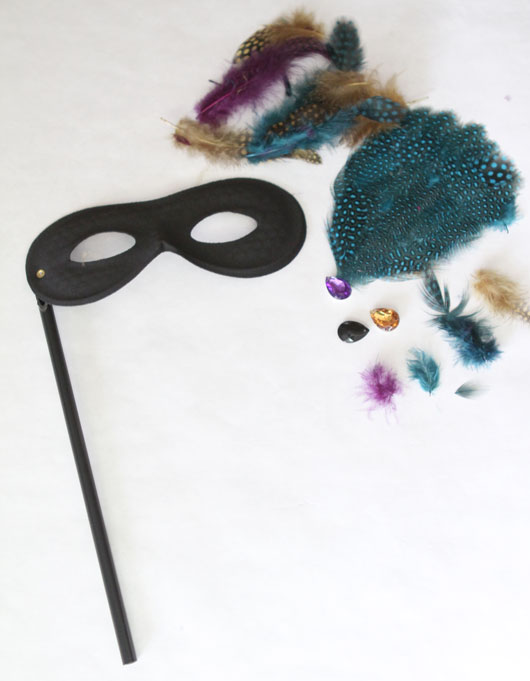 Simply apply some glue.  Tip: smear the hot glue around a bit so that you don't get any bumps underneath the very lightweight feathers.  Apply your feathers in layers, either all over, as I did for the fuchsia mask, or on either side like I did for the turquoise mask.  Cut and trim tail ends and feathers as needed.
Add some heavy makeup, a deep rich hue of lipstick and perhaps a fake mole.  With the addition of a sparkly shirt and jewels, and a teased hairstyle, and you've got yourself a dramatic, yet ridiculously easy, Halloween costume.  Happy creating!  And Happy Halloween!