When I became pregnant with Hayden, I sort of fell apart in regards to a lot of general upkeep of the house, but none so much as the office.  I was never the most organized of people when it came to paperwork, but I at least had a system that I would keep up.  I can easily say that any system at all entirely went out the window in 2012.  Mail was opened, bills were set aside and marked with due dates, and all other paperwork that I knew I needed or wanted to keep just went in a general inbox that I stuck in the closet.  Once bills were paid, those were also sent to the same box and just piled up.  For a year.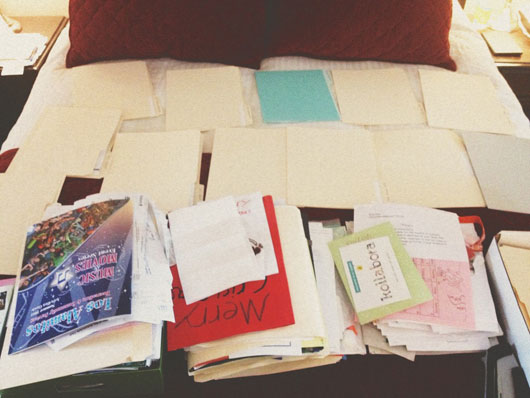 When we decided to do some remodeling to turn the office into Hayden's nursery in July, that haphazard system even went out the window because everything was transferred into the garage until we could figure out where the pieces of the office would fall.  My "filing system" was shoved into one of our garage cabinets and quickly forgotten about.  We set up my desk in the living room for a little while, but it was near impossible to work when I had a sitter here, with the kids running around the house, constantly coming up to me, instead of the sitter, asking for a snack or telling me they had to go poop.
So we decided to set up my desk in our tiny room.  Luckily it fits just next to the bed, in the same spot we had set up the pack and play for Hayden.  It's a tight fit but at least I have some peace and quiet now.  Still though, the filing system suffered.  All paperwork was literally thrown in a shopping bag till I could figure out a system.  Finally when the craft cabinet was built, thing started to fall into place.  Space was freed up in the little cubby storage box you see below, and I decided to turn that into a place to hold my filing system.
So yesterday I finally tackled a years worth of paperwork.  Fueled by The Golden Globes, a husband that did bed time, and some encouragement from my friends on Instagram, I stayed up till midnight and finished it all.  It feels so good, and especially wonderful that our 2012 tax prep for our personal stuff is now taken care of too.  We are usually always scrambling before our appointment in March.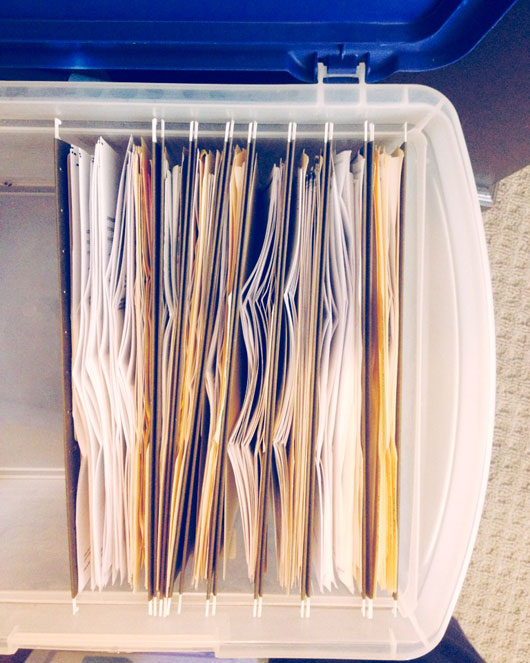 We are getting our room painted (white!) tomorrow so I'm still waiting to hang the wall pocket folders from the Martha Stewart line, but for the most part all of the filing and organization is complete.  I filed away all of 2012 and put that in the garage until it's time for our tax appointment.  I created files for all of 2013 and are ready to just be filled, and I set up a little stationary and mailing station in the desktop box, which actually makes me really happy.  No more scrounging around in my desk for a note card and matching envelope.  I used some things I already had on hand (the kraft boxes and magazine holders from The Container Store), and bought the aqua accessories you see from the Martha Stewart line at Staples.  I'll admit the pretty folders and pencil holder aren't exactly necessary, but they make office organization a bit more exciting.    
I've also begun to hang a few prints that I've been holding onto for a while, waiting until we remodeled or moved and I had the "perfect" office space.  Well you know what?  I'm tired of waiting for perfect, because that is no way to live, and perfect will probably never come.  So I'm making the most of my tiny little bedside office area.  When the paint dries and I hang the rest of my items, I'll repost new pictures taken with my real camera, which is unfortunately in the shop right now for repair.  I think you'll get a kick out of the tiny space I work from.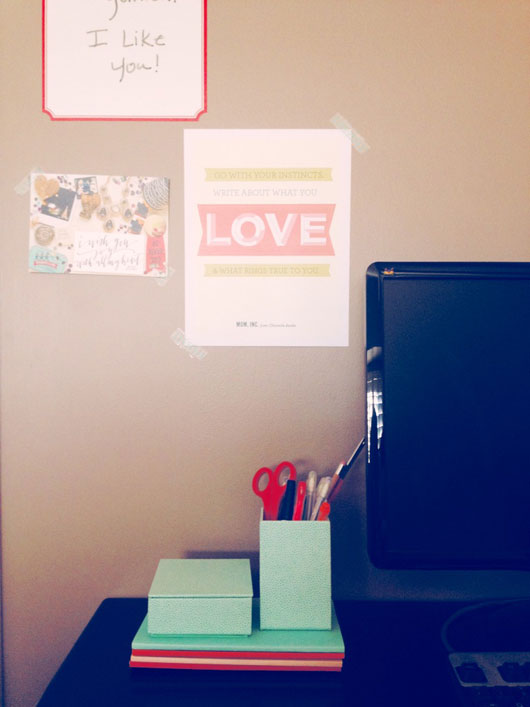 This was my biggest creating of the week; office organization.  It feels pretty spectacular.  Now give me some stuff to file!
So what did you create this last week?  I'm so excited to see the #52weekstocreateJan feed fill up!  In just a week almost 100 pictures have been uploaded, sharing inspiring things you all are creating, from food to organization projects to home decor to crafts.  It's been so exciting and fun to watch it all come through.  Thanks so much for playing along.  If you want to know more about the project, you can read my post from last week here.  Please feel free to join in and play along and use the hashtag for anything you create this month for a chance to win $30 credit to The Container Store!