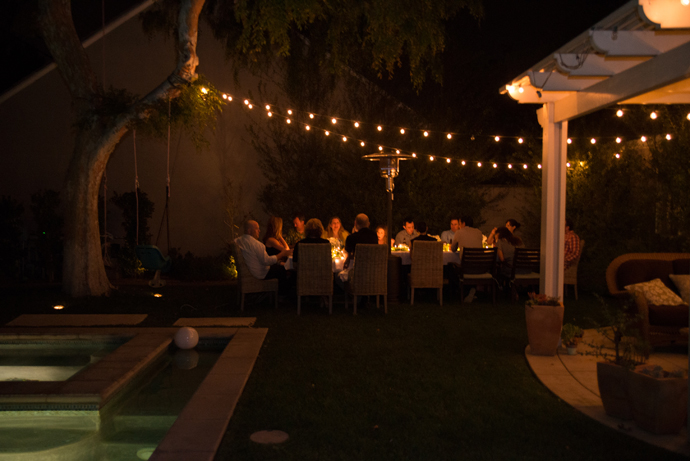 It's been a little over 6 months since our very good friends moved cross country to Memphis. In a way, I think it's natural to say that life has resumed as normal since they've left, but in so many ways, and quite often, we feel their absence. If just the kids were friends, or just the parents, it would be a different story, but when the entire family is close, it makes their absence that much more obvious. But we focus on the positive, and skype when we can, and the kids write letters back and forth, and we do our best to keep in touch, although it takes no work at all to keep the bonds of friendship tight. We've seen our friends 3 times since they've moved, and each time we just pick up right where we left off. I had a dream the other night that they moved back to California though, and it was so real, I think it just may happen.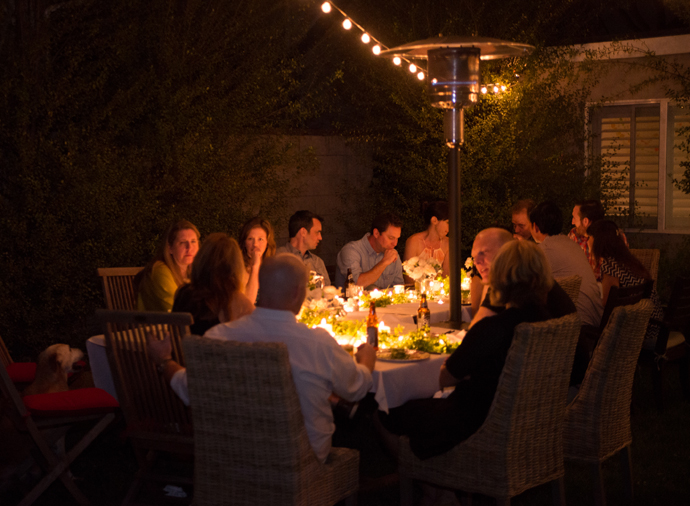 They visited last month for their spring break, and since their visit was right around Dr. Mark's birthday, we decided to host a surprise party for him, adults only. I had every single intention of keeping this small dinner party a very casual affair, and in fact 2 days before the party, I hadn't done much more than order the food. But the night before the party, I decided that this was a special occasion that required a bit of extra attention. Since the weather had been beyond glorious in California, we moved the party outside, and the day of the party I ordered a few simple flower arrangements and rented white table cloths. It was rushed and frantic in the last hour, but no one knew the difference, and the results were so impressive, yet so simple and easy to achieve, I wanted to share with you a few simple things I did to make the tables glow and the mood feel a bit more elegant, yet still casual.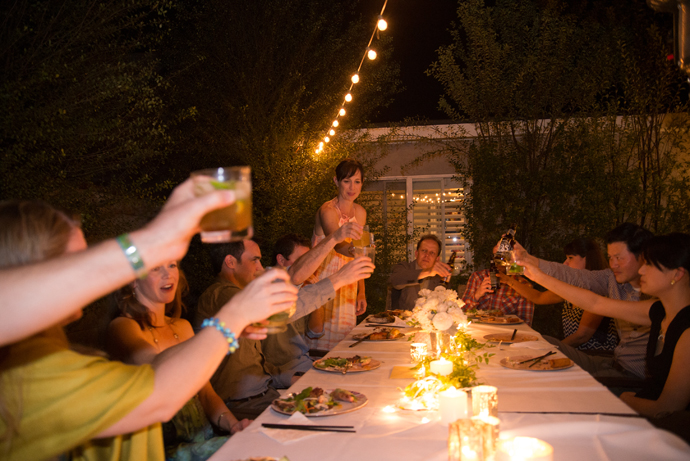 The key to those beautifully glowing tables were 2 strings of white twinkly lights, hooked up to an extension cord we ran along the ground. You can order white twinkly lights on Amazon, or Target often stocks them year round. We bought ours during summer last year and took them on our Yosemite camping trip, and just leave them in the garage all year round, in a place that's easy to reach. Twinkly lights, as you know, can transform a room for a special occasion, and they did just that here.
Once the white lights were strewn along the center of the table, I laid out some smilax I had purchased from my local florist for $15. It is a very wispy leafy green that can easily be hung together or laid out in patches to resemble garland. This was laid over the white lights so they glowed from underneath, and the greenery added depth and filling to the table, since I only purchased 3 small floral arrangements. The tables, when put together, spanned over 16 feet, so we had a lot of space to fill in, but didn't want to spend a lot of money. The smilax worked like a charm.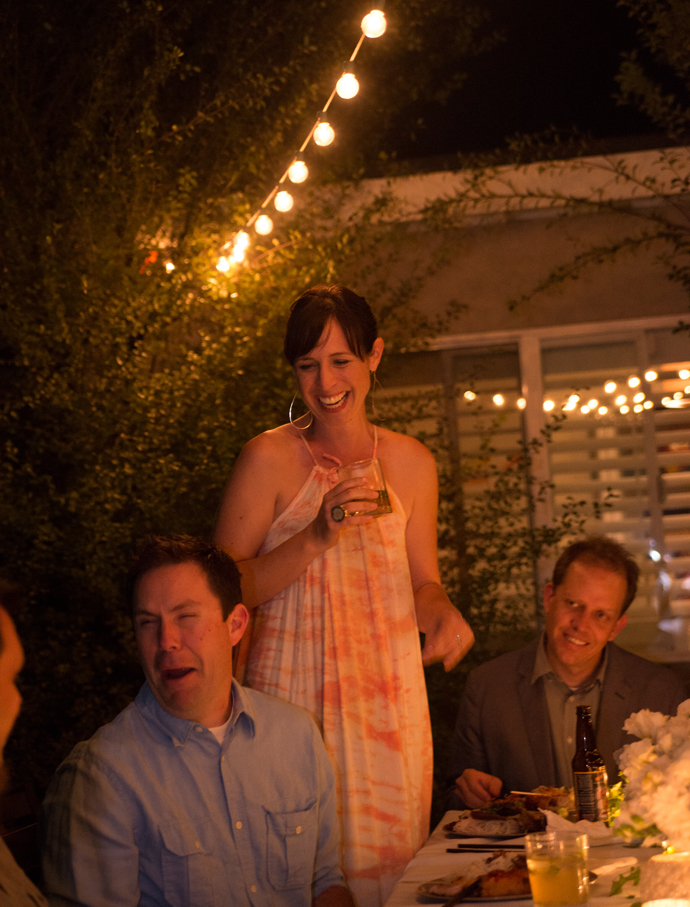 In between the floral arrangements, and nestled in between the lights and smilax, we lit about 20 small votive candles. They provided a nice flicker on the table, for about 2 hours, but then of course they burned out. But the white twinkly lights still kept the table glowing beautifully.
The large bulb lights hanging above the table are always hung and we light them up when we go for a night swim. We bought them over 5 or 6 years ago on Amazon, and they're still going strong. They're called cafe lights, and ours pretty much look like the ones you see here. There are large size bulbs that are usually hung at restaurants and such, but these smaller ones light up quite nice and are more affordable.

We had a looped play list going throughout the night, and the night stayed so warm, we even felt too hot by the fire pit. We never needed to turn on the outdoor heater. Of course now it's turned cold(ish) again in Southern California, and I'm looking at these photos longingly. But we'll have more of the same soon, so I'll just cozy up and be patient.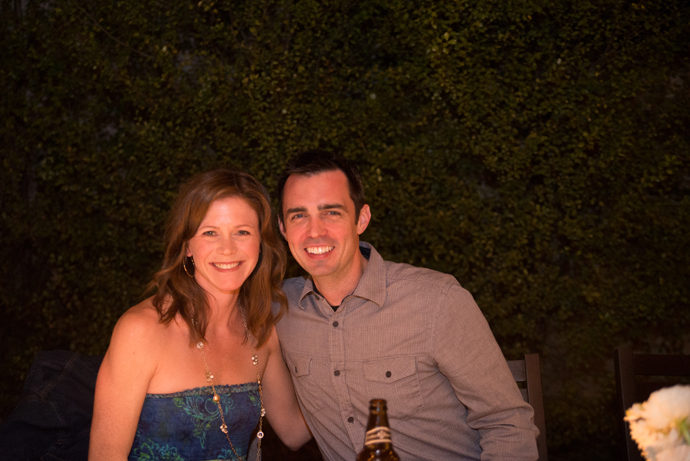 Of course all of these little details may seem silly and unnecessary, but I loved putting in a little extra effort for friends who mean so much to us. The result was very much worth it in the end.
It was a wonderful visit, and I'm already daydreaming about the next time we get to spend time with our friends again. These photos perfectly captured such a beautiful night for us all. Until next time.
Photos courtesy of M. Shanti Photography