I joined Beautycounter as a consultant because I loved the premise of the company; beautiful products that performed, and were made safe. I started actively selling Beautycounter though, through "socials" and one-on-one appointments, because I was blown away by how well the products actually worked. But while I've been impressed with just about the whole line of products, I still have a few favorites that I wholeheartedly believe in and personally feel are the best I've ever used. This Labor Day weekend Beautycounter is giving away a full size jar of our Nourishing Cleansing Balm with every $150 purchase, so if you've been thinking of making a purchase and trying out this line for yourself, now's the time. If you need help with where to start, here are my recommendations.
Note that I have color treated hair and overall dry skin, so these products work especially well for me. If you have concerns or questions though about my recommendations working for you, let me know and I'll do my best to answer.
Clean Everyday Shampoo: I've sang this product's praises before, and I'll continue to do so until all my friends try this stuff out. The best I've ever used, it manages to clean my oily hair without drying it out or leaving it feeling stripped and lifeless, making it hard to style. Made with pure plant botanicals and zero sulfates, which can irritate the skin and contain known carcinogen 1, 4 dioxane, this shampoo instead uses ingredients derived from coconut oil and amino acids.
Tint Skin: I've written about this foundation being wonderfully lightweight and yet still able to provide exceptional coverage, but I failed to mention the active skincare ingredients it contains, including hyaluronic acid, a natural moisture magnet which promotes smoother-looking skin and reduces the appearance of fine lines and wrinkles. It can go on with your fingers, but goes on even smoother with the retractable complexion coverage brush.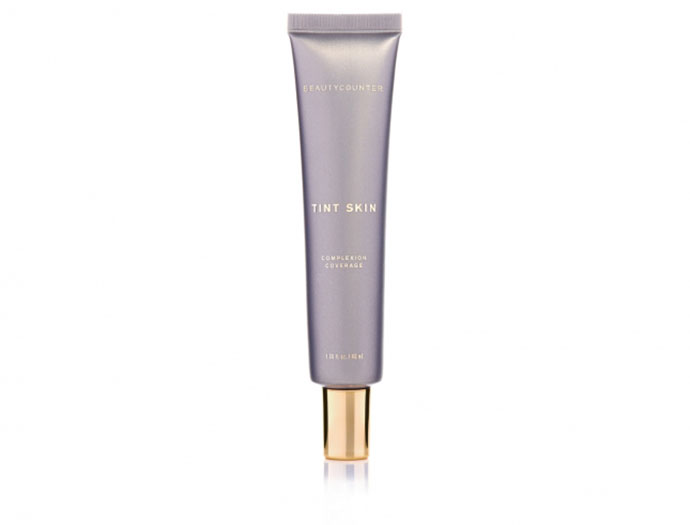 Soothing Face Wash: I'm always impressed with any face wash which can remove my Tarte mascara, which is usually a bitch to take off, and this stuff does just that, safely. Gentle yet highly effective at countering the signs of aging, with plant based ingredients including apricot kernel oil and camellia leaf extract, which work to provide the skin with moisture and a heady does of antioxidants. I have fairly sensitive skin, but this face wash truly works wonders for my skin.
Every Day Hydrating Cream: Super lightweight and non-greasy, this lotion is the perfect primer for my makeup, and leaves my face feeling great when I'm having a makeup free day. I recommend this to most women who are not seeking an active anti-aging regimen, because it's gentle yet effective, and works for any skin type, be it super dry to oily and troubled. And like all of our products, paraben free, which is a preservative that mimics estrogen and is linked to endocrine disruption. I mix my cream with a drop or two of Lustro Face Oil #1 if I'm feeling particularly dry that day.
Nourishing Cleansing Balm: If I feel like my skin needs some deep cleaning, I use this before my Soothing Face Wash, but mainly I just use it as a night time mask, once every couple of weeks. It also works wonders on dry elbows, knees and cracked heels. Part of our anti-aging line, it can be extremely powerful if used everyday, so because of my sensitive skin, I use it sparingly when I feel I need a good dose of hydration. Either way you use it though, be it every night or once a month, a little goes a long way and you will get months and months of use out of it. Raspberry Seed Oil and Cranberry Seed Oil hydrate and revitalize the skin, while Vitamin C brightens skin tone. This is the item you get for free by the way, when you make a purchase of $150 or more this weekend. 
Bottom line guys, I'm so happy and proud to be repping this line. I love the product, and even more so, I love the company and their mission. A few of the reasons why I chose to sell Beautycounter over another line? Here are a few bullet points that I like to rattle off if someone asks.
Beautycounter only uses ingredients with a proven safety record. Most commonly used ingredients in personal care products have never been tested for safety and therefore have no safety data. They have one of the strictest ingredient screening processes in the industry though, and will only use an ingredient they know to be safe. This eliminates the all too common scenario of swapping one bad ingredient for another.
Beautycounter respects nature and science. I always emphasize that Beautycounter is not an all natural company because we do use some synthetic ingredients, but as I mentioned above, only those with a proven safety record. It's this beautiful combination of nature and science that helps the products work so dang well.
With science, safety and performance in mind, Beautycounter has assembled a kick-ass team. Gregg Renfrew, our founder, is a wonderful businesswoman who believes in the entrepreneurial power of women, which is part of the reason she chose a direct retail business model (the other reason was to help get the proper education put forth through consultants like myself). Christy Coleman, as a renowned makeup artist, ensures that our products actually perform. Mia Davis, head of Health & Safety and one of the responsible parties for getting BPA removed from everyday plastic items, helps to uphold our strict ingredient screening process. And lastly, our new Science Director, Nicole Acevedo, will help us better understand the physiological component of endocrine disrupting chemicals, and she will work with the health and safety team to screen all potential ingredients for safety and to move forward ground-breaking research.
Let me know if you guys have any questions at all about the products mentioned above. Tomorrow, I hope to share a few other great Labor Day promos going on with some of my favorite companies. Hopefully I'll get around to it 🙂 I don't always like to feel like I'm encouraging shopping, even though this started out as a style blog. But the truth is, if I'm going to spend money I like to do so intentionally and especially during a promo time, and I figure most of you feel the same way too.