The Nordstrom Anniversary Sale started last Friday and because we were on our road trip, I haven't had a chance to go in and do any damage, which is probably a good thing. I did some browsing last night though and found a few things I plan to order up, and because of the great free returns option, will just send back what doesn't work. I rounded up a few items I either want for myself this year, or very similar/identical items I bought last year that I absolutely love and continue to wear. Because I know the fit and quality was great, I'm making a few recommendations for you just in case browsing through pages and pages of their website isn't all that feasible for ya.

Left – Faux Leather Trip Drapefront Vest $59.90; Right – Shawl Collar Vest $49.90
At $60, I'm definitely ordering the wool boucle vest on the left, and I'll style it probably just back to a T-shirt as shown here. And the vest on the right reminded me a lot of the vest I wore earlier this year, but about half the price I paid for it. Embrace the vest friends!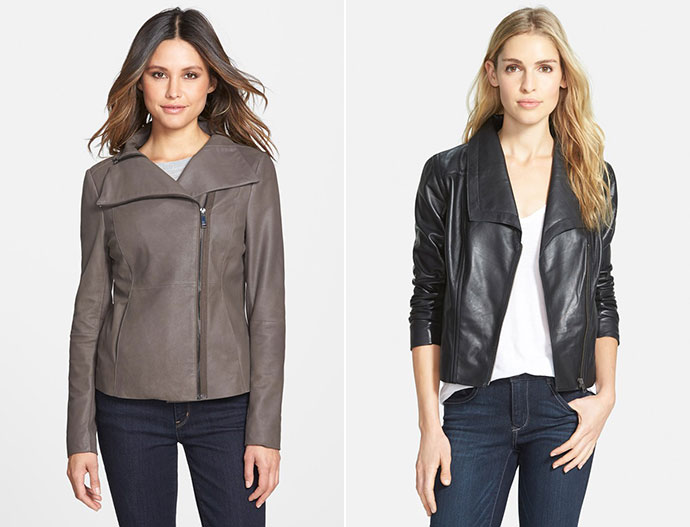 Left – Angelina Zip Leather Moto Jacket $199.90; Right – Caslon Drape Collar Leather Jacket $218.90
I had a leather moto jacket on my wishlist last year, but opted to buy a more practical jacket instead. Seems only fair then that this fall I invest in something a bit more fun, but still classic. Both of these leather moto jackets look like fun options, with a bit of a more sleek and feminine feel to them, minus the buckles and zippers you usually find in a moto jacket. The one on the left reminds me a lot of my silky moto jacket I bought earlier this year and got a ton of wear out of. 
Left – AG Cigarette Jean $149.90; Middle – Rag & Bone Dre Slimfit Boyfriend Jean $175.90; Right – Paige Denim Skyline Jean $124.90
Last year I bought one blouse and a pair of designer jeans during Anniversary Sale, in addition to a couple of pairs of shoes for the kids. I showed restraint if you ask me 😉 I bought the slim cut boyfriend jean from Rag & Bone, seen center, and I absolutely love them and wear em quite often. The other pair of nice designer jeans I picked up, not on sale, were the Paige Highline, seen right, in dark denim and they are the perfect skinny jean. Higher rise at the waist, and super comfortable, they are offering a slightly lighter wash for Anniversary Sale and I think if you're going to invest in a great pair of skinny jeans, these should be it. Super stretch too so no harmful accidents should occur! The ankle denim on the left are just too cute so had to add them in.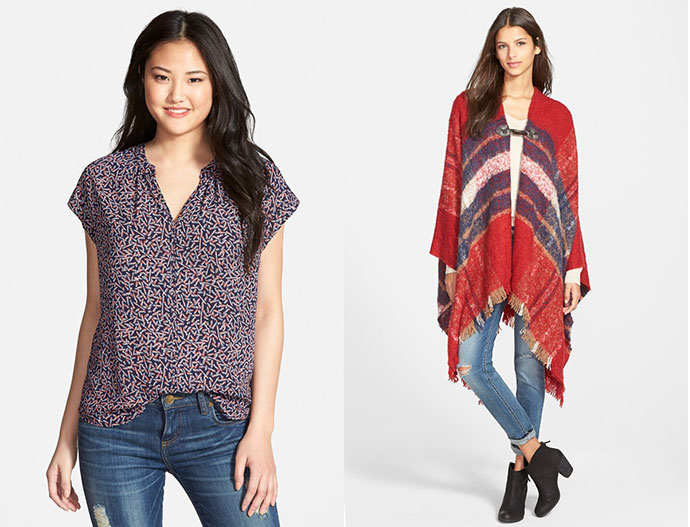 Left – Split Neck Top $29.90 also available in solid colors ; Right – Plaid Blanket Poncho $38.90
I bought this exact same blouse, just in a different print, last year during the sale and I LOVE it! Lightweight and very flattering on, it looks great back to denim or slacks/pencil skirt for more of a work look. Available in a variety of prints and solid colors, and a fantastic price. The blanket poncho on the right is also a great price and so cute.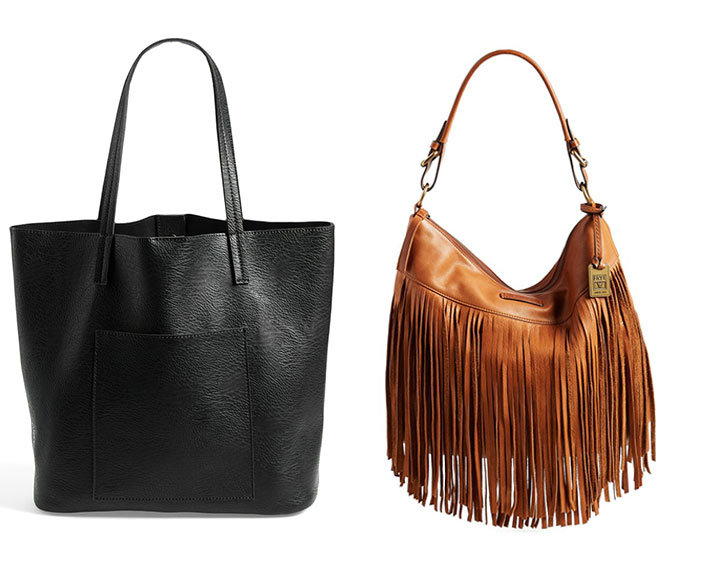 Left – Vegan Leather Pocket Tote $31.90; Right – Heidi fringe boho bag $305.90
The infamous reversible faux leather copycat Madewell tote bag got a style refresher with added pocket for the Anniversary sale, and the price makes it a no-brainer. Dying over this fringe leather bag by Frye. Probably won't take the plunge here, but someone definitely should have this bag!
Left – Nike Cool Breeze Running Tank $22.90; Middle – Nike Free Flyknit $96.90; Right – Zella Live In Capri $33.90
Let's not forget about sportswear because Anniversary sale is always a great time to stock up. When we were in Portland I mentioned visiting the Nike employee store. While there, I picked up this tank in white, and my first pair of fly knits, and oh my gosh I love them both. The tank is really lightweight but also loose fitting so it's ridiculously comfortable. Our friend who we stayed with while in Portland is a shoe engineer for Nike, and he told me these shoes are designed to feel like you're just wearing a sock, and that's pretty much accurate. Really lightweight and unobtrusive, you hardly feel like you're wearing much at all. And the Zella leggings will last you year after year of sweaty use, and fit like a glove. I have them in solid black and a couple of prints, but am really digging this one.
Left – Ruby & Bloom Josie Flat $32.90; Right – DV Savina Bootie $54.90
Lastly, the only one who will get a new pair of shoes (or 2) from the sale will be Taylor. Syd burns through tennies so fast these days, no matter how high quality they are, means that I'm sticking with cheaper pairs. And Hayden is at that fickle toddle shoe stage (most of you can relate, right?), that one day he'll love a pair of shoes and the next day he finds they're too tight, too lose, too "hurty." So that leaves us with Taylor, who is content to wear 2 pairs of quality shoes that are comfortable all school year long, and whose feet grow super slow. Last year I bought her both of these shoes and they lasted most of the school year. She got the ballet flat in gold and the elastic heel made them much more comfortable for kiddos, plus they help to keep the shoes on so you can go up 1/2 size and they won't slip off the way a regular ballet flat would. This makes them of course last longer. I'm going to get her 2 pairs of these she loved them so much. And she wore the heck out of these same DV booties (although in plain brown leather) and I finally threw them away just a couple of weeks ago. With dresses, jeans, shorts, whatever, she loved them and found them to be made very well and were really comfortable. I don't love the metallic pair as much, but they're still cute.
And that's all she wrote! Do you guys usually shop the sale and stock up for Fall?