Let me preface this DIY post by saying that I love our home, or rather, I've grown to love it. I think it's pretty and relaxed, and contains some nice pieces of furniture throughout. Not "nice" in terms of expensive, but pieces which we thoughtfully considered and now fit in our home perfectly. In terms of home decor though, many days I feel like it lacks a certain sense of personality. In many ways, I think it lacks a dose of "us." We are not one of those well-traveled families who collect pieces of antiquity or unique works of art on our many adventures, bringing them back home to proudly display, telling the tale of all our adventures. Most of the artwork isn't really artwork, just pictures of our family, and nick-knacks are just that, items I've picked up at Home Goods or random little stores. There isn't usually much of a story to tell, or fond memory attached. In some ways I suppose it keeps us from hoarding due to sentimentality, but in many ways it means the belongings contained within can be plopped down in someone else's home across the country and it wouldn't seem the least bit out of place.
Enter this skateboard DIY. You may already know we have a certain fondness for skateboards, and may recall this swing DIY we did last summer. That skateboard swing is indeed one of the funnest pieces we have, and so in that vain and inspired by this home tour, I decided to re-purpose my husband's old skateboard from high school and make it into a piece we could display somewhere in our home. He's quite attached to that old skateboard, and while he doesn't ride it much as the wheels and bearings are shot to hell, he can't seem to part with it. And so it sits in our garage, often in the most inconvenient of places, waiting for someone to come along and do a slip and slide and break their neck! So my intentions with re-purposing this skateboard was as much about holding on to sentimentality, as it was to save a life.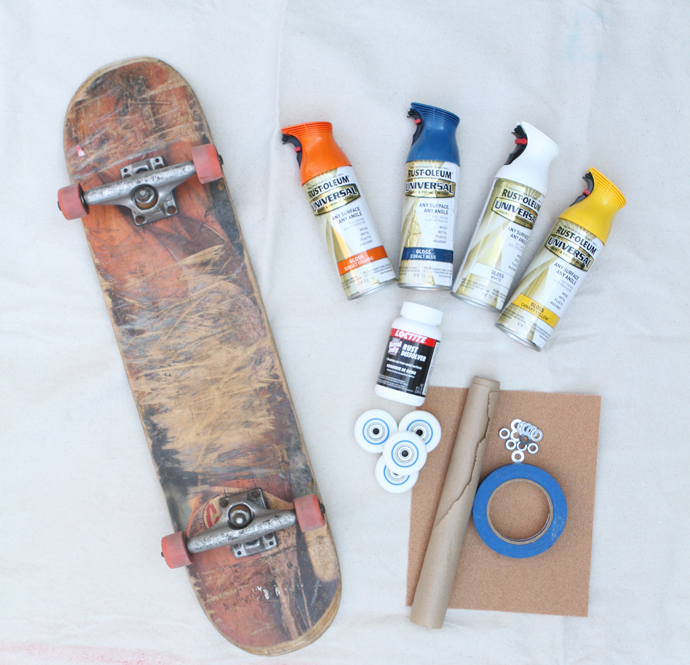 A quick consult from my guy to get his approval, and we decided that while we wanted to maintain the original integrity of the board, with it's marks and grooves from all his years skating planters, it could use with some nice new wheels and bearings. We also decided to remove the trucks and try to give them a cleaning, and of course before I painted the deck I had to give it a nice sand down.
Supplies Needed:
Old skateboard deck
Rust-Oleum ® Universal® Spray Paint
Painter's tape and paper
Sand paper
Optional – new wheels and bearings and rust remover to clean up trucks

Begin by removing all the hardware from the board, and then giving it a quick but thorough sanding. Wipe clean and set your nuts and bolts to soak in your rust remover, if you really want to give it a makeover. By the way, your eyes don't deceive you, that is Pamela Anderson sporting a bikini top and lace undies, underneath all those scratches. To say this board needed a makeover is an understatement.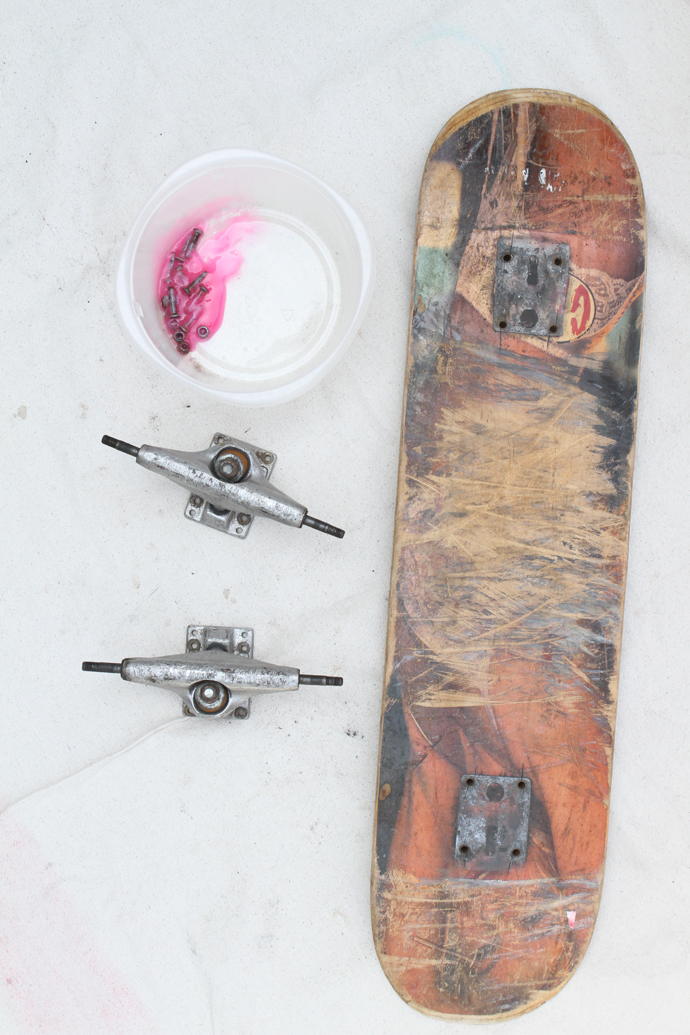 Once your board is prepped, simply mark off the design you want to start with. Because I wanted to make this board look fresh and new, I gave it a couple of all-over coats with white spray paint first, and then painted the bright colors over the white. No need to prime first, as the Rust-Oleum ® Universal® Spray Paint is paint and primer in one.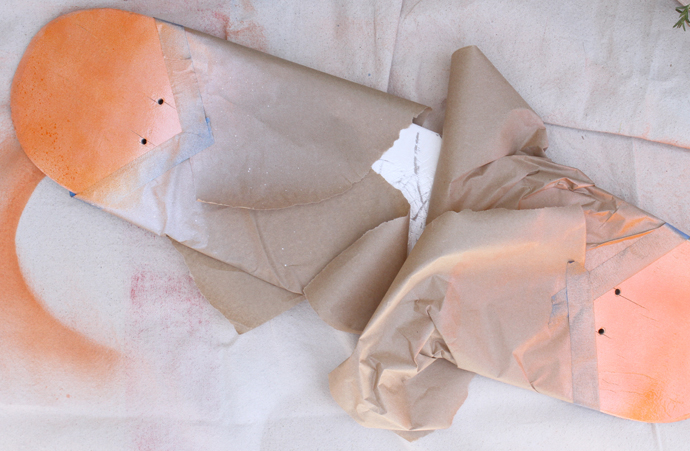 I started with painting the edges of the board orange, and then once dry, I taped off a wide stripe in the middle, to paint yellow. I didn't think the yellow would spray outside the blue tape, but it did. It turns out I loved the faint sprays of yellow on the outer edges, but if you want a really clean look, then make sure to not cut corners like I did, and use paper and paint. Make sure to keep babies away from your board if still wet. Luckily his animal parade didn't mess anything up.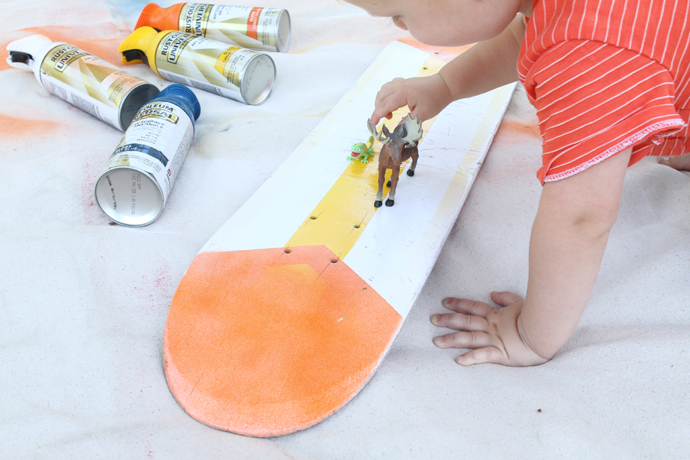 I loved the look of the yellow, orange and white together, so decided to leave it as-is and skip the blue. We put the trucks and new wheels back on after the deck had completely dried, and then decided that it did indeed need a pop of blue to tie in with the blue on the wheels.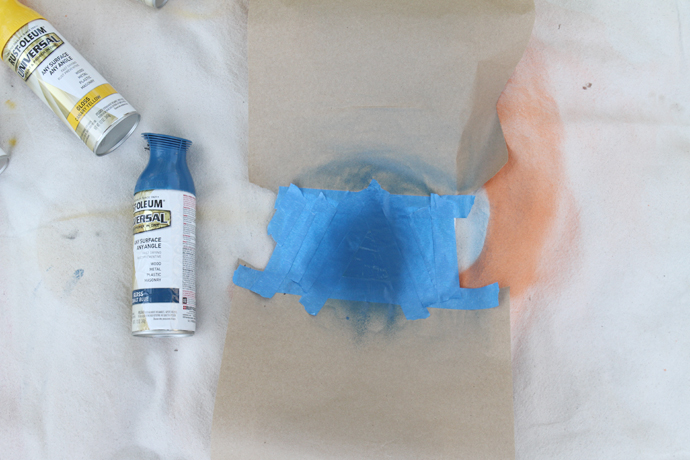 Once the paint was all dry, you're pretty much done! I searched for the perfect home for the board. I love it where it is, but so do the kids, and they are drawn to it like moths on a flame. I've already had to tell them to stop riding it in the house about 10 times since they got home from school. I'm thinking that the perfect home for this would actually be hanging on a wall, out of anyone's reach. I really love the idea of hanging it in the boy's room, once we move them in together this summer.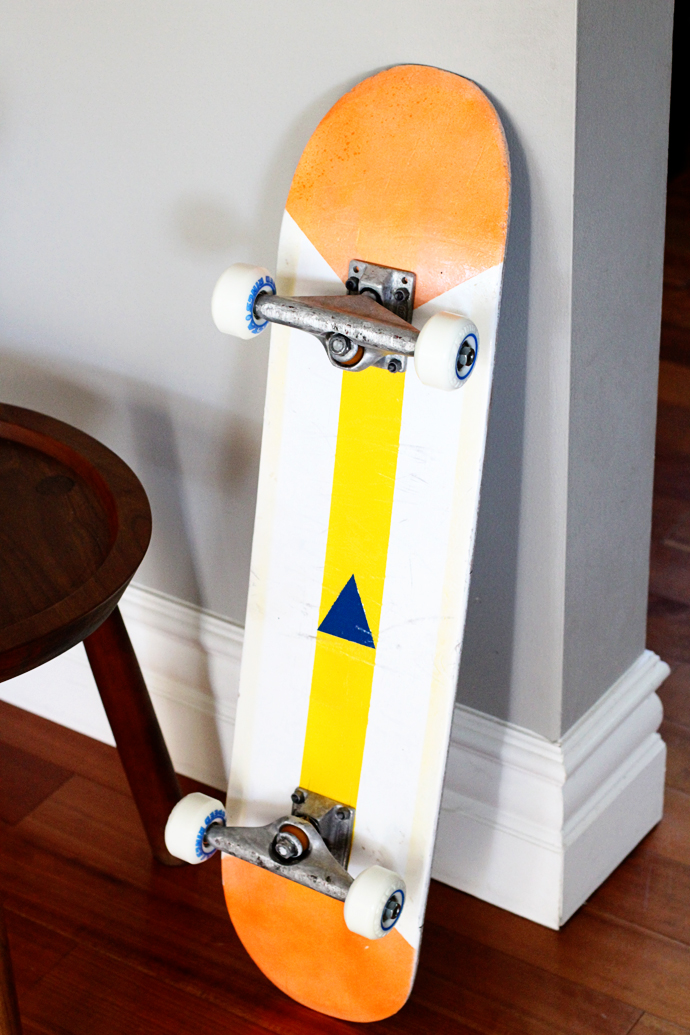 There's a part of me that wishes the large divots in the center of the board could have been better filled in, but I know how much Art loves seeing them there, like a badge of honor from lots of years of riding hard. I get it, so they stay, and my ideas of perfection are tossed aside.
We love the new look of this old board, and love even more that it's a piece of decor in our home, which actually has a story to tell, which actually means something to us. While I never was much into riding skateboards, I always loved skater boys, and when Art and I met all thsoe years ago, I loved that he rode skateboards, snowboarded and even knew how to surf. So rad. And now we have that radness on display, to always remind us of our fun days of young.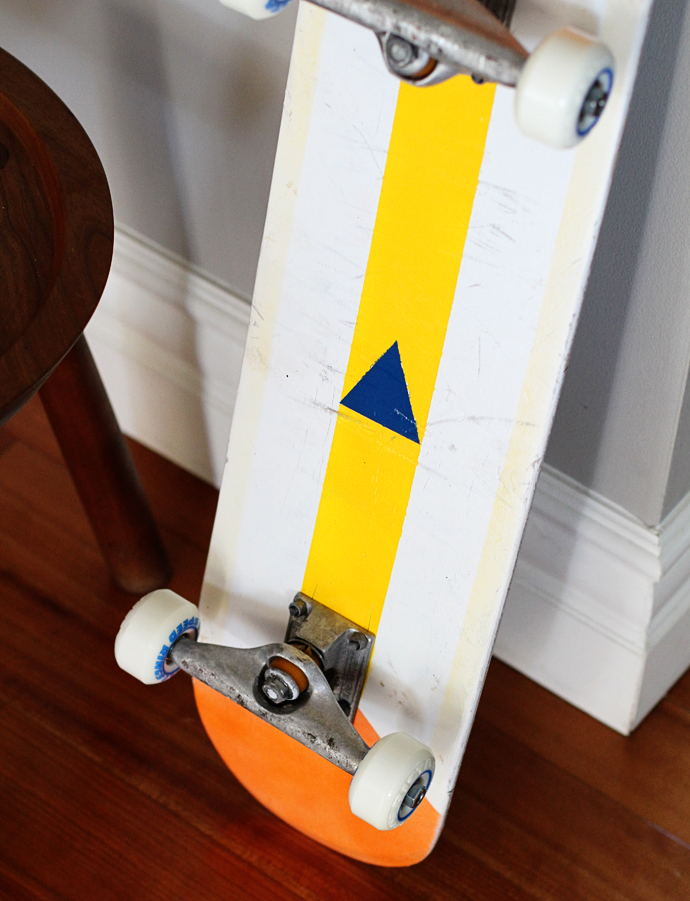 Rust-Oleum ® Universal® Spray Paints offer a variety of on-trend colors and unique finishes, and boast the first-of-its-kind 360 degree any-angle delivery system that allows DIYers to tackle those hard to reach areas, even upside down.
Disclosure: Compensation was provided by Rust-Oleum® via Glam Media. The opinions expressed herein are those of the author and are not indicative of the opinions or positions of Rust-Oleum®.