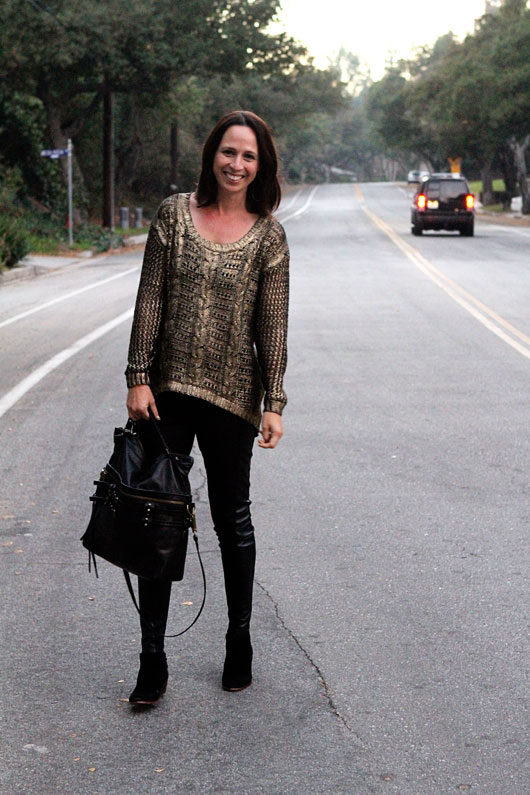 Sweater – Tullemoss; Leggings – Nordstrom last seen here; Booties – Sam Edelman; Bag – Joelle Hawkens via Nordstrom but now sold out
I don't know why, but I always feel a tad self-conscious letting my backside show when wearing tight leggings. Skinny jeans are no problem, but the tight, stretch fabric of a legging just makes me feel exposed. So when I found this sweater at a local boutique Tullemoss, which dips lower in the back to conveniently cover the back side, I had to snatch it up. Plus, it is bronze coated, giving the cable knit a festive update. While it read HOLIDAYS! during the holidays, with boots and a scarf, as was recently worn, it just reads winter.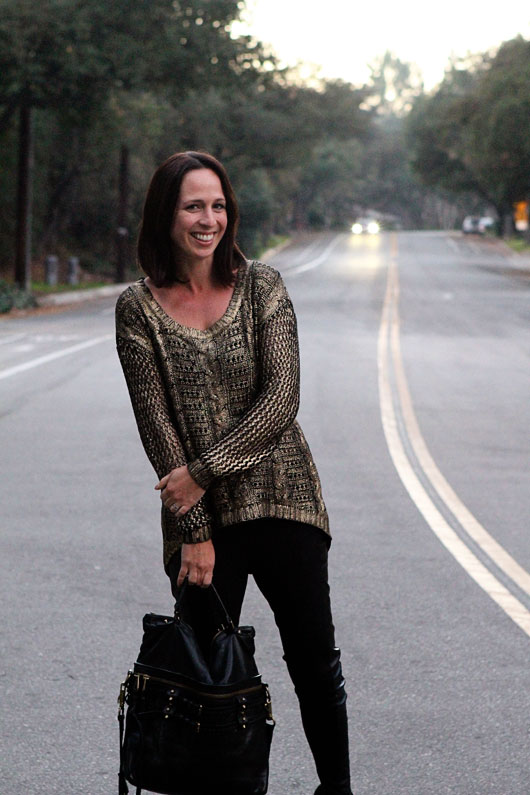 Do you have strict holiday/special occasion clothing items, that you feel funny wearing the rest of the year?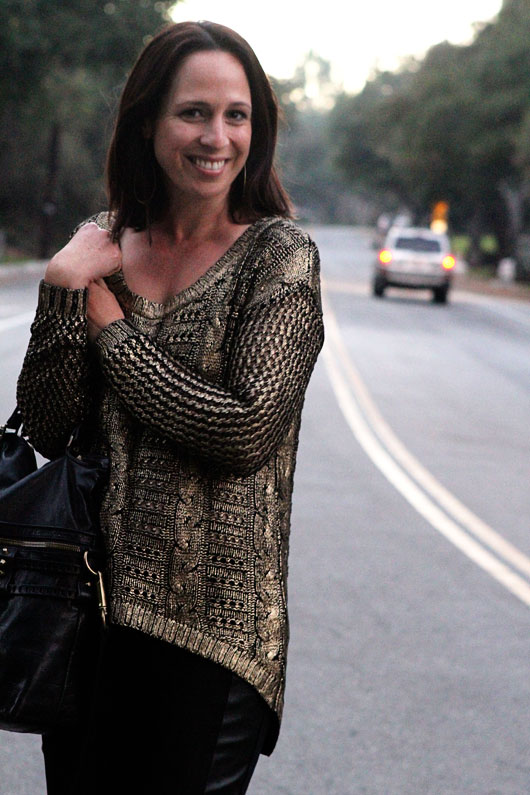 Happy 2014 to all of you, and welcome back. How was everyone's holiday? Ours was great for the kids, exhausting for us parents. We scrambled and procrastinated and were in general, horribly disorganized, but in the end we pulled it off. Art and I agreed though, next year, we are doing things differently. Happy to report we already took a step in the right direction and ordered a couple of the kid's birthday presents in an after-Christmas sale.  Being more organized is a definite goal of mine.
In other news, I'm admittedly finding it hard to get back to the blogging routine, after taking the last couple of weeks off.  In hopes that I fall back into place within just 1 or 2 posts, I'm sharing 13 of my favorite posts from 2013.  It's a way of easing back into blogging, if you will.  I hope you don't mind.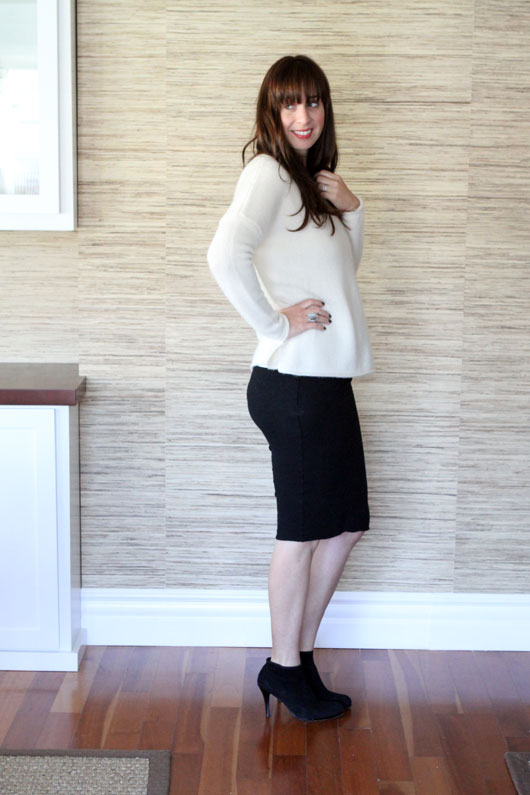 My most popular post of the year was one of the first I wrote in 2013, and started the series Making Clothes Work For You. I wrote a few more posts similar in nature, and still had more ideas of how to expand on these types of posts, but alas, it always came back to time, or lack of it.  I would love to visit sleeve lengths, waistlines and styles of pants.  Would you have any other requests for this type of series?
Debunking the Myth Of Small In January I attended Alt Summit, and am getting set to attend again in just 2 weeks. I went with a lot of anticipation and anxiety, and left feeling recharged and quite pleasantly surprised. The people I met were encouraging, and future work I secured through contacts made there, made be realize you don't have to be a huge blogger to be recognized for your work.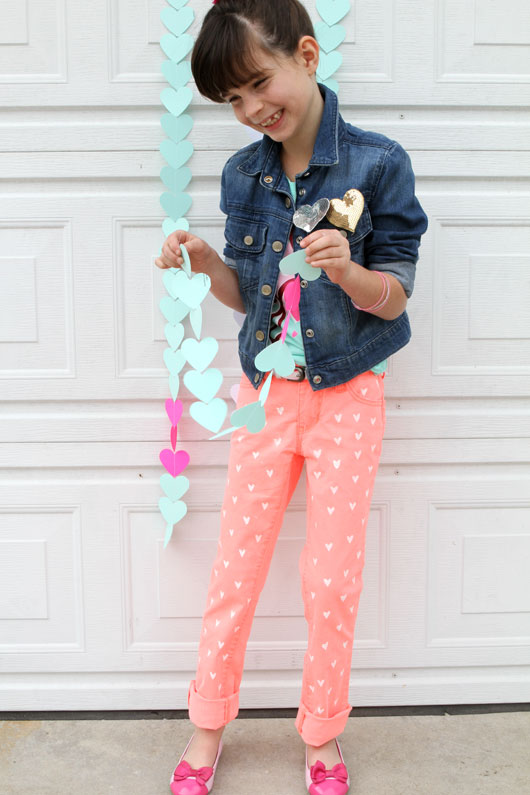 Painted Heart JeansI completed a lot of DIY's last year, though not as many as the previous year. Still one of my favorites, and most popular, was a simple pair of painted heart jeans I made for Tay. She is still as cute as ever, but my, how she's grown since I took this photo a year ago now!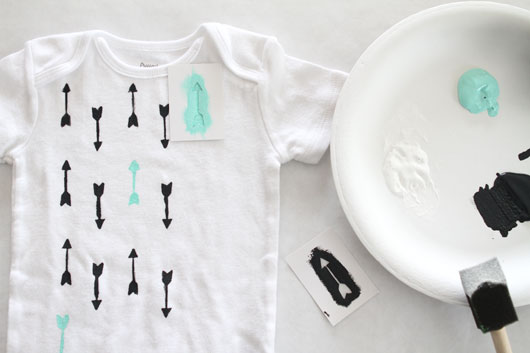 Painted Arrow Onesie and DIY Neon Valentine's Baby H may have outgrown this onesie, but I'm saving it for the memories. Gosh he looked cute in that!

6 months postpartum depression free. Celebrating not only 6 months, but a full year and beyond postpartum depression free was one of the greatest gifts I could have ever received. I am still grateful for the babymoon phase I was able to experience with Hayden.

Making Clothes Work For You Swimsuit Edition There's a part of me who still can't believe I posted these photos, and then there's an even bigger part of me that can't believe it's such a big deal. As my friend Jen said, "I long for the day when one is NOT considered BRAVE for showing their body (in an appropriate way) and loving it just the way it is. We deserve better. We should treat others better. We should be kinder to ourselves." Amen.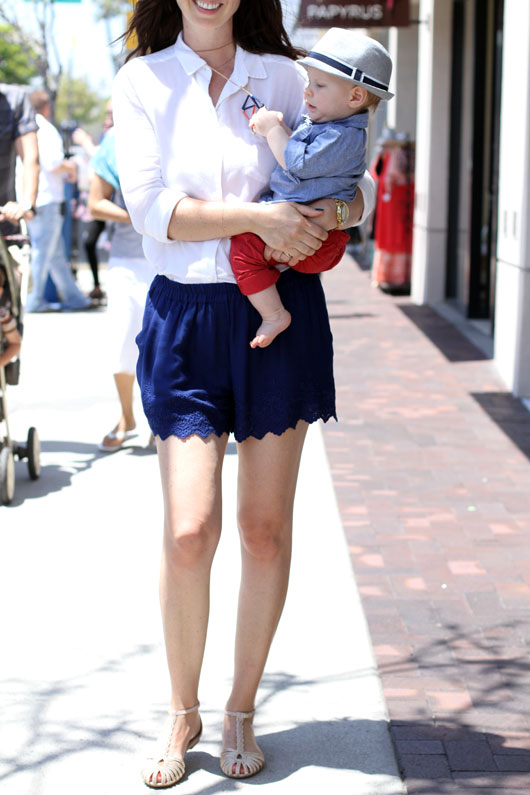 Daily Style – How To Wear Lace ShortsThis is still one of my favorite style posts ever. If only I had the time and ability to style and set up shoots like this, instead of hopping around to the back of my yard and standing in front of the same tree, over and over again.

Taylor's Favorite Things Party & DIY Floral CrownsProving that the best parties are ones that feature all of a girl's favorite things, Taylor's 8th birthday party came together at the last minute and couldn't have been better. And she still proudly wears these DIY crowns.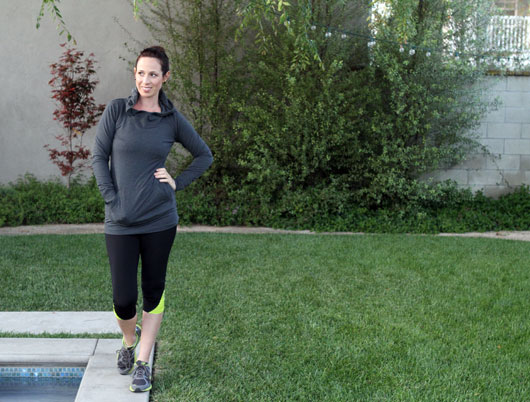 Making Clothes Work For You Workout Edition I took on a few more sponsored posts last year, and while some didn't quite work, I think, I hope, most did. I am still most proud of this post I did for New Balance, and will strive to take on more work in 2014 which I can incorporate into this space in such a genuine and organic way.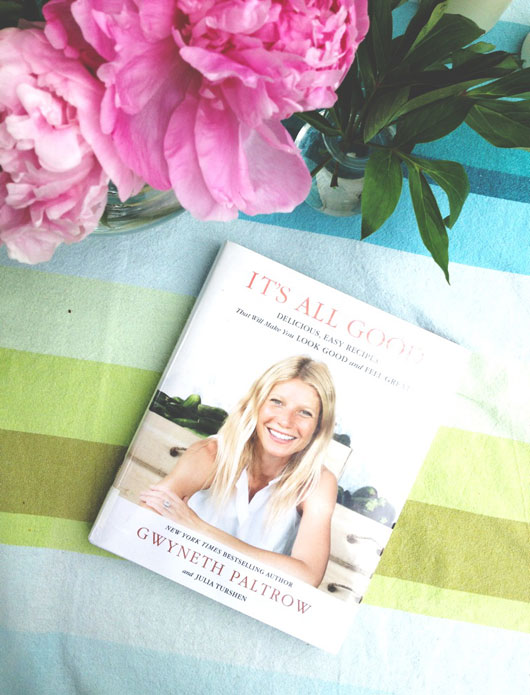 How Gwyneth Made Me Do It all got started, and how I finally landed a gig at Babble. Who knew a borrowed book from the library, would literally change the course of how my family lived and ate, forever?

DIY Skateboard Deck Swing Another favorite DIY of 2013 was our skateboard deck swing, which still gets lots of love on an almost daily basis. I was thrilled when it was featured on Apartment Therapy's home page!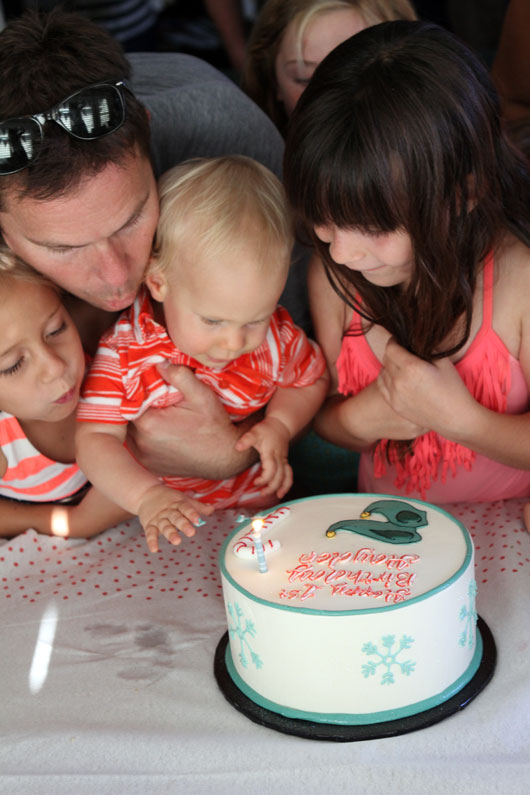 Hayden turned 1 with an Elf themed party, because smiling's his favorite.
Land Of Nod event One of the most rewarding partnerships I made in 2013, was with the Land Of Nod. This is the recap of my first event, and don't forget, I'm hosting another event this Saturday January 11th from 11-1, where I'll be sharing tips and recipes to get your kids interested and excited for eating healthy!

Lastly, I worked on my marriage in Ojai and at home I don't want to say 2013 was a tough year for us, because we still had so much to be thankful for and grateful for. But it put us through the ringer more than once. Between 8 cases of strep, between Syd and I, a tonsillectomy, a broken arm, countless speech therapy sessions, an office move, lots of hours worked, and lots of sleepless nights, thanks to one cute but bad sleeping baby, we ended the year feeling exhausted and grateful to be done with it. Our marriage was stretched and pulled, but in the end, we always came back to each other, and we made some intentional commitments to do better, be better to each other, for each other. We worked on our marriage, and our family a lot in 2013, because it was tested a lot. We are hopeful for a more calm and easy going 2014, and just 6 days into the new year, I'm feeling like we've made some strides in helping to achieve more peace. But of course, no one is perfect, so I'm sure we'll still bang our heads against the wall throughout the year. Because we are human and without flaws.
Beyond our challenges throughout the year, I wrote over 50+ style posts, did just slightly less than 30 DIY's, a big dip from the previous year, and wrote over 200+ articles for Disney Baby and Babble.  Sheesh!  No wonder I was exhausted.  In 2014, I hope to be more efficient and mindful with my time, and get more sleep.  What do you want for your 2014?
Oh, and honorable mentions to a couple of other great events in 2013, but didn't get blogged – our week long road trip up and down the California post, and my name and work in print.  Our first Craft Cabinet event appeared in Mingle, and an interview, in large part based off of this post about shopping in Forever 21, made it into the September issue of Real Simple.
Here's to great things in 2014.  More peace, more stillness, more rest, and more happiness.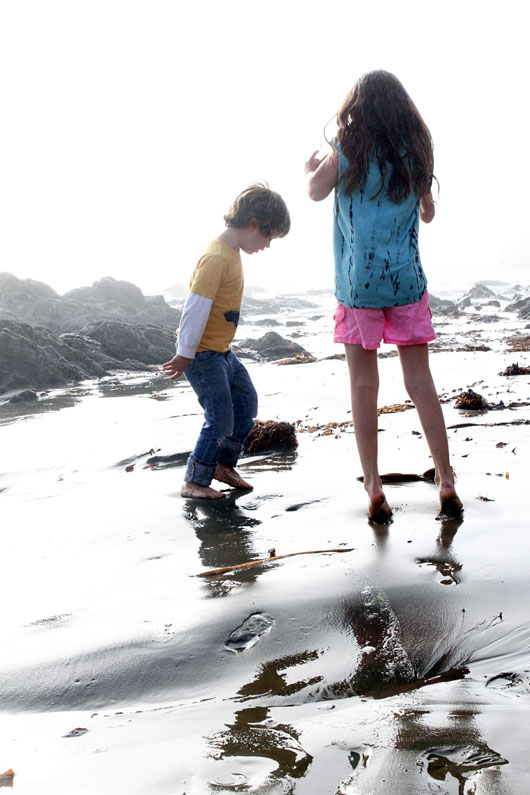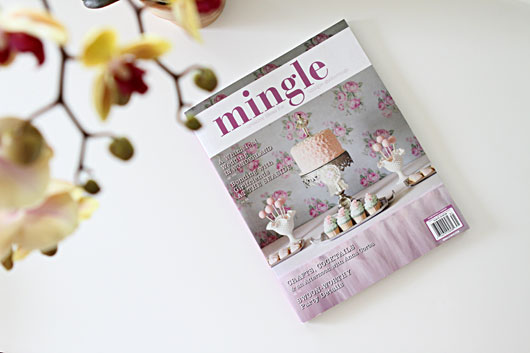 I was so excited the past few days, seeing all the enthusiasm and genuine interest in winning the juicer. Some of you were excited to further your health journey in the new year, and some of you were just eager to start the year off right. While there could sadly only be one winner, I hope some of you take the plunge and buy whichever brand of juicer you can afford, and get started in this amazing daily ritual.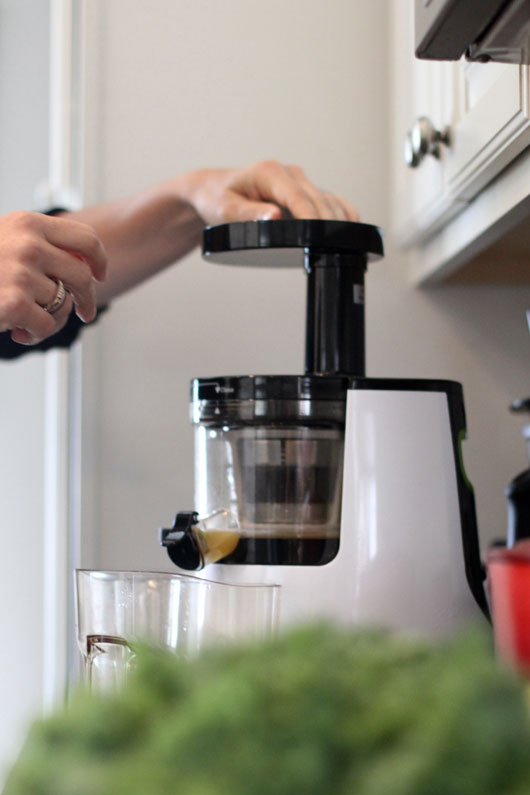 I'm thrilled for Christina of Simply Modern Weddings, who has been following me along on this GMMDI journey for a few months now, and is very eager to further her juicing journeys. I know the juicer will go to good use and get lots of loving. Congratulations Christina!
On to further exciting announcements. I'll be hosting another Land Of Nod event on Saturday January 11th from 11am-1pm, but this time the focus will be on healthy eating, and getting our kids excited to eat healthy from the start. I'll be sharing some of my favorite recipes which are kid-tested and approved, as well as dishing out taste-test samples of my favorite granola from It's All Good. Kids can decorate and color their own placemat to take home, and those who attend get a 10% in-store discount that day, just for coming! I would love to see some local friends there, and I sincerely hope you can make it. Bring the kids, bring your picky husband who eats like a kid, bring your mother who wants to feed her grand kids chicken nuggets all day long. It should be a tasty good time! RSVP to nodevents@landofnod.com if you plan to make it!
I was a busy bee the past week, finishing up my writing assignments over at Babble. If you'd like to check them out, here's what I wrote about:
Online Vs. In-Store – what's the cheapest way to get 10 popular health food items? Read the article to find out where to source some health food favorites, for the best deal.
Top Fitness Trends for 2014, and surprise, surprise, competitions for losing the baby weight the quickest is not one of them!
9 Pieces Of Wacky Fitness Equipment (that may actually work) – think old school like the thigh master, and even the shake weight.
I have one more post planned for this week, and then will be taking off the rest of the week to be with my family. I hope you all do the same!
Congratulations again to Christina!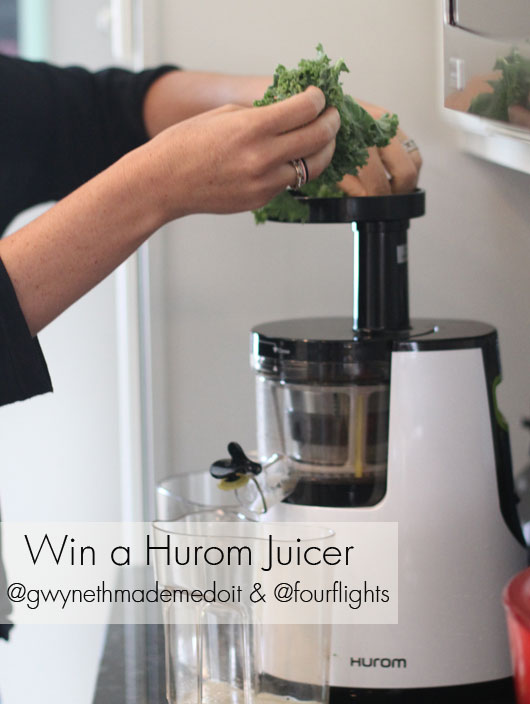 I'm ridiculously excited to be sharing this giveaway with you guys, because I love my Hurom juicer so much.  It sounds so silly to say that products are "life changing", so instead I'll just say this one has had a huge impact on my journey towards feeling better.  Health can sometimes be subjective and hard to truly measure just by keeping track of the foods we eat, but as I've said before, when I juice, I just plain feel better and would love more friends to feel better too!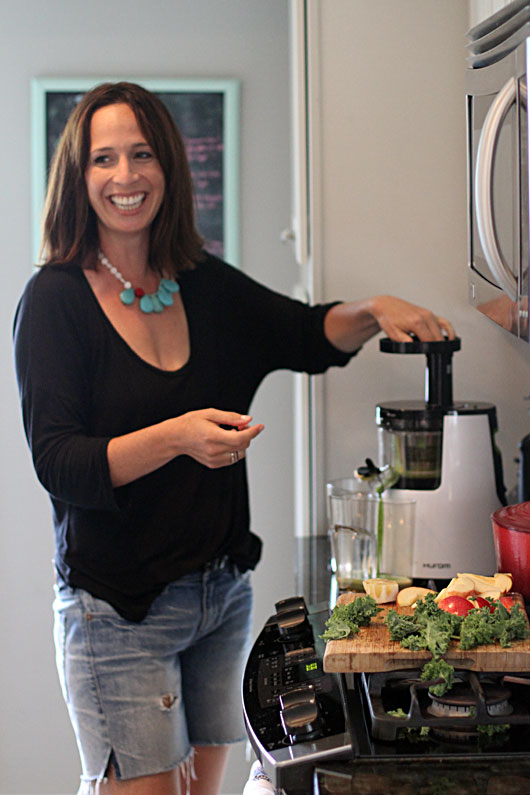 So today I'm giving away a Hurom Premium Slow Juicer and Smoothie Maker.  What does "slow juicer" mean?  Basically, the fruit and veggies are squeezed, not chopped by rotating blades, and juice that's gently squeezed results in purer juice and better nutrition.  Hurom's Slow Squeezing Technology preserves more nutrients, more minerals, more enzymes and more flavor. Not only does the juice taste better, and I can promise you it does, the slow squeeze technology keeps juice at a low temperature to retain vital nutrients.
But what's so special about the particular model I'm giving away, a $399 juicer, is that you can make smoothies too!  The Slow Juicer/Smoothie Maker comes with pulp control, so you can get more fibrous pulp in there, and comes with an additional coarse strainer to give you a smoothie, and allows you to juice all fruits and veggies, both soft and hard, even bananas.  It's purely awesome.
I've tried juice from several different juicers, and I promise you this is the best tasting juice you can get, even my friends who are petrified of drinking a green juice have admitted to really loving mine, made with the Hurom.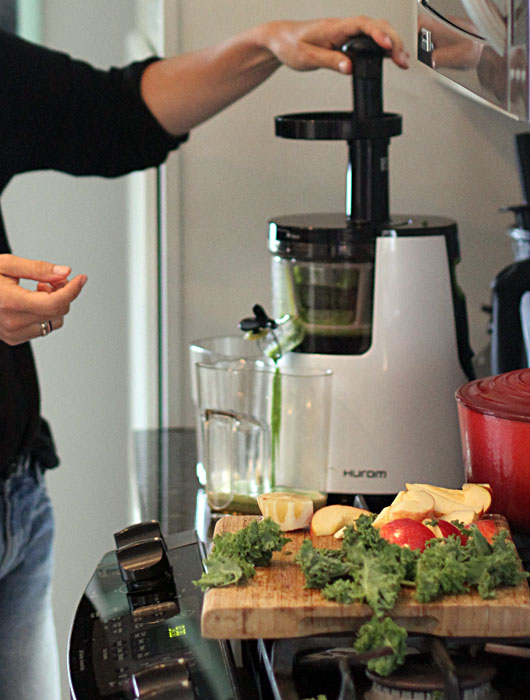 For a chance to win, just follow the steps below.  The giveaway will stay open until Sunday December 29th at 11:59pm, and a winner will be chosen on Monday December 30th and will ship directly from Hurom so you can have in time for the new year!  Open to US residents only please.  Please note, that due to the pure awesomeness of this giveaway, If your winning entry is earned by a "follow" , I will ask via a screenshot to confirm your entry.   Good luck and man I wish everyone could win!
a Rafflecopter giveaway

Miranda took our family holiday photos this year, as usual, and as usual, I love the way they came out. So much so that I ordered a card that is pretty much a lookbook, there are so many images.
I've been exhausted lately, tired in general, with working, mothering, cooking, cleaning, folding.  The usual stuff we all get tired with, I know. These days of mothering are long and hard lately though, with Hayden so mobile, the sicknesses and injuries (did I tell you Taylor broke her arm?) that we've experienced, the worries over milestones and blood tests. It's been a good year, a blessed year, but not one free of worries and medical bills ($4700 for Syd's tonsillectomy alone!), and I'm just feeling a bit down, to be honest. It doesn't help that I've been a writing rut, so anything I do write seems to take hours to produce. I'll stop blubbering…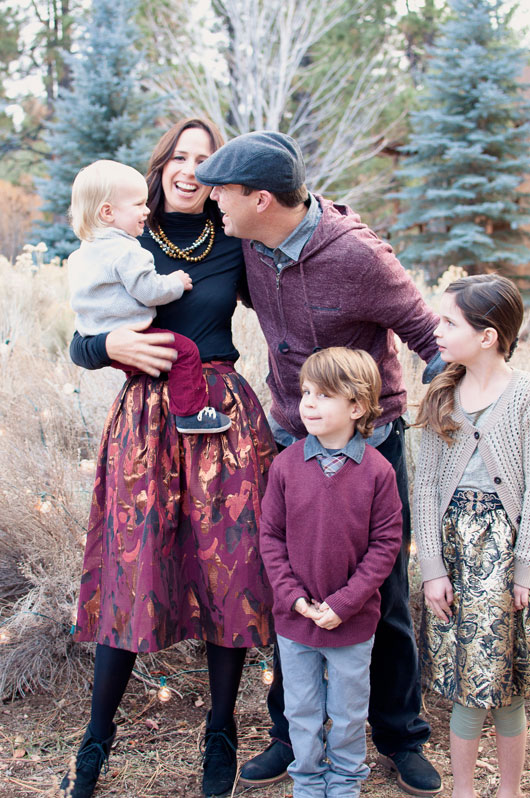 With all that whining out of the way, I guess that's why I love these photos so much more, and why they mean so much more to me than usual. Because right now I need a swift kick in the ass to be grateful, count my blessings, just be content and not so hurried. 
Happiness is harder to come by some days, and some days we rely on silly things like pretty family photos where you're all dressed up, to remind you that you have plenty to be happy about.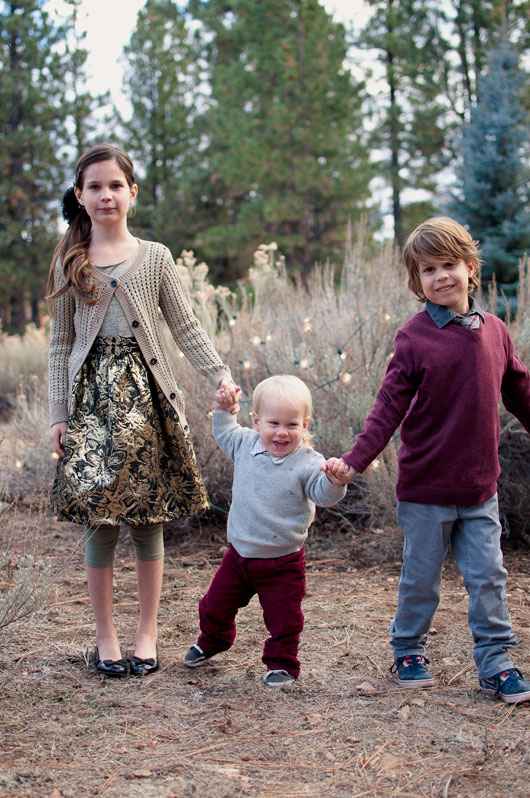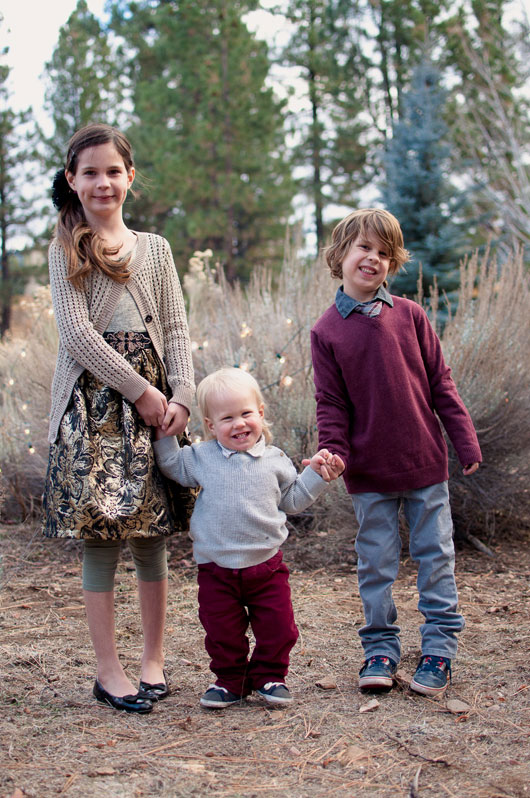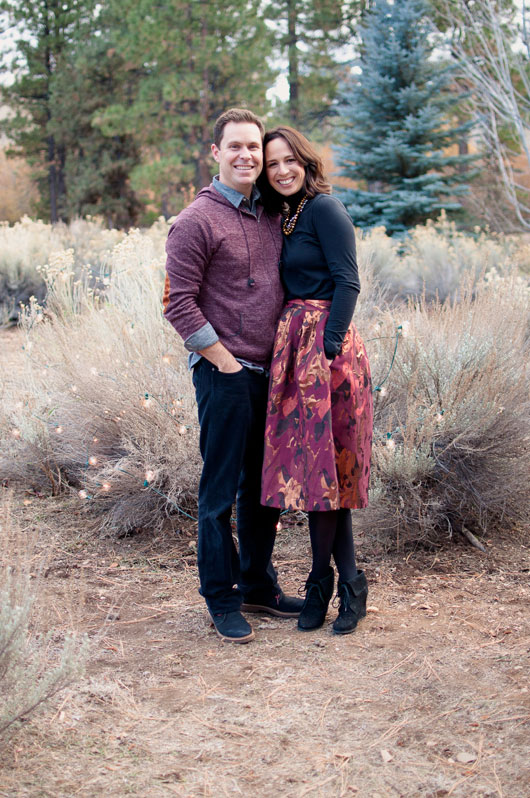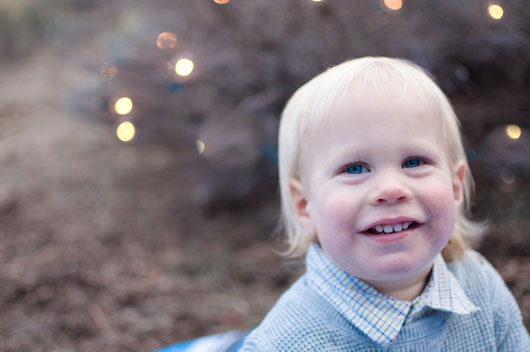 The card is from Pinhole Press and came out lovely. We've ordered from them before and have loved their work. They're a little over the top and I would be lying if I said I hadn't felt a pang of guilt knowing we spent money on them, after receiving Syd's tonsillectomy bill, but I'll enjoy and cherish them just the same. 2013, you've been a good year, but I'm ready for 2014.
This past Friday, we hosted close to 50 people for our first holiday party here at our "new" house, which we've lived at for 4 years now. It's what consumed me all of last week, along with a major house organization project, and kept me away from this space. I'm happy to be back this week though, and look forward to sharing a few fun and exciting things I've accomplished in the last week. I hope you all are enjoying your holidays so far and they aren't causing you too much stress.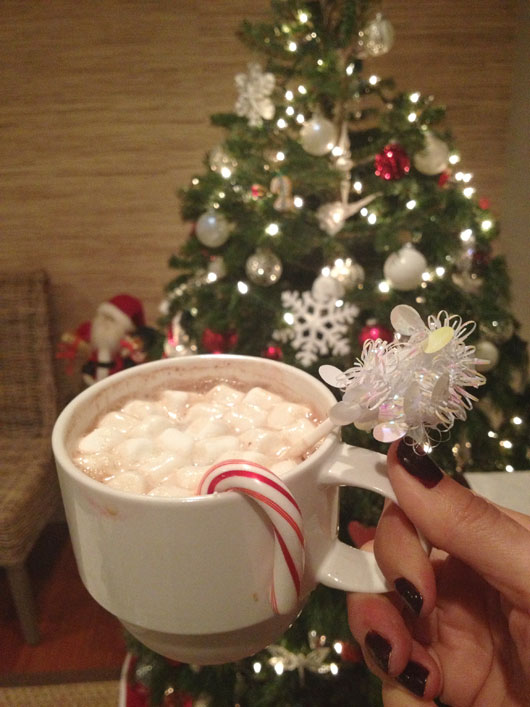 Because of all the changes we have made in our own diets here at home, it is only natural that we extend these changes when hosting friends or family for a gathering. Despite the notion that "healthy" food is both boring and expensive, I put together a menu filled with nutritious and delicious food, while keeping the budget under $300, including alcohol. I detailed out how I did it in my latest post for Babble.
Aside from all the healthy and organic foods I put together from the party, I ordered these lovely cakes from a local bakery called Scratch Baked Goods.  If you're in the area, the shop is worth a visit for a cup of coffee and a wonderfully wide selection of treats, all affordably priced (these cakes were $40 each!).  Shown are their lemon meringue and coconut cakes.
I made 2 signature cocktails, including a Cranberry & Rosemary Sangria, and an Apple Cider Margarita.  The hot cocoa mix was also homemade and I used this recipe, although would sub coconut sugar for powdered sugar next time.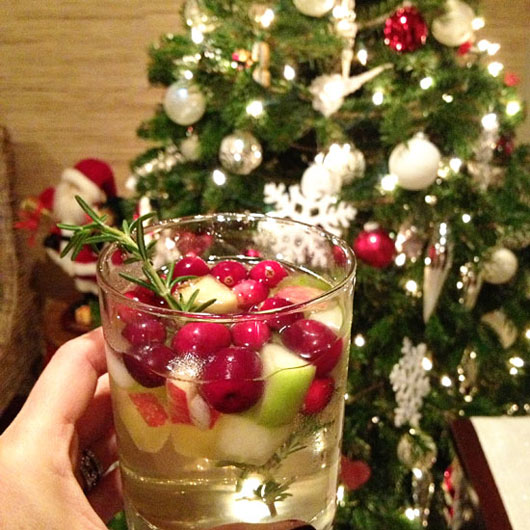 My phone remained plugged into the stereo most of the night, providing our playlist, which was awesome by the way.  Many readers provided suggestions on Instagram and your suggestions made the perfect assortment to what I already had in our music library. 
I wish I would have taken more photos of the night, but I'm happy for the ones I did capture and I'm sure I'll remember the night better than a photo could accurately capture anyhow.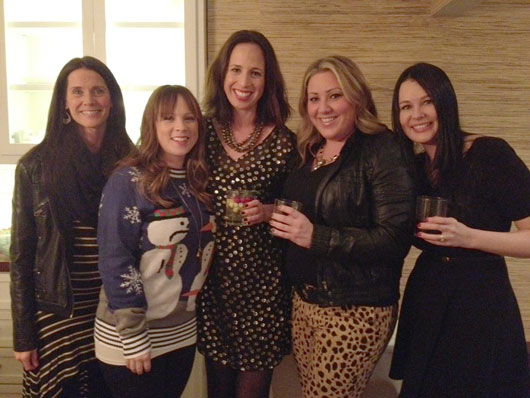 All the ladies looked lovely and it was a fun chance to dress up, if you felt like it, or come casual or playful, like Alissa & Kyle.  Their sweaters put an instant smile on my face that never left.  I wore a 2 year old dress I got on sale from Madewell, which is a lightweight black chiffon with gold and silver metallic dots all over.  I wore it back to black tights, black booties, and my DIY Holiday Glam Necklace, which complemented it perfectly.  My air is sadly air dried, as I party prepped for too long and didn't leave myself enough time to get ready.  Oh well. 
Other recipes I made included a Roasted Eggplant & Red Pepper Dip by Ina, and Sriracha Quinoa Bites, which provided a bit of filling protein, without the meat.  I'm constantly pinning drinks and food recipes, many of them clean and nutritious, so feel free to follow along on Pinterest.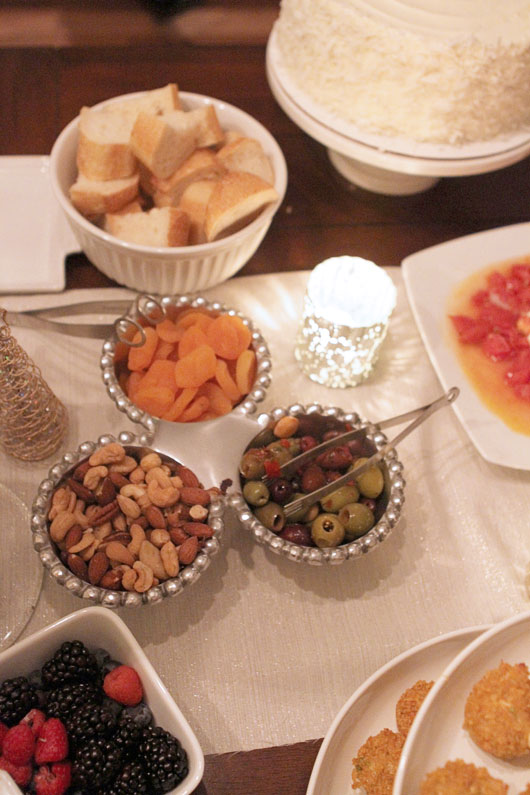 The last thing I wanted to share was the recipe for Gwyneth's amazing Old Bay Ranch Dip, which I made for the first time on Friday.  To be honest, I've grown accustomed to the taste of Vegenaise, but it definitely has a bite to it, even more so than mayo, so if you're a little scared of it, you could easily make this with a goat's milk or plain cow's milk yogurt.  The Vegenaise doesn't have any eggs, which is a great alternative for those staying away from dairy and eggs.  At any rate, I absolutely loved this dip, and so did my guests, who devoured it and left me craving it the next day.  I whipped up a batch to have with our lunch the day after the party, and can see this becoming a new favorite on rotation here in the house. 
Old Bay Ranch Dressing – Vegan (dairy & egg free) via It's All Good
1/2 cup Vegenaise
1 tsp Old Bay Seasoning
2 tsp fresh squeezed lemon juice
1 chive or green onion finely diced
1 garlic clove finely diced
Pinch of salt to taste
Mix all ingredients in a bowl until well combined, and serve with a fresh veggie platter or as a dipper for those quinoa bites up above. Tastes better then next day, and can be stored in the fridge for up to a week, but it won't last that long.
I have an entire Pinterest board dedicated to Girlie Gifts.  Gifts that us women wouldn't usually buy ourselves, but items we definitely wouldn't mind having in our lives.  I pin various items that I would personally love, or things I know my girlfriends would appreciate and enjoy.  Most items are not "necessities" and some may even be considered indulgences, but that's the fun of girlie gift-giving, you throw practicality to the wind and buy the gift just because it's fabulous.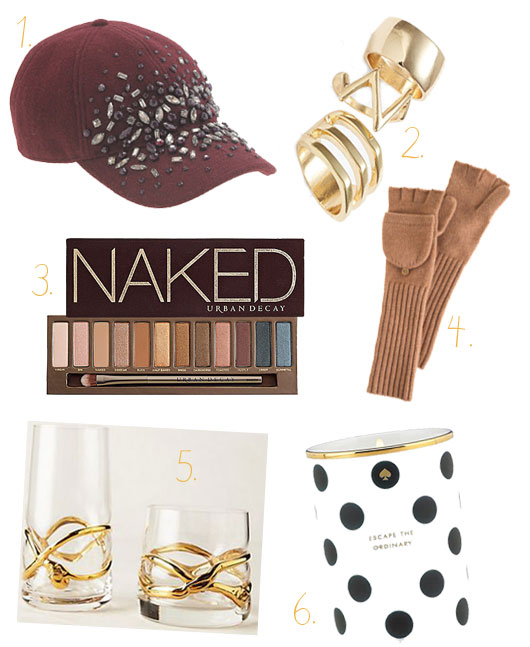 1. Jeweled Baseball Cap 2. Midi Rings 3. Naked Eyeshadow Palette 4. Cashmere Glittens 5. Glimmer-Wrapped Glassware 6. Escape The Ordinary Candle
Today I have a couple of things to share with you, which may make your holiday shopping a little easier and more fun.  Coupons.com has put together various gift guides for women, kids, men and even pesky teenagers.  In addition, they're having a Coupons.com Holiday Sweepstakes and giving away prize bundles worth $500.  Besides that giveaway, I've partnered with them, along with some other great bloggers, to giveaway a $200 gift card to Amazon, to help with your own Christmas shopping.    You have now, until Christmas Eve to enter to win using the Rafflecopter link below.  Good luck!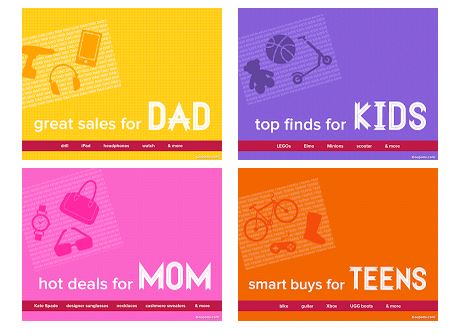 "This shop is part of a social shopper marketing insight campaign with Pollinate Media Group™ and WE'VE Built but all my opinions are my own. #pmedia #GiftaStory  http://cmp.ly/3/8vNxcO"
I didn't buy a thing on Black Friday or Cyber Monday, or even Giving Tuesday.  I have a long ways to go to complete my Christmas list and I know I will definitely be hitting up the mall at some point between now and the 25th, but I'm making a point to fill some of those open slots with gifts that mean just a bit more than the average candle from Target or mini-figure from Toys 'R Us.  Buying handmade from friends I know or have met online, and supporting new-to-me artists who are doing good work to help their community and the global environment .  Just last year, I wouldn't have imagined myself using words like sustainability and environmental impact so often, but the strides I've made in the food choices for my family have inevitably spilled over into other areas of our lives, and I can't help but look at many aspects of our day-to-day with a new lens.
I was just introduced to WE'VE through my work with Pollinate, and I'm thankful for the opportunity to share their story, and highlight just one of their many amazing artists.  WE'VE is committed to collaborating with artisans making a difference with the goods they make and sell.  By viewing sustainability through several lenses, they work with diverse, highly-skilled people whose products and practices will have a positive impact on the environment, economy, community, and culture.  They not only hire artists creating amazing products, but also work with local videographers to tell their story in a unique way.  Their artists stretch the globe from Chicago, to Cambodia, so you can support people in your own backyard, or on the other side of the earth.
I was sent a Tech Angles Necklace by Beadwork By Amanda, and had to appreciate the irony, considering my husband's line of work owning a small technology-based company.  I've seen firsthand the environmental impact our need for better, faster, cheaper technology has had, and I'm proud of my husband's refusal to simply throw computer parts in the trash, destined for a landfill, choosing to recycle them instead.  Currently, 30 million computers, 130 million cell phones, and 300 million circuit boards are tossed out annually.
Beadwork By Amanda takes a portion of that "trash", and turns it into wearable art, using old circuit boards to create jewelry, including necklaces and earrings.  All the materials she uses are vintage and sustainable, and plant based oil resins seal each piece.  Amanda is based in upstate New York and through her pieces, reminds people that trash and technology can be beautiful.
As you're chipping away at your Christmas list, and even beyond the holidays, please consider visiting the wide range of artists WE'VE works with.  If you like what I've shared about their purpose and vision, please visit them on Facebook, Twitter, Instagram, Pinterest, and Google+.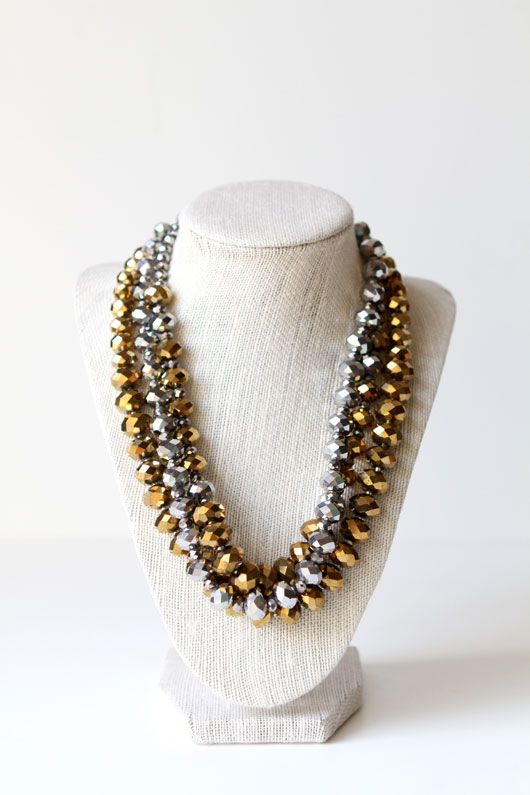 On Monday I shared with you all the photos from our weekend shoot, wearing this DIY necklace.  Now I'm going to show you how you can make your own necklace in under an hour, or just an hour if your hands are not so nimble, all from supplies you can pick up at Michael's.  While I originally found these beads at my favorite bead store in Downtown LA, I had a hunch they would have something similar at Michael's, and sure enough, they have the exact same ones.  Identical colors and sizes even.  So if you find yourself in Downtown LA, hit up the Bead Factory for a stellar deal on these, or hoard some 40% off coupons at Michael's, stand in line multiple times or take the kids with you, and you can get the beads for just about the same price.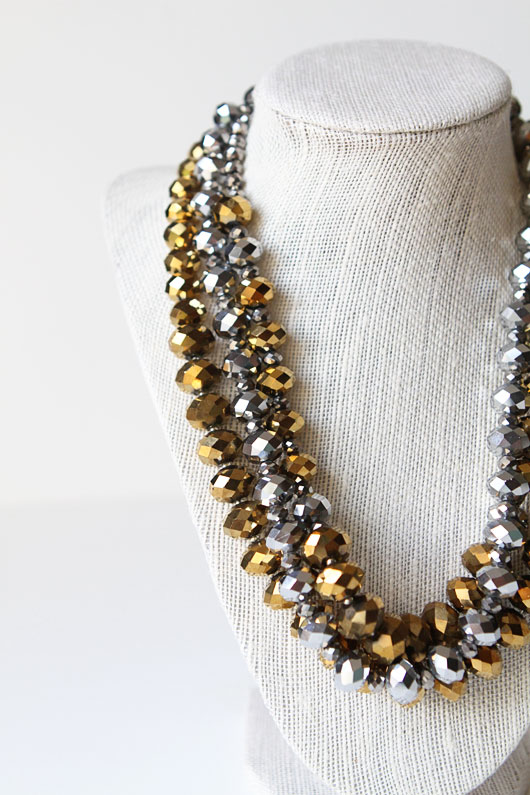 Let's get started shall we?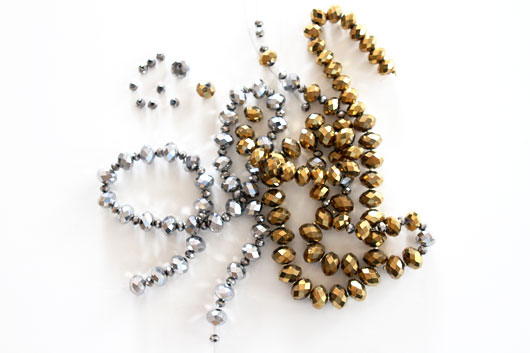 Supplies: I used 4 strands of the glam beads in total.  I bought 2 colors, each in 2 different sizes to give the necklace some variation, and because I couldn't decide at the time.  Luckily it worked out perfectly.  I also used a small amount of small seed beads in both gold and silver to space throughout the necklace design, as you'll see.  1 small tube or bag each will be more than plenty.  You'll need a pair of jewelry pliers, 2 jump rings, 1 closure of some sort, and some crimp beads.  Oh, and stringing wire of some sort.  I like soft flex wire, but you can use actual beading string or even the monofilament wire that looks like fishing wire.  They have all sorts to choose from at Michael's.
Usually I close off one side of the string with a crimp bead and jump ring, but because I was having a hard time deciding on a design, I left both ends open so I can edit my design as I went.  That's why you don't see a photo of that usual first step, but you can see it done here in this DIY.  Anyhow, if you're indecisive like me, you can go this route, but be very careful with handling because if you forget both sides are open and start moving things around too much, your beads will go flying off one end and you'll have to start all over. 
Regardless of whether you close off one end or not, start your beading.  For this design, I started with the smaller size beads, then added in my larger beads, and made sure to finish off the strand with the same amount of smaller beads on the other end, so it was symmetrical of course.  My design went 12 smaller beads, 24 large beads, with tiny seed beads in between just the larger beads, then 12 smaller beads.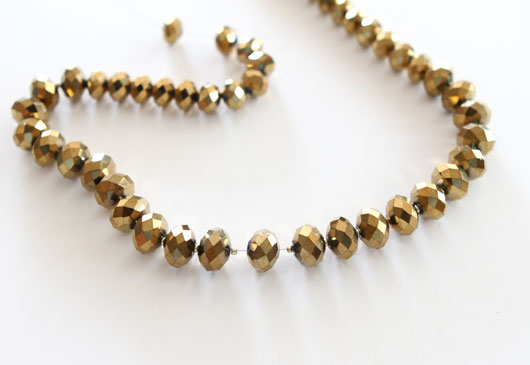 The second strand was the solid silver toned string of beads, and for that I followed the pattern of alternating small bead to large bead and so on.  This was to give the necklace some variation.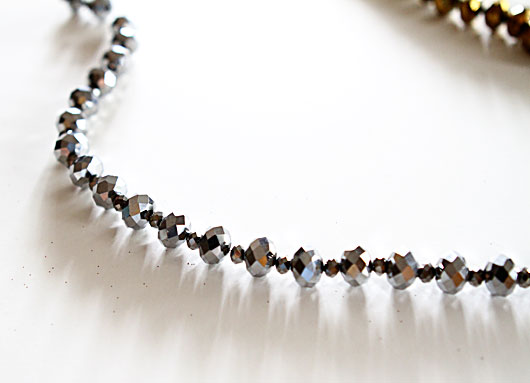 For the third string, I played around quite a bit to get it right.  I was using just what was left over of all 4 various beads and wanted to combine the two colors, but in a way that wasn't too haphazard looking.  Depending on what you have left over, you can play around as well, or follow my pattern of tiny seed beads, then smaller silver beads, then alternating large silver and bronze beads.
When you're ready to complete your necklace, you take your wire and feed it through a crimp bead, and loop it over the jump ring and back through the crimp bead to hold in place.  My photo in this tutorial came out a bit blurry, but you can see very clear photos of the process in the above referenced tutorial.
Once you have one end closed off, proceed to close off the other end, but add a lobster claw closure (or whichever type of closure you choose), on the other end, to the jump ring.
And that is pretty much it.  So to recap: Cut string, string beads, attach jump rings and close off with crimp beads, and attach closure of some sort.  Done and and wear!
I love that on their own, the beads could look a little Mardi Gras-ish, but when designed in a complementing pattern, they look quite nice and even somewhat expensive looking.  Very holiday glam for sure.  I'm sure I can find ways to wear it beyond the holidays too though.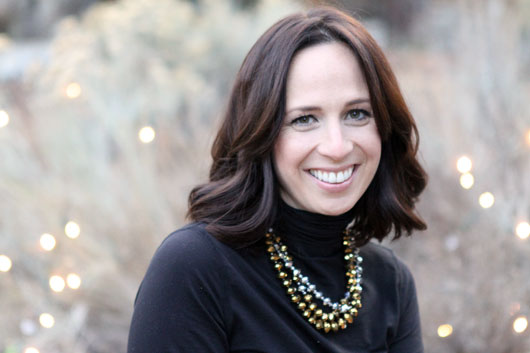 We spent the long weekend up in Big Bear with some friends. While the trip was short, we accomplished our main objective – which was to take family photos. I'll share ours with you in the next week, but for now, I wanted to give you a peek at the DIY I'll be featuring tomorrow.
Just in time for the holidays, I made this simple glam statement necklace, that will work well with all the colors of the season, including black, creams, and all the lovely jewel tones. This is the perfect necklace to wear with a little black dress or a white button up blouse and pencil skirt, the perfect statement piece to add a bit of subtle drama to any look.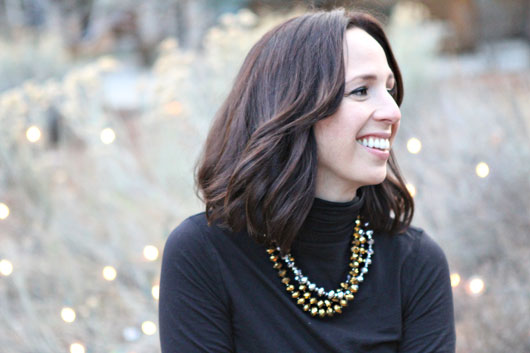 Necklace – DIY; Turtleneck – Vince; Skirt – ASOS; Shoes – Target (old)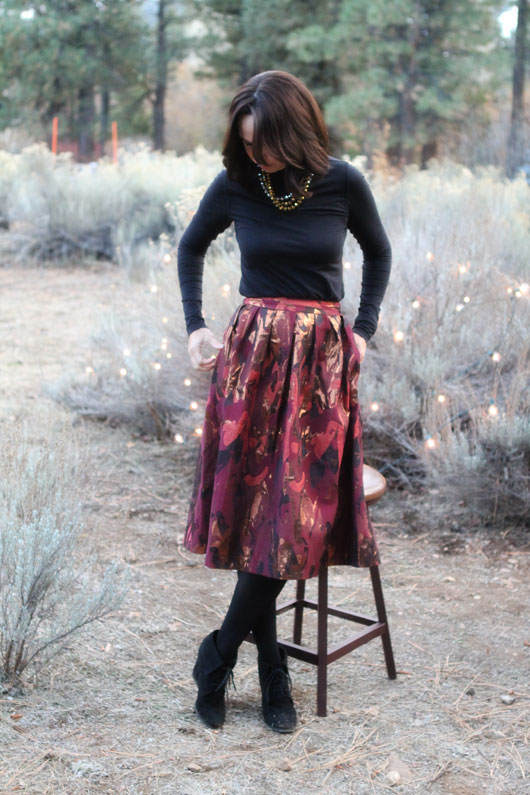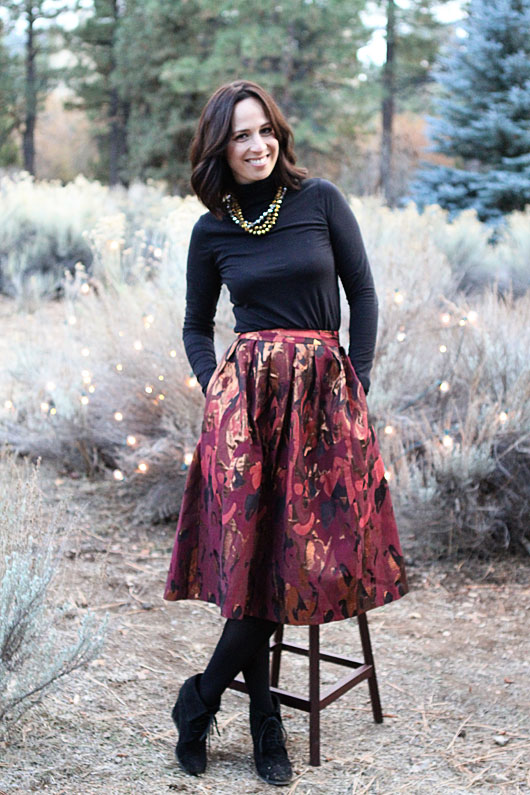 All week I'll be sharing DIY's in this same color theme of silvers, golds and bronzes. The holidays are the perfect time to add sparkle and glam in the form of these rich colors and textures, so stay tuned, I have some DIY's perfect for gift-giving, the home and spreading Christmas cheer. I hope you'll enjoy them, and join me back here tomorrow for the necklace tutorial. See you then.