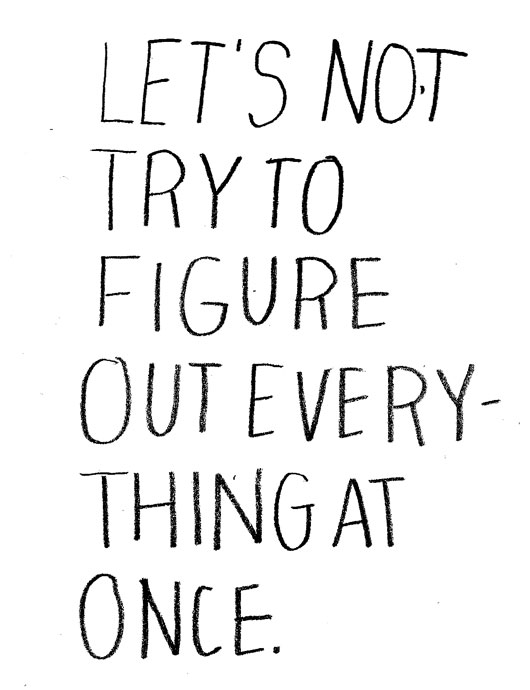 source
The beauty of clean eating is that is highly adaptable to the individual's specific needs. The only problem with that is that there is no specific guideline and fast and steady rule book telling you how to eat, at what times, and in what amounts. While I appreciate this, I know others may find this very frustrating. Some of us want a clear cut road to success, but the truth is, everyone's dietary needs are different, and when it comes to food, one size shoe does not fit all.
Flexibility though, was the main reason why I was even willing to give clean eating a go. I overall ate a well-rounded diet, but indulged and caved to convenience far too often throughout the week. I knew I wanted to clean up the rough edges of my family's diet, but I didn't know where to start. I'll start by saying I don't believe in fad-diets, including paleo, Atkins, and goodness knows how many others like it in existence. I do not suffer from debilitating ailments, aside from some indigestion and heartburn, I wasn't trying to lose 50 lbs and I wasn't trying to look for an alternative cure to some scary illness. All those things are serious considerations and good reasons to start a strict dietary regimen. But for just your average women who was trying to live better, one meal at a time, clean eating seemed like the right road for me to take.
Everything and everyone will have a different take on clean eating and what it means. For some extremists, it means eliminating all dairy products, red meat, gluten and anything even remotely processed at all, and drinking a shit ton of green juice. While I tried out several of those options in the beginning of this journey 4 months ago, including dairy and gluten elimination, I've softened on both because my body functions just fine with both. In some areas, like the meats, I've become much more strict and hardened, allowing for only grass fed and pastured meat and poultry into our diet. I'll get into how I've cut down on those things later in the series, but know that currently, I do follow a very loose version of clean eating.
If you're looking for a strict meal plan, I'll probably disappoint you. If you like the idea of flexibility, then I'm your girl.
Find a Road Map
As you know, I started slowly by experimenting with recipes from Gwyneth's book. It doesn't have to be Gwyneth's book you start with, but I do recommend that you start with some cookbook or blog that incorporates many different types of healthy, clean recipes that are good and all in one place. The thought of going to one book to get vegetarian recipes, and another book to learn about eliminating dairy, and a different blog to get a feel at gluten free was just way too overwhelming. I liked that her book had it all in one place. Most recipes are dairy free, gluten free, and offer a whole host of alternatives to refined sugars, from maple syrup to raw honey. If anyone can recommend any other great blogs that aren't too extreme, i.e., only vegan or strictly gluten free, please feel free to recommend in the comments. I know not everyone is into the idea of Gwyneth.
Start Slow
I first started by cooking out of the book for meals at home. I learned that risotto can taste just as delicious sans butter and cream, and that veggie salads can be filling. When dining out though, I gave myself a pass and ate what sounded good at the time. You can read how being non-committal in the beginning made my transition to clean eating easier in this Babble post. By starting off slow, you'll also avoid spending an entire mortgage payment on your first month's grocery bill, by switching over all your food items. Start slow, see what works for you and go from there. I soon discovered that I really didn't miss or need cheese as much as I once thought. I did discover though that there is no better substitute for cream in your coffee than real cream, and I gave it a valiant effort trying to find an alternative.
Don't Go All Vegan On Your Family
Going along with starting slow, is don't go all extreme on your family all at once, and one day switch all your cooking to one strict way of eating. The troops will revolt and you'll end up dazed and frustrated, only to give up your quest for a healthier diet. Find some good recipes that will produce yummy tasting food so you, or your family, won't even feel like you're missing out on anything.
The Truth About Clean Eating
My biggest lesson over these last 4 months, is that you are going to have to cook, and cook a lot. I'm not going to lie. The main way to really eat food that is as close to its natural state, is to prepare it yourself. Hand selecting the ingredients, eliminating additives and preservatives, and using the freshest produce and meats available is the most direct road to clean eating. I've always been leery of diet bars and protein shakes and supplements. But when you can manage your diet from the beginning yourself, you get to be the one in control. And it's the best way to save money because when you cut down on boxes and jars and cans, you can truly make a dent in your grocery bill. Don't worry, there will be no crash courses in canning. I said cut down, not eliminate. Goodness knows every mom needs a box of mac n' cheese up her sleeve.
So get ready, because we're going to be doing a lot of cooking this month. But I promise to make it as fun as possible. Any questions so far?
To read the intro to my 31 Days Series on Clean Eating Made Approachable and Affordable, go here.