My fascination with all things beauty continues.  It's like I'm trying to pack in the knowledge I haven't bothered to gain over the last 20 years since I began wearing makeup, into just a few short months.  Lately it seems as if I'm my own beauty research and development department, but it has been fascinating and fun to learn so much.  I still have to share the tips I learned from my friend Amber next week, but until then, I wanted to share with you a peek into an event I attended on Thursday at Neiman Marcus Topanga.
Lisa, knowing my recent fascination with all things beauty, invited me to come in and receive a consultation and makeup session with Rhona Samuels, Premier Face Designer of Giorgio Armani Beauty.  Rhona has been with Armani for over 10 years and has worked alongside Mr. Armani himself, and has amassed an impressive number of celebrity clients.  While Rhona was doing my makeup I asked her a few questions about quick makeup tips for busy women, as well as her makeup pet peeve.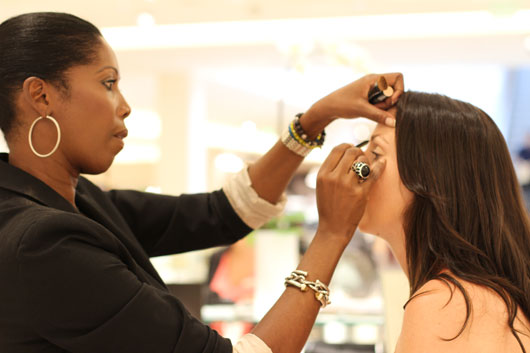 What's the best bit of makeup advice you can give? "Blending is crucial!  Blend your foundation correctly, blend your eyeshadow, use the right tools to do this."  While I think I do a fair job of blending my foundation correctly so that you don't see streaks or smudges, Rhona did teach me to blend my eyeshadows more so that it looks like 1 beautiful color, instead of a heavy color line for the crease, a heavy color line for the lid, and then one for the brow.  I had never even thought of this and this technique does in fact lend to a more natural looking eyeshadow color, giving your that barely there makeup look.
For the woman on the go, in 3 steps, what shouldn't she walk out the door without doing? "Concealer and foundation, mascara and gloss.  That's it and you're set!"  Armani is best known for its foundation, after all for 10 years running it's won In Style's Best Beauty Buy, so foundation plus concealer go hand in hand; one almost cannot be counted without the other.  The foundation is pretty magnificent and, I almost don't see the point of applying foundation without taking the time to also apply some concealer.  I loved that Rhona's 3 step advice pretty much confirmed what I have already been doing.
How did you get my eyelashes to look like that?!? At lunch I was telling Lisa that I was thinking about trying some false lashes because my own lashes were just looking more and more sad.  After 5 minutes with Rhona though, and an application of Eyes to Kill , my lashes looked ridiculously fabulous.  I had to know how she did it.  "Take your brush and start at the very base of your lashes and apply a good coat at the very base in a back and forth motion to help thicken them up.  Then take your brush and turn it vertical to your lashes and sweep the brush up lengthwise on your lashes to create length.  Most women just go up and down, but it's the combination of the back and forth and up and down motion that really creates volume and length."  A genius trick that I assure you does indeed work.
What's your biggest makeup pet peeve you see on clients? "Not matching the right color foundation to your skin.  It drives me crazy."  Rhona suggests changing out foundation in the winter and summer if you spend time in the sun so that you don't see that color line at the neck.  Easy enough advice to follow.
Thanks Rhona for the great tips and laughs.  It was so fun sitting in your chair and watching you first hand work your magic!  And bravo for being the first successful person to get me to leave Definicils and try a new mascara.  After 15 years, that's quite impressive!