This is the final post in the healthy skincare series I've been writing for the past 6 weeks, thanks to Aveeno. To see all the posts on how I've been adapting my skincare routine, and different tips to help get me through summer, coming out the other side with healthy skin, visit this link.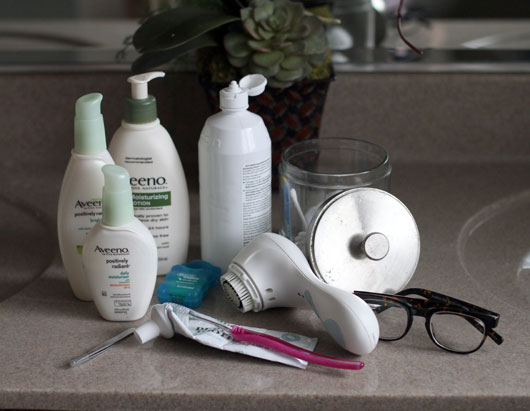 For today's post, let's talk about what your daily moisturizer should be doing for you. Our lives seem to only be getting busier, and so why not get the most out of your skincare routine by really making the product work to your benefit? I have very dry, yet sensitive skin, so when I find a moisturizer I like, I tend to get attached and become very loyal to it, until it no longer works. Last year, I noticed that the moisturizer I had been using for about 10 years seemed to just be sitting on top of my skin. I asked a friend, a beauty guru if you will, and she recommended I switch and try something new, and what she recommended was Aveeno Positively Radiant. I was really worried my face would revolt, but a year later, not only has it not protested the switch, it seems to be much better off because of it. I also switched to the body moisturizer at the time, since I loved the way it smelled (or didn't smell rather, on Hayden). I figured, if I was going to make the switch, why not go for a product overhaul.
After making the switch, here's what I've found your skincare moisturizer should be doing for you.
– Obviously, it should moisturize. It should leave your skin feeling hydrated, but not oily and greasy. I know a moisturizer is a good fit for me if my dry skin no longer feels tight, and when I apply my foundation, it elevates it by providing a base for a fresh, dewy look. If it interferes with your foundation application by leaving your skin feeling like an oil slick, it's not working and you need to say adios.
– It should calm down irritations by acting in a natural, gentle way to soothe skin.
– It should provide some added benefit beyond just moisturizing. It should provide sun protection via SPF, or should help to smooth out wrinkles or even out skin tone. The claims don't need to be over-the-top or radical, but I like to know my moisturizer is doing a bit more than just making my skin feel soft.
– Lastly, yet still very important, it should enhance the rest of your skincare routine. Since daily moisturizer is the last thing you put on, it should work with the rest of the products you're using in your routine. It shouldn't mask the lovely scent of your body wash, or clog your pores, after your face wash worked to get them clean. And monetarily speaking, it should work within your budget so that you can afford to actually buy a skincare routine which includes a face wash, day and night time moisturizer, and an eye cream if you worry about crow's feet like I do.
If your skincare routine, and most specifically your daily moisturizer is working for you, it should be a quick, easy process that leaves you feeling refreshed and ready for the day, not burdened at the thought of having to do it. Most mornings I can't really get moving until I've splashed water across my face, applied my moisturizer, put my contacts in and brushed my teeth. It wakes me up and gets me going, more so than coffee ever can. Just like clothes should work for you, not against you, so should be the case with your beauty products.
So do you think your skincare routine and your moisturizer are working for you or against you? Is it time to try something new?
Thanks to Aveeno for allowing me to speak on their behalf through this series, adn thank you readers for joining along for the past 6 weeks. It's been a pleasure to work with a brand I love and already use on a daily basis!

AVEENO® Daily Moisturizing Lotion: Give your skin a naturally beautiful fresh start. This nourishing lotion improves the health of your skin in just 1 day! It contains ACTIVE NATURALS® Colloidal Oatmeal and is blended with rich emollients to help protect and soothe dry skin.
Compensation was provided by AVEENO® via Glam Media. The opinions expressed herein are those of the author and are not indicative of the opinions or positions of AVEENO®