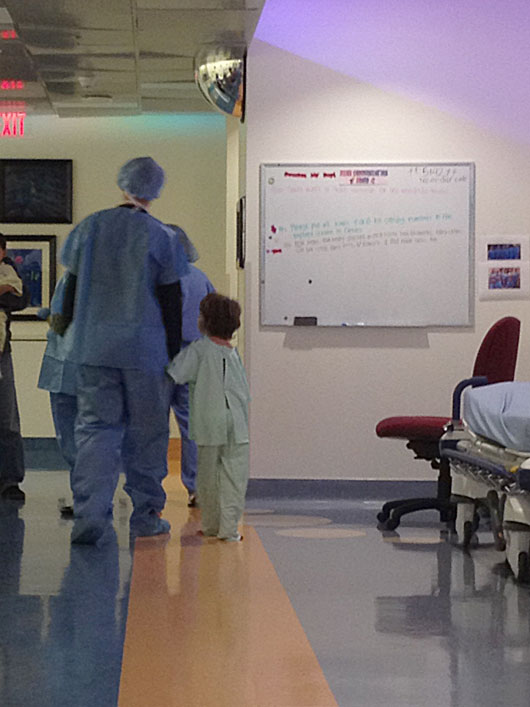 As I had mentioned last week, Syd went in for his tonsillectomy last Friday. The procedure went well and the doctor ended up taking out part of his adenoids as well.
When we initially found out that Syd would have the procedure done, I talked to his speech therapist about it and she reacted positively, saying it could very well help out with some of his speech issues. Often times when tonsils are swollen and enlarged, it can cause a whole host of speech problems including breathy or weak speech and trouble with articulation. Long story short, I ended up on the phone with the surgeon on Halloween night, while we were out trick or treating. She wanted to ask me about his speech issues and was trying to decide if adenoid removal could help. By the end of the conversation, she determined that having a look at his vocal chords during the surgery couldn't hurt either, so she added that to the procedure list.
While at the hospital, it was no surprise that Syd asked Art to walk him into the surgery room and stay with him while they put him under anesthesia. It was also no surprise that he asked for him when he was out of surgery. It's hard and strange for me to admit that Syd and Art have a closer relationship than I have with him, but it just is what it is. For a long time their closeness really bothered me, especially when, at times, Syd and I felt so separated. Your child is your child no matter what, but it's hard to deny when an intense connection isn't always there. The best sense I can make out of it is that God put us together as partners to parent these kids, because we each have different personalities and strengths to complement and mold each child the best way possible. Art's strengths just seem to be better suited for dealing with Syd's personality than mine.
With all that said, I do not envy Art having to be there to hold Syd's hand as he was crying and scared in the operating room, or to pin him down when they had to reinsert the IV after it came out in the recovery room. While the nature of the surgery was pretty basic and not life-threatening, surgery, especially on your young child, is always scary and it was enough to make my strong husband cry.
In the recovery room, the surgeon finally came in and one of the first things she asked was if Syd had been a colicky baby. We looked at each other and sort of chuckled, replying with an emphatic "Yes!", and asked why. During the surgery she did in fact look at his vocal chords with a scope and found that he had intense damage and irritation due to acid reflux, a condition that seemed to be ongoing. We had treated Syd for acid reflux when he was an infant, but took him off meds when he turned a year, figuring he had outgrown it, as most babies do.
The poor guy was in fact still suffering, and by the looks of it, pretty badly too. Our hearts sank and tears of guilt came to my eyes at the news. This new diagnosis could explain so much of the persistent ailments Syd claimed to have; from moodiness and irritability that often came and went very suddenly, to his complaints of just not feeling good, to perhaps even his extreme finickiness, often complaining after eating, that certain foods made him feel sick. His complaints and moodiness became such a constant that we eventually brushed them off as Syd just being difficult Syd. The complaints came and went and seemed so nondescript, with him never being able to accurately pinpoint how exactly he was feeling or what precisely was bothering him, we figured he was, quite honestly, faking it. Come to find out, this is quite common with reflux at this age. They don't really understand why or how they feel crummy, they just feel crummy.
I feel like shit guys. I know I need to get over it and move forward, but this may be one of the biggest oversights I could have made. And for so long, (years!), I have let his moodiness define our relationship as mother and son.
I'm just so grateful I heard the doctor's call when we were out trick or treating and our conversation led to this diagnosis. For once, having me phone on me at all times led to some good. God works in very cool and strong ways. When he fully recovers from his tonsillectomy we are going to start him on Prevacid and see if he gets some relief, and will go from there. I have faith that this will solve some issues for Syd.
Of course Syd's strong and stubborn personality is just that, his personality. I'm not expecting Prevacid to suddenly make him an easy going, bendable reed, nor do I want that. But I do want, and hope that this helps him just feel better overall, and enjoy a better quality of life.
The recovery process from the tonsillectomy has been much harder than any of us expected and we've had some rough days and even rougher nights. While Syd still prefers Art when he's around, I have been happily subbing in for him when he's at work, and have enjoyed plenty of couch time with my little guy. He's been sleeping with me too, which has been nice. His breathing at night is a bit labored and very throaty, so it's given us both peace of mind to know one of us is with him. Today he felt really good when he woke up and was even able to give us a smile. Perhaps we're on the home stretch. Thank you for all your thoughts and prayers. Next up, a research mission to figure out foods that will not exacerbate reflux. Good thing I've been pretty food obsessed lately.
And on the subject of recovery, I had such success with the colloidal silver treating my strep last week, I have also given a couple of doses to Syd. You can read here, about 8 Natural Remedies Readers Swear By on Babble.