I buy a new handbag about once every two years. Aside from a couple of clutches for evenings out or special events that I've either bought or made for myself, I carry the same bag day in and day out, trash it to hell and then buy a new one when the current one starts to look ragged.  After receiving a birthday gift card to Nordstrom, I decided it was about time to turn in my old Kate Spade bag I bought at the KS Outlet in 2010, and opt in for a fresh spring bag that could be a neutral color to carry me into Fall.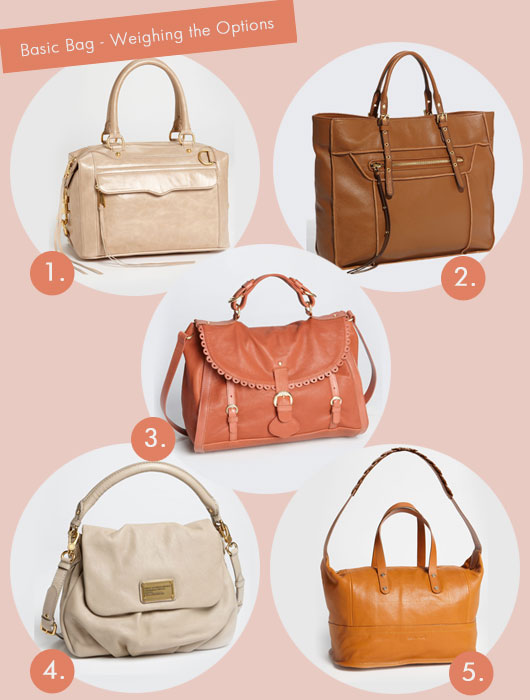 These are the bags I fell in love with while shopping last night.  One of the bags was in my price range, and added in with my gift card I wouldn't be spending too much of my own additional money.  The other four were out of my price range, all of them being twice as much.  I was a good girl and bought the one in my price range, but couldn't stop thinking of all the others I saw last night.
I was daydreaming about these bags so much that I posed this question to myself today on Facebook:
"I've always said I'm not a label whore, and for the most part I'm not. But after shopping for a new bag last night I'm wondering if maybe when it comes to certain items I sort of am. Found a great Steve Madden bag in my budget I really like, but still keep 'daydreaming' about the See by Chloe bag I found that was twice as much. Why? Is it that much better of a bag, or is it because I'd rather have that label? Important life questions to ponder here folks, while I'm at swim lessons." 
The post garnered some interesting, well thought out responses and it has me thinking.  Since I do only buy a new bag once every couple of years, and I'm really hard on my bags, should I invest in something a bit more expensive if the quality is better?  It's something I was going to talk about next week in my Pieces Worth Investing In post on Accessories, but let me ask it now.
Just how worthwhile are investment bags that are not really going to be treasured and kept safe, only to be used on occasion, but used everyday?  Does it make more sense to buy cheap because it's going to get beaten up anyhow, or because it will be used everyday, should I get the best I can reasonably afford so that it will last a bit longer?
Mandy, my handbag expert friend (she worked in the business for years), and I exchanged texts for about twenty minutes today discussing this and weighing the options.  Before she makes her call and tells me to go big or go little, she asked to see the options, so here they are.  All bags are in a beautiful neutral color, all are functional, and all, except for #2 are a functional satchel bag with a crossbody handle to sling around on my shoulder when need be.
So what do you guys think, go big or go small?
Bags – #1 Rebecca Minkoff $495, #2 Steve Madden $198; #3 See by Chloe $495; #4 Marc by Marc Jacobs $428; #5 See by Chloe $495
p.s. here's a bag that I would really never, ever buy because it's way out of my price range and it's so not practical, but ain't it pretty?  Combines my love of bows, ombre and pink!