Hello and welcome to the new For The Love Of! I've been working on the new site with my lovely and talented designer Sara Jensen for the last two weeks, and I couldn't be happier with how it came out. When I reached out to Sara, looking for a new design, I had several major objectives in mind; make the site wider and feel more open, make it easier to navigate, and make it a space where I can feel just as comfortable writing about food as I do style and DIY. I also wanted to keep the logo Alex of Type A Calligraphy originally designed, just tweak it a bit. I think we've achieved the objectives.
The section I am most excited about is the new project galleries in the top navigation bar. If you click on any of those links, you are given the option to view posts in a grid or in a stream. Categories like DIY, Food & Wellness, and Personal Style are best viewed, in my opinion, as a grid. This will allow you guys to quickly and easily find a project or post you may be looking for, or find a few new posts to browse, which you may have missed. The Life With Kids category is probably best viewed as a standard streaming blog.
I still have some things to fix, including re-tagging a lot of posts I've missed, and adding featured images to many older posts. When viewing the gallery, you will notice that a lot of the older posts are missing their thumbnails – I'm working on adding all those, but for now, most things are able to easily be viewed and found.
Another very exciting feature is the addition of printable recipes! This feature is for now, only available on new posts going forward, but if I find some time I may go back and and recode old recipes to make them printable. We'll see how that goes. Going forward, I'll be adding a lot more recipes, and expect to find some amazing posts by my new Food Editor, Lindsey Johnson of Cafe Johnsonia. Her first post, an Early Spring Salad, is already published and ready to go. It looks amazing and I feel very honored to have her on board.
A couple of new DIY's have been posted for you to browse. Alix is still on board as my DIY Contributor extraordinaire, and her latest post, Geometric Wall Art, is amazing as usual. I published a new jewelry DIY as well, and it is as easy as it is cute. You'll find the tutorial for the Gold Chain Bracelet below, or by clicking here.
I continue to get lots of questions on my Gwyneth Made Me Do It Instagram account, many of them the same, so I've added a FAQ section, and will be listing new questions/answers as they arise or I think of them.
There are still some kinks to work out over the next couple of days, but we're on our way, and to celebrate, I'm hosting some great giveaways over the next couple of days. I think you'll really love all the items that are up for grabs, and each offer up something unique. Today's giveaway caters to the little ones, but don't worry, the remaining giveaways are all about you ladies. Clothes, shoes and some beauty items, so please make sure to come back and visit each day. First up, a giveaway worth over $300. One winner will win the following items.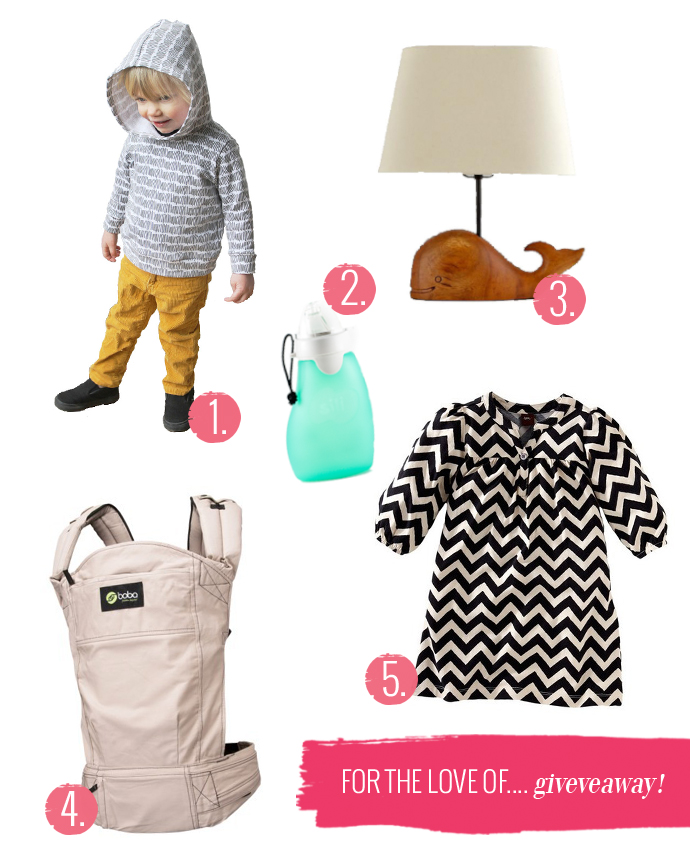 1. $50 Little Hip Squeaks gift credit for any item of your choice. I love Amy and the brand she's built, and have treasured every piece I've bought for Hayden this past year. I am also a new contributor for the LHS blog, and couldn't be more honored! 2. SiliSqueeze pouch of your choice. While browsing the ExpoWest booths a few weeks back, I spied this product from across the floor, and rushed over to find out all about it. An eco-friendly feeding pouch, these essentially allow you to feed your babes and kids homemade or premade foods like applesauce, yogurt and smoothies, in an easy to squeeze, spill proof pouch. You get to control the ingredients, and save yourself a lot of money in the process. 3. $75 Land Of Nod gift credit for any item of your choice. You know I love The Land Of Nod, and their commitment to good design and the support of small entrepreneurs. I am honored to have their continued support. 4. Mothers Organic item of your choice (may we suggest a carrier?)  Mothers Organic is an online store specializing in eco-friendly and organic products for moms, babies, kids and families. Their selection is amazing, and their owner is wonderful and wholly committed to the care and support of eco-friendly companies. 5. $100 gift credit to shop Tea Collection. I am a devoted Tea Collection fan and have clothed all three kids in their items since Taylor was born. You will love anything in their store.
For a chance to win, simply enter below. Good luck everyone! The giveaway is open to US Residents and will run through next Monday, March 31st and closes at 11:59 pm.
a Rafflecopter giveaway