Fall is officially here and the easiest, quickest and most cost effective way you can transition your style into Fall is to change your nail color. Here are my favorite colors for Fall to do just that.  Some colors are new to-me favorites, and a couple are classics that I've had in my arsenal for years.  Check them out.
1. Starting with the much talked about OPI Germany Collection, German-Icure is a gorgeous, rich burgundy red with a hint of shimmer to it.  If you prefer a matte color, this isn't necessarily the shade for you, but if you like a little bit of sparkle, try this one out.
2. Another color from the Germany Collection, Schnapps Out Of It is quite the departure from my usual shade, but I quite like it!  I terracotta color rich with orange tones, this color will look good on all shades of skin tone and will take you all the way into Spring when you start to get some color on your skin again.
3. OPI's Quarter Of A Cent Cherry is the perfect shade of blue-red, making it the perfect shade for Fall all the way through the entire holiday season.  It looks beautiful back to rich jewel tones and is stunning set against all black.
4. OPI Lincoln Park After Dark, the original almost-black shade that debuted over 10 years ago when dark nails became mainstream for everyone, not just for goth rockers.  I've gone through at least 5 bottles of this classic color and it's still going strong as a fall favorite.
5. Essie Dive Bar is for those that want to get a little daring and want to try an unusual color for the first time.  I love that it's blue, but doesn't really show up as blue until you look closely.  For those that are afraid of feeling like a teenager, this is the perfect amount of dark color to help you feel fun but not ridiculous.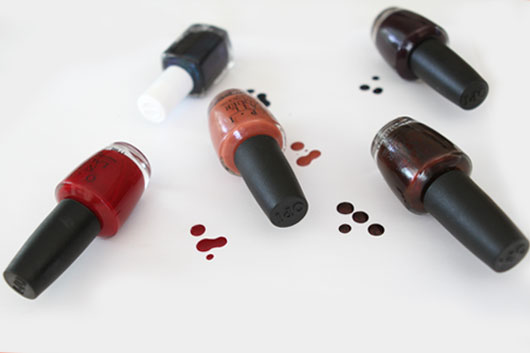 So what are some of your Fall favorites?  Please share and tell me what else I have to try this season?  Spending so much time indoors with the baby, I have a lot of nail painting time on my hands!  And if you'd like to see my favorite Neutral polish colors, click here, and favorite polishes for a Pop of color, visit here.  Linking up with Heather and Heather for Mani Monday!